There's a sub-sport emerging within the sport of ultra running. Most weekends many of us can be found hunched over a phone or a laptop, occasionally hitting refresh, watching dots moving ever so slowly along a map. Dot watching doesn't sound exciting, but oh, it is.
For those who haven't yet discovered the sport of dot watching, in some longer races (and increasingly challenges like the Bob Graham Round or record attempts like Paul Tierney's Wainwrights record) runners carry a tracker. This is partly for safety, so that race organisers can see where their runners are at all times and spot if they're off course or not moving for a long period. It's also partly to check that all the runners are following the route correctly. Not necessarily because organisers think people might cheat (though some might!), but to make sure they haven't taken any diversions over land they're not allowed on. But mostly I like to think it's for our entertainment because the trackers are visible on a map of the course, so that we virtual spectators can watch them.
At the heart of the popularity of dot watching for some is FOMO (fear of missing out). All those people we know are out there doing these exciting races and we feel a bit jealous. Dot watching is one way of feeling like we're almost there, doing the race with them, not totally missing out. We can even feel vaguely superior that the route we took off Cadair Idris when we did the race was much better.
For others it's about the excitement of following the leaders. Watching Jasmin Paris's dot in the Montane Spine Race was a pretty exciting thing, particularly as you felt that a little bit of history was being made. The ultimate dot watcher's delight recently must have been Paul Tierney's Wainwrights record. It was 6 days of higgledy piggledy dot watching as he picked off those 214 Wainwrights one by one (see the map on the inov-8 blog).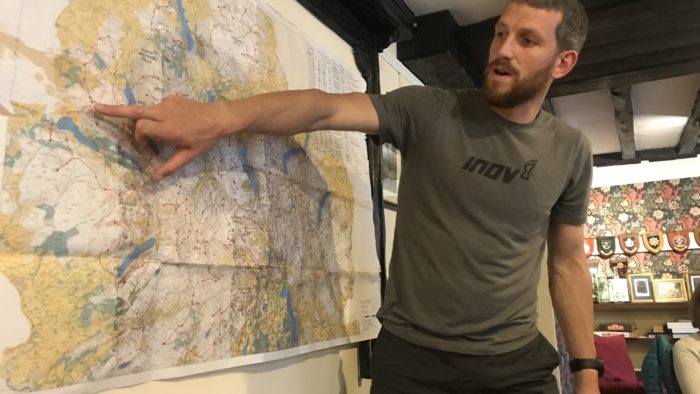 For most of course it's all about following loved ones. For friends and family who worry about their runner, breathe a sigh of relief when they get to that next aid station and will them on every step of the way.
Even though, to the casual observer, the dots are moving slowly, there is still a lot of drama involved. Dots going off course (are they lost?), dots stopping (are they injured, or DNFing?), dots overtaking other dots, all the drama of Eastenders but much more interesting.
So, if dot watching seems like a sport you want to get into, here are some key tips:
1. Endurance is key. With some races/challenges going on for up to 6 days you need to be ready to go the distance. Plenty of fluids, take on food regularly and factor in rest.
2. It's likely that you will need to do some of your dot watching at work. If you work in an open plan environment be ready with another tab open for something work-related so you can toggle between the two throughout the day without arousing suspicion. They already know you spend too long on running websites. Don't give them more reason for a disciplinary.
3. Don't agree to any social activities which will lead to a lack of mobile reception for too long during important segments of the race. Examples include caving, scuba diving and doing anything at all in the Lake District. If you miss the key action, then 6 days of dot watching could be for nothing.
4. If you're watching a dot in order to go out and support the runner in person at a point on the course, this is a fine art. You will probably just miss them or end up standing there for hours. And there probably won't be any mobile reception wherever you are to check. Opt for a town or at least somewhere with a pub. And don't be asleep in the car and make them wake you up to get their bottle of coke/special food.
5. One of the great things about the sport of dot watching is that it doesn't ruin your knees like all running definitely does. However, too much dot watching can result in overuse injuries of the thumb and strained eyesight. As with all injuries you should always seek advice from Facebook groups, and not trained professionals like doctors and opticians.
Current dot watching opportunities:
inov-8 ambassador Kristian Morgan's attempt on the Appalachian Trail record: dot watch HERE for the next 40 days!
Forthcoming dot watching opportunities:
Lakeland 100
Lakes in a Day
Cheviot Goat
The Lap
Header image copyright Dirkcuys (License CC BY-SA 2.0)