As it's getting colder we thought we'd bring you a guide on staying safe when running in Winter. A few skills and the right kit can make all the difference when the weather's grim.
1. Brush up on your navigation. Whether you're running on pavement or running up mountains, being able to navigate is always a handy skill. However, when the weather turns and visibility gets less and less, or when you're out a bit longer than you thought and it gets dark, it becomes a a pretty important skill. A few basics can take you a long way. You can watch videos from Ordnance Survey to learn the basics. Ordnance Survey have an OS Maps app, which will not only give you all those great maps in your pocket, but it will also show you where you are on the map. It's a really simple way of being safe.
Learning to navigate will not only keep you safe, it'll also open up all sorts of adventures and races that might not have been open to you and your confidence level before.
2. Be aware of hypothermia. Hypothermia kills people regularly and not necessarily in the extreme situations you might expect. Lots of people's running blogs claim that they've been hypothermic like it's something to be proud of, but it isn't a subject to treat lightly. How much do you actually know about the symptoms and what to do if somebody you're running with is displaying them? The Fell Running Association do a definitive guide on hypothermia: what it is, what the different symptoms are, what to do to help somebody (or yourself) suffering and what to do to avoid it. I'd highly recommend every runner read this guide.
You might think that it's highly unlikely that you'll ever suffer from hypothermia but there have been races where a significant number of people have suffered from it due to the conditions. 2500 runners were treated by medics at the 2018 Boston marathon, the majority due to the cold and wet weather.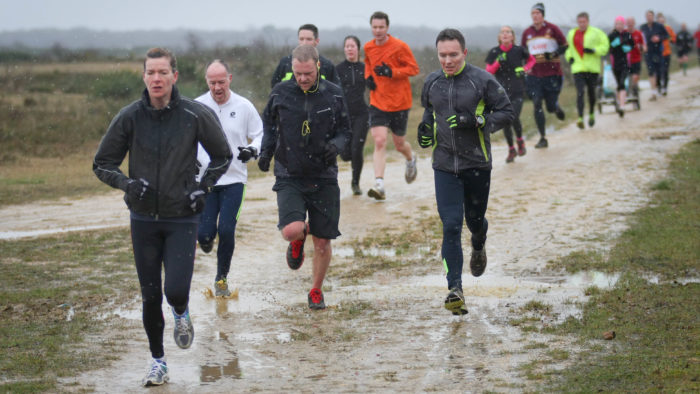 3. Wear the right kit. Sounds obvious but see above re hypothermia. You might not like running in a waterproof, or you might think it's overkill, but if it's cold and raining and you're on a long run, staying dry is the best option. Getting drenched can quickly lead to problems as your body cools quickly. And the difference between 'water resistant' and 'waterproof' is a big one. Wear the appropriate kit, have the appropriate kit in your pack and put it on before you get too cold. Race organisers know what they're doing with their lists of mandatory kit, they've compiled them from years of experience, so they're probably a good place to start if you want a guide to what to carry.
4. Tell somebody where you're going, and not just if you're going on an epic adventure, do it if you're doing three miles round the block. At this time of year my absolute worst nightmare would be having an accident, lying in a ditch and not being found because of the dark. Make sure somebody would raise the alarm if you didn't come back at the expected time.
5. Don't be a hero! Know when it's safe for you to take on that knife-edge ridge and when you should stick to something flatter. Know when to carry on and when to take that safe route back to the car. Routes that seem benign in the summer can be evil in the winter with the addition of ice and low visibility. Mountain Rescue and the emergency services are busy enough without us. Take responsibility for your own safety and don't put others at risk by getting them to rescue you.