If you were intrigued by our recent article on swimrun you might be interested in ÖTILLÖ, the race that started it all.
Like so many things in life, ÖTILLÖ all started with a drunken bet. A hotel owner on the island of Utö challenged his friend and some of his staff to get to Sandhamn, with the only rule being that they had to pass by 3 different restaurants on the islands between the start and the finish. That last team of 2 to arrive would have to pay for the hotel, dinner and drinks. It took them 24 hours. The following year they tried it again with the same result.
In 2006 an enterprising duo created a race out of the challenge. In the first couple of years only two teams managed to finish within the time limit, but the sport has grown and grown, as has the number of finishers!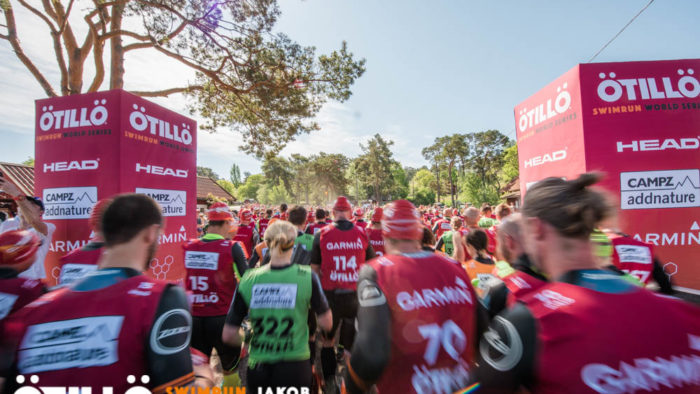 ÖTILLÖ Utö
On the 20th May it's the next race in the ÖTILLÖ Swimrun World Series at Utö, where the original bet was made! Nearly 200 teams from 21 countries will start, with some chasing the coveted golden bib or taking on the challenge of winning 6 races in a row, which would win them 33,000 Euros!
Other teams are chasing one of the eight qualification spots to the holy grail of Swimrun, the ÖTILLÖ Swimrun World Championship.
One thing's for sure – all the teams will be challenged by this stunning course where the pairs will run along beautiful trails and do many intense and sometimes cold (between 9 and 12 degrees) swims.
The 43 km race course is intense and challenging, with 17 different swim sections, lots of tricky trails, some rocks and some incredible views. There's also a shorter, sprint distance on 19th May, for those just getting into the sport.
Mats Skott, Race Director of the ÖTILLÖ Swimrun World Series and one of the Founders of the sport says:
"Finally we are back in the Stockholm Archipelago and the island of Utö. This is where it all started for us, 13 years ago and it feels like coming home. We cannot wait to share this location and race course as it is why swimrun has become the way it is."
ÖTILLÖ Swimrun World Series 2018
All the events in the ÖTILLÖ Swimrun World Series 2018 are:
Six qualifying races to ÖTILLÖ:
Hvar, Croatia, 8 April -18
Swimrun Utö, Sweden, 20 May -18
Swimrun Isles of Scilly, UK, 10 June -18
Swimrun Engadin, Switzerland, 8 July -18
Swimrun 1000 Lakes, Germany, 30  Sept -18 (qualifier to ÖTILLÖ 2019)
Swimrun XX – event to be officially confirmed, Autumn -18 (qualifier to ÖTILLÖ 2019) First edition!
For more information on ÖTILLÖ Swimrun Utö visit: https://otilloswimrun.com/races/uto