Whether you're currently working from home, have self-isolated, choosing the treadmill over the trails or are just absolutely beside yourself after the announcement that EastEnders will only be airing on Monday and Tuesday evenings for the foreseeable future *Insert your own Doof Doofs*, we thought it might be prudent and as good a time as any to give you a little rundown on some of the best running documentary films out there to fill any spare time you might find yourself with.
Tom Evans – Process Not Outcome (Pfefferminz Film / Adidas Terrex) and Zero to 100 (Steven Halliwell / Adidas Terrex)
Starting with the freshest releases and Tom Evans is harking back to the good old days of cinema and the original "double-bill"with not one but two releases in quick succession. I think by now everyone who follows running knows the story of Tom and his meteoric rise to the top of the ultra-running scene. A lot has been written about him and his race results are there for all to marvel at and think wtf. But up until now we've not really seen at any length, on film, the kind of character that Tom is either mid-race or in his own space. Process Not Outcome, the earlier of the two releases, is a broader film that looks at trying to shed a brighter light on Tom as a person, his life outside of running and a bit of his background, all crammed into 13:34 minutes. It's a short watch but with interviews with a former teacher and first running coach, his Mother, childhood friends, Sophie Coldwell his triathlete girlfriend, and Alison Benton his current coach, alongside the man himself, you certainly get the picture they were trying to paint. It's nicely complimented with glamorous shots of Tom running in locations ranging from his home region of Sussex, Brighton seafront, an Adidas training camp in the Fuerteventura mountains, some trails in Ethiopia and neatly rounded out with some footage from Tom's unbelievable race at WSER last year.
Zero to 100 is slightly longer at 20 minutes but it focuses solely on Tom's Western States race. And why the hell not, it was a heck of a race. The dynamic is a little bit different this time in as much as there's no interviewees apart from Tom and the bulk of the footage is mid-race material and as such you get to see that other side of Tom as a runner in the midst of battle. There's some lovely build up stuff before the race and it's wonderfully shot throughout. I think it's tough to create something like this whereby we already know the outcome, that's really same for any film following a race, but the skill is in being able to build a bit of tension regardless and really give the viewer some insight into what was going on between the runner themselves, the crew team and the other racers. The guys that made this certainly captured that and even as the camera fades up at the Placer High School track finish line of the race and you first see Toms shadow pelting round the corner on a distant wall swiftly followed by Tom floating over the track as if just completing a flying 400m lap, you really feel like shouting him on and willing him over that line.
Underdog (Summit Fever Media)
"My name's Damian, I'm 42. I live in the Cotswolds, I'm an outdoor journalist. I'm having a mid-life crisis; That means I like to run ultra-marathons. And I've got a UTMB problem." He wasn't lying. Damian raced every year at UTMB from 2015 to 2018 and was able to improve his overall ranking year after year (after year after year) from a not-to-be-sniffed-at 31st place in his 2015 debut; To an impressive 12 place leap up to 19th in 2016 and shaving 89 minutes off his time in the process; He somehow managed a 3-hour improvement in 2017 and a 12th place finish, and finally the stick-a-fork-in-him-he's-done unreal 5th place finish in 2018. This film follows the race that year's race, from training all the way through to crossing that finish line in Chamonix.
The strength of the field in 2018 was unbelievable – Jim Walmsley, Kilian Jornet, Zach Miller, Tim Tollefson, Ryan Sandes, the list goes on. So with all due respect to Damian who's described as a "Journalist, Father, Tea-drinker," before, "athlete" on the Amazon Prime link for the film, I don't suppose anyone gave him even the slightest of chances. But still the guys at Summit Fever Media hedged their bets and set off on the journey with Damo, and it has to be said the world of running documentary films is all the better for it. Check out our review of the film upon it's original release here.
Inside Killian Jornet (Lymbus / Rakuten TV)
Inside Killian Jornet goes a little outside and beyond the world of running. A bit like the man himself. It's an opportunity to really see behind the scenes and inside the day to day life of, not just an athlete, but really the most elite athlete. Jornets ability as an endurance athlete is widely accepted as legendary so any chance to get up close and personal with someone like that would normally be a must-see for most sports fans. However, the makers of this film really did time it well. The film follows Kilian in a year were he suffered 2 quite bad injuries but still competed in events, embarked on a world tour and also had to adapt and prepare for possibly the biggest challenge of his life – fatherhood!
Wrath (Summit Fever Media)
The Cape Wrath Trail is a 230-mile route starting in Fort William, it winds through the Highlands of Scotland to the finish at Cape Wrath, the most north-westerly point of the main land. The words "Highlands" and "230 Miles" obviously didn't sound challenging enough to Beth Pascall and Damian Hall as they decided to try to break the route FKT in deep mid-winter. In place of a fan fare finish line is simply a touch of the Cape Wrath lighthouse wall in complete darkness, instead of checkpoints or streets lined with supporters there are Bothies (little more than glorified sheds) and non-existent trails through marsh and moor land up and down mountains, and the trail has to have one of the most frustrating starting points ever seen – The ferry from Fort William to the start of the trail, the clock starts when the ferry departs; Timers set aaaand Go!…..then for the next god knows how long the two runners check the maps again, have a chat and jump on the spot to keep warm.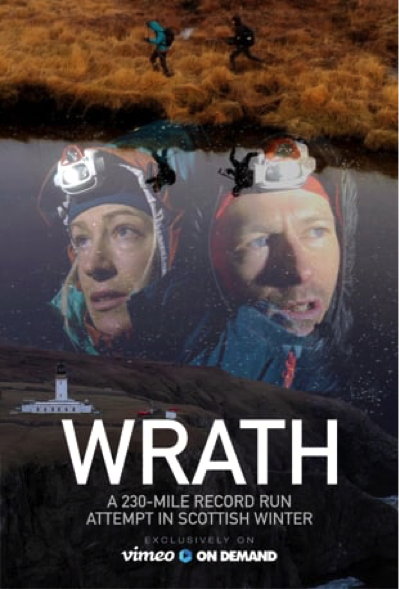 Beth and Damian ran completely self-supported, save for one run-in with a Ranger out on his quad bike "He gave me his sandwich and wished us all the best," says Damian, "he also said I could play with his rifle. Not a euphemism!" It's Damian's jovial spirit and sometimes overly-optimistic outlook coupled with Beth's calm demeanour and realistic approach to the whole thing that really underpins their success throughout. The film splits between footage captured by the runners themselves on the move and what can only be described as, yet again, mesmerising and enchanting sequences and shots from Matt and Ellie at Summit Fever Media; Vast snow-capped peaks and breath-taking mountain ranges with rivers, lochs and deer at their feet are the themes throughout, all beautifully weaved together by the team to really bring to life the daunting, drastic, but downright stunning wilderness.
The Barkley Marathons: The Race that eats its young (Annika Iltis / Timothy James Kane)
"Have you heard of the Barkley marathons?" Asked every non-runner the world over to someone who showed just the slightest inclination that they might have at some point in their life run a 5k. The Barkley Marathons: The Race That Eats It's Young was the one that really cut through. Thanks in no small part by it being picked up and plonked on Netflix. But it's all well and good being put up on the stage you've still to engage, entertain, enthral, bamboozle, astound and ultimately leave the audience thinking "What the..!?!" if you want to stand any chance of success. This film did all of that. Heck the race itself does all of that on an annual basis. There's no real need to curate, create or fabricate any sort of narrative story line here, just rock up to the yellow gate in frozen head state park, start rolling and wait for Laz to blow his conch and light a smoke. If that sentence makes no sense whatsoever to you then you need to catch up and watch this film sharpish.
Lighting the Fire (Myke Hermsmeyer / Matt Trappe / Hoka One One)
This one is a little different to all the others due to the fact that they've split it out over three 15-min(ish) episodes but that really adds to the appeal. Each one is strong as a stand-alone watch but link them together and you get a true insight into what is actually a fascinating story of friendship and camaraderie, with running merely the backdrop throughout. The story follows a group of friends who all run together in Flagstaff Arizona and call themselves the Coconino Cowboys. The story is of their joint pursuit for 5 of the group trying to qualify for the 2018 Western States 100 Mile Endurance Race via the Golden Ticket races. Jim Walmsley is one of the founding members of the group and the first 2 episodes are really about his background, his previous 2 attempts at Western States; In 2016 he was on course for the win before taking a wrong turn at mile 93 and ended up coming 20th, which is also subject of another doc in itself "Found on 49". Then in 2017 he set off at a blistering pace trying to set a sub-14 course record and ultimately ended up dropping out the race at mile 75. We all know what happened with Jim at the 2018 race and to some extent quite a few of the other cowboys had great success as well at the race but this little series prequel to all that really sets the tone perfectly for a remarkable team effort by all of them.
Paul Tierney: Running the Wainwrights (Dave MacFarlane / DMTWO media / Inov8)
Another helping of Inov8 garnished delights here and Paul Tierney's attempt at breaking Steve Birkinshaw's Wainwrights record. Scaling all 214 of the Alfred Wainwright peaks in the Lake District on a route that covers 318-miles and around 118,000 feet of ascent. The numbers might be mind-boggling but they are by no means more dazzling or mystifying than the beauty of the Lake District captured in the doc.
I don't know what or who plays more of a centre stage in this film, Tierney's captivating self-deprecating attitude "I'm not even the best runner in the house, let alone the Lakes" coupled with his unerring mental capacity and physical strength, or the mesmerising scenery that is thread throughout, the breath-taking mountainous terrain, the technical and incredibly rocky descents, the long sweeping ascents beautifully captured from afar as the tiny ant sized runners pick their way across, through and up. Read our exclusive interview with Paul after his incredible achievement.
Last Women Standing (Summit Fever Media / Inov8)
The Barkley Marathons and Lazarus Lake rear their state park frozen heads once again in this homage to quite an incredible female athlete in the world of endurance sports. Nicky Spinks, 52-year-old, breast cancer surviving, farmer, fell-runner and multiple endurance record holder, set out to compete at the 2019 edition of the Barkley and many believed that if anyone from the UK shores was tough enough to go to battle and self-navigate the 100 odd miles of Frozen Head State Park, then Nicky would be that runner. The film could've potentially come unstuck due to the race's strict filming limitations out on the course but they overcame this by recording the audio and conversations of some of the runner's mid-race instead and it kind of adds a different dynamic that works remarkably well.