The re-arranged event will take place on Saturday 17th October in Gdynia, Northern Poland. The race originally set to hold mass races behind the International athletes will now take place exclusively for the International fields of 157 men and 129 women.
The course will use four laps of approximately 5.5km and finish on a purpose built surface on the City's Beach in Gdansk Bay on the Southern Coast of the Baltic Sea.
This will be the first World Athletics Series Event to take place since the Covid-19 lockdowns. ''It is clear that the entire community – athletes, national federations, coaches, athlete representatives – have risen to the challenge," said Jacob Larsen, World Athletics director of Competition and Events (via World Athletics). "It is evident that this is something everybody wants to happen – and indeed are making it happen''.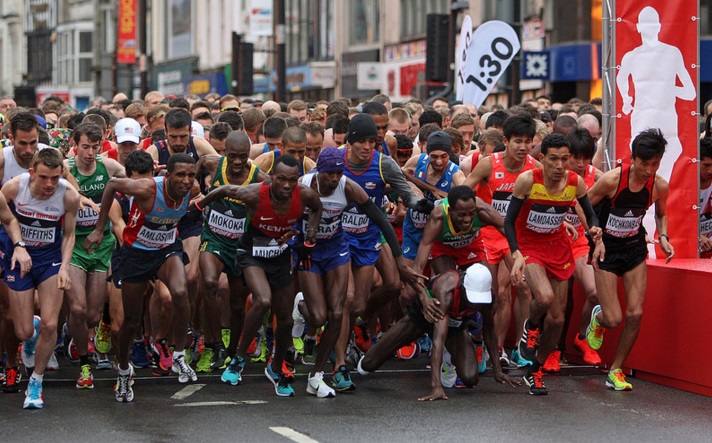 The men's race
Joshua Cheptegei will be the resounding favourite for the men's race. The Ugandan Athlete has set World records for 5,000m (12:35.36) and 10,000m (26:11.00) in recent months and a 5km World Record (12:51) falling to him in Monaco back in February.
The record attempts came with a change of focus for Cheptegei after his original dual with World Half Marathon Champion Geoffrey Kamworor was postponed in March due to the Covid-19 Pandemic.
World Record holder Kamworor is not named in the Kenyan Team so the greatest opposition will likely come from Compatriot Jacob Kiplimo who will also make his Half Marathon debut in Gdynia.
19 year old Kiplimo finished second to Cheptegei at the World Athletics Cross Country Championships in Aarhus on the day that Kamworor was de-throned as World Champion. Two years earlier he had claimed the global crown in the Junior Men's race.
Instead the Kenyan Challenge will be led by Kibiwott Kandie who has a 58:38 best making him the fastest in the field and as the fifth fastest of all-time, should not be counted out. Abraham Cheroben of Bahrain is the second fastest with a best of 58:40.
Guye Idemo Adola will head the Ethiopian Team with a P.B. of 59:06 and a Bronze medal at the Championships in Copenhagen from 2014 to his name.
Kaan Kigen Ozbilen (P.B: 59:48) of Turkey is the fastest European entrant with his P.B. recorded at Ras Al Khaimah in 2019.
British hopes have been affected by a series of withdrawals, reducing the men's team to five athletes.
Jake Smith will be the fastest Briton on Paper with a time of 62:00 recorded when finishing third at the Vitality Big Half in March behind Kenenisa Bekele and Chris Thompson. This was a third outing over the distance for the 22 year old who debuted with 64:03 in 2018, going on to run 62:03 at the Boulogne Billancourt Half marathon last November.
The Cardiff based athlete born in Bermuda then recorded a 28:00 time trial for 10,000m in July to test fitness coming out of the Covid-19 lockdown and followed up with a fourth place at the Muller British Championships over 5,000m in September.
"I'm just going to try and create as best I can a perfect training block for the World Half'' said Smith (via Athletics Weekly). ''At the World Half I would love to run 61 minutes low''.
Mohamud Aadan set his lifetime best of 62:30 on his way to seventh at the Commonwealth Half Marathon championships in Cardiff back in 2018.
Scottish based Welshman Kristian Jones has become a regular in British Teams of recent years and takes a 63:09 best in to the Championships, recorded at the Barcelona Half Marathon early in 2020. His most notable win to date was a victory at the British Athletics Stirling Cross Challenge in February.
Tom Evans P.B. of 63:15 came at the Antrim Coast Half Marathon in September. This was just the latest eye-catching performance for the Ultra distance Specialist. Evans has medalled at the IAU World Trail running Championships and the infamous Marathon Des Sables. Evans proved that he was an athlete comfortable over any distance with a 13:41 clocking at the Podium 5k and a Bronze medal at the CAU Inter-Counties Cross Country Championships back in February.
Adam Craig (63:24) has come in to the team as a replacement for fellow Scotsman Callum Hawkins. This will mean a debut for Great Britain & Northern Ireland on the roads for the Inverclyde AC Athlete in just his second outing over the distance.
The women's race
The women's race will be more likely to see a competitive battle between former champions and some of the fastest athletes in history.
The Kenyan team will boast 2016 Champion Peres Jepchirchir (65:06) and former World record Holder Joyceline Jepkosgei (64.51). Rosemary Wanjiru (65.34) is the next fastest on an extremely strong Kenyan team with a 10km best of 29:50 set in Valencia.
Netsanet Gudetta (65:45) of Ethiopia is the defending Champion setting a women's only world record of 66:11 in Valencia. That record fell to Jepchirchir with 65:34 in an elite only event in Prague last month.
Her compatriot Ababel Yeshaneh is faster yet with a 64:31 clocking to smash the world record held by Jepkosgei in a race where second placed Brigid Kosgei also dipped under the previous best mark.
Sifan Hassan of the Netherlands is another notable entrant and fresh from a European Record of 29:36.67 over 10,000m erasing Paula Radcliffe's mark in Hengelo last weekend. Hassan also revised the World Hour mark in early September running nearly 19,000 metres.
Samantha Harrison is the fastest British challenger having clocked an impressive 71:01 to finish second at the Vitality Big Half in March after leading the race for some time. Harrison, who describes running as ''her happy place'' only began racing seriously in September 2018 and in late 2019 described a main goal for 2020 to be gaining selection for the World Athletics Half Marathon Championships.
Clara Evans is set to make her debut for the Great Britain and Northern Ireland Team, selected off the strength of a 72:21 lifetime best set at the Antrim Coast Half Marathon in September.
Becky Briggs will make her senior debut for Great Britain and Northern Ireland in Poland. The 20 year old set her best of 72:54 in Northern Ireland last month, taking her to seventh in the British U23 all-time lists and becoming the third fastest U23 in Europe this year.
Find out more here.