Many runners like a goal to keep them motivated and after a bit of a layoff from races, contributor Lou Haylett decided to take the bull by the horns and enter a half marathon. Windsor Half Marathon seemed like a great choice – friendly, welcoming and a stunning location to keep your mind off the running bit! Here's how Lou got on. 
As a 46 year old who normally fits a bit of 'lite' running around work, family and less active pursuits, I surprised myself when I agreed to take on the Windsor Half Marathon 3 months ago for Run247.
To set the scene – 3 months ago I was running the same 3-5 mile loops a couple of times a week around flat Oxfordshire river paths. I'd run the London marathon in my 20s, and the Bristol half 10 years ago, but I had begun to doubt I still had any 'longer' runs left in me. I decided that if I was doing it I was going to do it properly, and found myself a 12 week plan to go from 5k to half marathon distance. The plan I followed had a couple of 3-4 mile runs a week, a strength session (which I have to admit I rarely did), an interval paced run mid-week, and a long run on a Saturday – which increased by a mile a week up to 12 miles – followed by an 'easy' run on the Sunday of 3-4 miles. It felt doable and I liked how it built me up gradually to the 13.2 miles.
In the buildup to the race I was provided with a new pair of Saucony's Freedom ISO 2 running shoes. I'd been wearing the model for a while and they'd become my favourites (so much so that I'd worn them out), so this was really a replacement pair. These shoes are really comfortable and cushioned, which as I have a condition called plantar fibroma (small nodule in the arch of my feet) is key to me being able to run without pain. Combined with a fairly neutral heel-toe drop, makes them my preferred shoe for non-slippy terrain. Added to which they're particularly good in hotter weather, as the material they are made from is very breathable and works well with my wider foot. Don't my feet sound lovely! They were perfect for the paved path and road surface of the Windsor Great Park Half.
As for the race itself, the weather forecast looked bleak with thundery showers, but in fact we had a mix of some sun and drizzle towards the end of the race. Perfect conditions.
I opted to travel by train to Windsor as I'd read the parking situation could be problematic and the M4 was due to be partly closed. On the way there, I was happy with my choice and I really enjoyed the mile or so walk from the station to the start line. A good warm up. After completing the race, my legs wished they didn't have to walk back down the great mile even if Windsor Castle was waiting for me at the end of it!
The facilities at the small race village were well organised and easy to navigate. Plenty of toilets, good food options, and Saucony had a mini shop set up in case you had forgotten anything key, or just fancied a browse. The Saucony team were friendly and encouraging. It was straightforward to slot into the right time section for me (I was hoping sub 2h15 – turns out was a little ambitious!) and there was a friendly pre-race atmosphere. I chatted to a couple of ladies that had come all the way from Essex!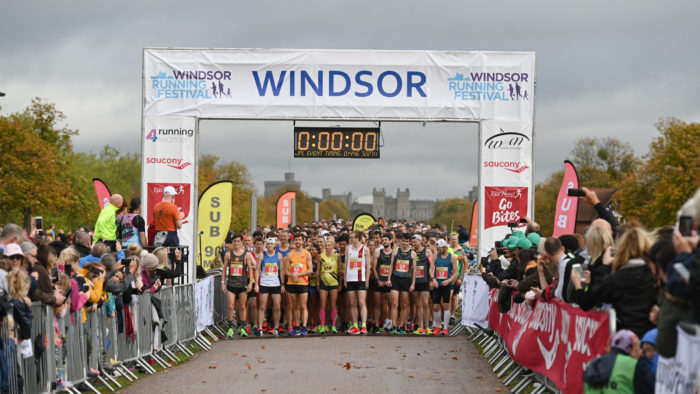 The race starts by taking you up about 1.5 miles of the 'Long Walk' – which is 2.64 miles in total from Windsor Castle Gate at the bottom to the foot of the Statue of King George III. There was plenty of crowd support along here, giving us a good send off.
The first few miles I especially enjoyed. The traffic free roads through the park were easy to run on, and the parks autumnal tree lined views were a lovely space to run through. My plan was to take it easy at the start, to keep something in the tank for the last 3 miles which I expected to find hard. Water stations were well placed along the route, and the signs marking the start and end of the 'drop zone' for empties – with bins with a target to aim at were a fun touch.
The course had plenty of flat sections….although I have to admit I hadn't been expecting so many 'hills'. They were mostly slight and fairly short in their incline – and of course every hill was followed by a downhill which became a rhythm for the course. I hadn't expected it to be as undulating as it was, which did result in me, and quite a few of my fellow runners, walking up more of them as the race continued.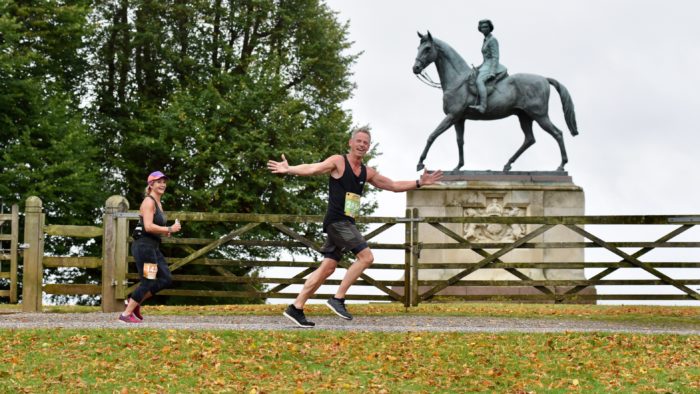 Support along the race route around the park was intermittent, but at times very audible and much appreciated. The route has two 5.3 mile loops with some sections being in both loops. Mentally I found it a bit tougher to see a 2 mile marker, closely followed by a 10 mile marker – as my brain registered how far I had to go until I would be back here again! This was offset by some sections with some really encouraging supporters and some helpful little chats with fellow runners along the way. Passing the 12 mile marker was a high spot, as I knew I was on the home straight and it was pretty much downhill all the way along the 'long walk' to the finish line. I sprinted for the finish as I saw it was 2:29:45 as I approached. Gun time was 2:30:05. Chip time 2:23:03. Given it was my longest run in quite a while, with more hills than I had expected, I'll take that. And I'm already thinking what next?
Next year's Windsor Half takes place on 27th September 2020. Find out more.
Windsor Great Park will also be the setting for the 2020 RunFestRun.