So Sunday is looming large, the week has been and gone, and all preparations should be in their final stages. It's the fifth and final day of our London Marathon Elite Preview and today we've got a few of the British contingent for you – Chris Thompson, Jonny Mellor, Lily Partridge and Steph Twell.
Chris Thompson
London: 2:11:19 (11th – 2014), 2:15:05 (16th – 2016), 2:24:11 (30th – 2017)
PB: 2:11:19 (London 2014)
Chris Thompson's last competitive race in the Marathon came back in 2018 at the New York Marathon. Thompson ran 2:28:54 that day in what has been his only other marathon event that wasn't in London. The 39-year-old first ran the London Marathon back in 2014 when he finished 11th and ran his PB of 2:11:19. There was no marathon race the following year in 2015 for Thompson there was however a win in the half marathon at the Birmingham Great Half Marathon when he ran 1:03:00. Thompson returned to the London Marathon in 2016 and was able to run 2:15:05 which was good enough for 16th place.
2017 was another good year for Thompson in the half marathon with 1st place finishes at both the Nottingham Half and Great Scottish Run respectively, as well as a 2nd place finish at the Reading Half Marathon. In the April that year Thompson ran his third London Marathon in a time 2:24:11. In 2018 Thompson ran a half marathon PB of 1:02:07 at the Glasgow Half, finishing 1st, and at the start of the year had finished 3rd place at the New York Half Marathon (1:02:43) as well as the Doha Half Marathon (1:03:03). Thompsons only current outing this year was at the Vitality Big Half in London back in March where he finished 2nd in (1:01:07) just 45-seconds behind Kenenisa Bekele in 1st.
Jonny Mellor
London: 2:18:48 (29th – 2017), 2:17:55 (14th – 2018), 2:13:25 (19th – 2019)
PB: 2:10:03 (Seville 2020)
Jonny Mellor's debut marathon came in the 2015 Frankfurt Marathon where he ran a very impressive 2:16:52, and he hasn't really ventured much slower than that in any of the intervening seven competitive marathons he's run. His first London Marathon was in 2017 when he ran 2:18:48, and he followed that up in 2018 by running 2:17:55 and 14th place; Sandwiched in between those results was a 2:12:57 at Berlin in 2017 which was quick enough to break the top 10.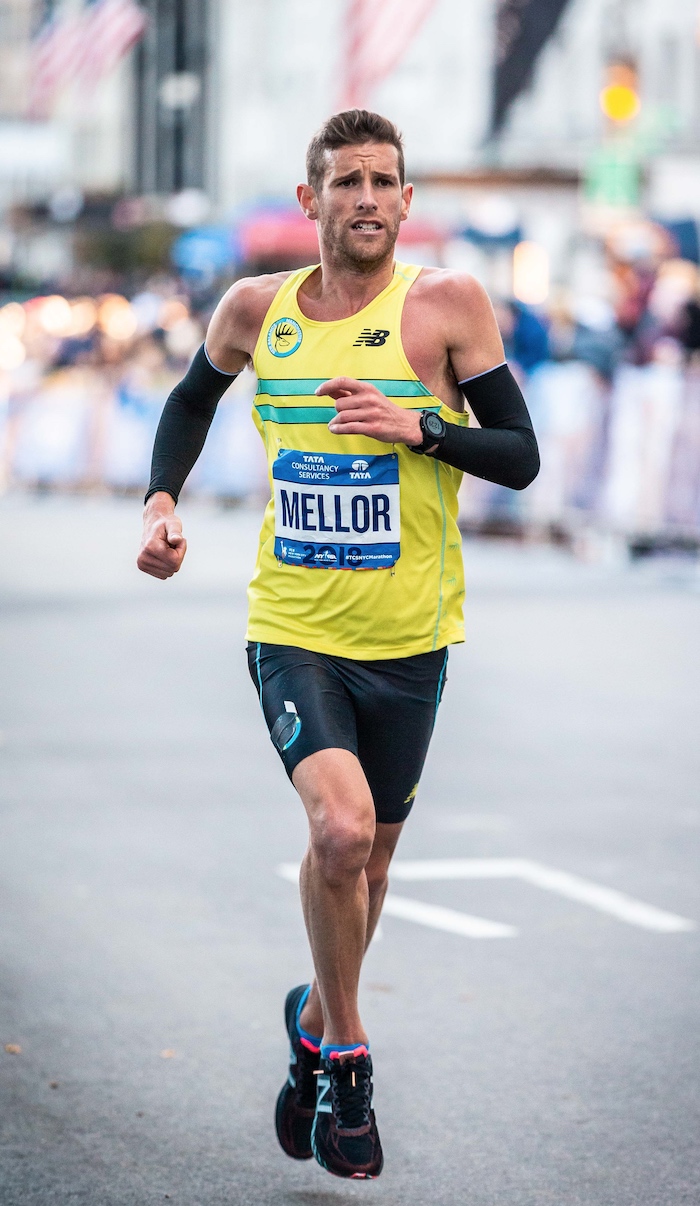 Later in 2018 a 16th place finish at the New York Marathon (2:16:09) was followed up in April 2019 with a third London Marathon and a time of 2:13:25. Mellor returned again to Berlin in September last year and was able to lower his PB, at that point, to 2:12:29 before heading over to the Seville Marathon in February this year and taking nearly two and half minutes of that PB by running 2:10:03.
Lily Partridge
London Marathon: 2:29:24 (8th – 2018), 2:31:53 (17th – 2019)
PB: 2:29:24 (London 2018)
Considering the way this year has panned out for the general public, let alone professional athletes, Lily Partridge has still managed to turn in a very solid year of racing in a world of cancelled events and restrictions on even being outside your own home at certain points. Already in 2020 Partrdige has clocked up a 3rd place finish at the Seville Half Marathon (1:11:31), a Win at The Vitality Big Half (1:10:50) in the March, and then another Win at the Antrim Coast Half Marathon (1:11:36) just last month.
Partridge's debut marathon was at the 2017 Seville Marathon where she finished 4th with a time of 2:32:10. A DNF at the Berlin Marathon later in the September that year was swiftly wiped from the memory at her next Marathon event, and her first London Marathon, when she claimed an incredible 8th place and ran 2:29:24. Partridge returned to Berlin in 2018 to race in the marathon at the European Athletics Championships which unfortunately resulted in yet another DNF in the German capital.
Last year's London Marathon was the only marathon race for Partridge, she ran 2:31:53 and finished 17th. She did, however, win the Manchester half marathon in the October (1:13:45).
Steph Twell
London Marathon: N/a
PB: 2:26:40 (Frankfurt 2019)
Steph Twell has had a very impressive career on the track over 1500 and 5000m highlighted by her Bronze medal in the 1500m at the New Delhi 2010 Commonwealth games, she also finished an agonising 4th in the 5000m at the Games just a little over 1-second behind 3rd. In 2016 Twell ran 15:20.70 in the 5000m at the European Championships in Amsterdam and took home the Bronze medal.
This year will be the first time that Twell has run the London Marathon and the fact that there will be a lack of spectators and a distinct change of the famed scenery doesn't seem to be bothering her too much, speaking to Runner's World recently she said "I do have that ability to focus really well, and I think that comes from learning tactics in track racing," she continued, "Who gets to run by Buckingham Palace and have the roads to themselves for 2 hours? It's a very lucky position to be in."Although this is Twell's first London marathon it's not her first competitive marathon race. She already boasts two rather impressive previous outings. Her debut came at the 2018 Valencia Marathon where she finished 7th with a time of 2:30:14, and then last October she was able to lower that time by almost three and half minutes at the Frankfurt Marathon where she ran 2:26:40 to finish 8th. Could she possibly break the Top 10 again this coming Sunday?