We're into Spring marathon season now, with Manchester this weekend (7th April), Brighton next weekend and I think there's one in London that people hardly ever mention a couple of weeks after that. Here's everything you need to know about the ASICS Greater Manchester Marathon this Sunday!
The history
With a rich history dating back as far 1908, the annual event attracts big name elite runners right through to first-timers looking to notch up their first ever 26.2-miles at a major event. Numbers at the start line have grown significantly year on year, rising to one of Europe's largest marathons in the space of just 12 months.
The race
As start lines go, it's a pretty great location – Emirates Old Trafford. 20,000 runners are expected to toe the line this year.
It's also known as one of the flattest major UK marathons. And this has made it popular with runners looking for a PB. In fact more than 36% of entrants say they're going for a PB this year.
And as you'd expect from northerners, local support for the event has earned it a reputation as one of the friendliest marathons in the UK. Residents play music and stand out offering drinks and jelly babies to runners along the way.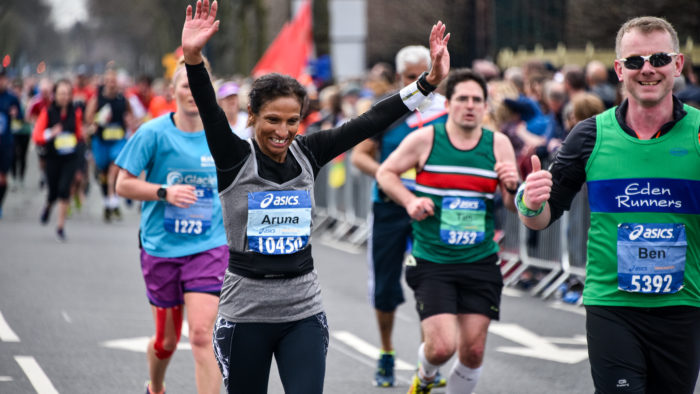 Manchester Marathon also strives to be an accessible and inclusive race, supporting runners of every level.
Human Race CEO Nick Rusling said, "We've worked hard to create a fun and friendly marathon event that is open and accessible to runners of all abilities and really engages the local community. Each year we see thousands of Mancunians come out in support of the runners and that has helped us to create a truly special marathon atmosphere."
"While we're excited to have some of Europe's top elite runners taking part, we're equally as proud of the first timers and recreational runners achieving incredible personal milestones out on our course. We can't wait to celebrate with them all at the finish line on Sunday," said Rusling.
Here are some of the runners who are taking part:
Elite athletes
Hungarian runner Fanni Gyurko, Bristol and West's Jenny Spink and Julie Briscoe of Wakefield are expected to lead the female field, while Matt Clowes of Cardiff is the favourite to take out the men's elite race.
Para athletes
This year, 15 wheelchair and 3 assisted runners have registered. Team Kerr, an assisted running team made up of (Dad) David, (Mum) Sandra and the main man (son) Aaron from Northern Ireland, will be lining up at the start line cheered on by their band of around 40 supporters making the trip with them. Stephan Couture and daughter Chloe of Warwickshire will be joining them in the assisted running field, racing a new custom-built wheelchair. Stephan sits on the Inclusivity Panel, a new initiative for the ASICS Greater Manchester Marathon aimed at making the event as open and accessible as possible.
Charity
In addition to the personal achievement of crossing the finish line, many runners are also raising vital funds for official charity partners the Alzheimer's Society, Cancer Research UK and The Christie and Royal Manchester Children's Hospital. Organisers are also donating £1 from every entry to the Trafford Active Fund with the purpose of developing sport in the local area.
For information on which charities are involved, or how to donate, visit https://www.greatermanchestermarathon.com/run-for-charity/
Marathon Eve Meet-up
To help with pre-race day nerves, the team behind the event has announced the Marathon Eve Meet-Up event on Saturday 6th April with an impressive line-up of speakers including world record holders, adventurers, celebrities and endurance athletes set to inspire and motivate runners. Speakers are all available for live or pre-recorded media interviews. Please register your interest using the contact details in the editor's note. For more information go to https://www.greatermanchestermarathon.com/marathon-eve-meet/
The Mancunian Mile and Relay
A unique relay option is available for those wanting to split the full marathon distance between teams of two or four, and the Mancunian Mile is open to runners as young as four-years-old wanting to experience the thrill of a major marathon event atmosphere. For more information go to https://www.greatermanchestermarathon.com/news/mancunian-mile-announced/
How to follow the race
Supporters who can't make it on the day can tune into a live-stream of the event at 8:30am via the website at https://www.greatermanchestermarathon.com/ where they can follow the progress of their friends and family members taking part.
The Hangout
Based at Lancashire Cricket Ground for friends and family, The Hangout will feature a stage and big screen where spectators can watch live coverage of the event. A DJ will be on set, along with a choir and prize giving. Title partner ASICS will be in the area along with three different food stalls and a bar, making this a great spot to relax whilst waiting for friends and loved ones taking part in the event. There is a strict capacity policy at this venue, and entry will be on a first come first served basis.
Getting Around on Race Day
Roads will be closed from 5am to 6pm to make way for runners on the day. Those making their way to the event are encouraged to use public transport where possible to avoid delays and traffic congestion. Organisers have identified the best places to watch the race are at Trafford Bar, Brooklands and Timperley Village. Find more information in the Spectator Booklet on the website at https://www.greatermanchestermarathon.com/.
Find the 2019 route map HERE.
Find the list of road closures HERE.
Good luck to everybody running in the Greater Manchester Marathon!
Images copyright ASICS Greater Manchester Marathon