Spartan wants to inspire people to stay healthy, active and motivated with their series of free Virtual Races. Moving to the digital world due to the COVID-19 pandemic and has seen over 7,500 participants take part in the races.
Complete the Virtual Trifecta
Matt Brooke, Managing Director Spartan UK & Ireland, said: "The Virtual Races continue to be an invaluable platform to inspire and motivate our community to focus, train and achieve their fitness goals."
"Whether you are just starting your fitness journey or you're a seasoned endurance athlete, the Midlands event weekend has a Virtual Race to cater for all abilities. Participants have the option to complete distances varying from 5K to a Half Marathon. They can also claim a Virtual Trifecta by completing all three of our core race types (Sprint, Super, Beast). Racers can also tackle the Trails, keep up with the Kids Races, or maybe even get adventurous and take on the challenge of a 4 hour endurance event (Virtual Hurricane Heat)."
Humbling experience
Thomas Duncan Bell, Co-Founder of NGX Nutrition, with Spartan as the Presenting Partner for the Midlands Virtual Race. He comments: "The thing that makes Spartan so appealing is that regardless of rank, every time you race, you're weighted and measured as a human being. In any Spartan race, it's irrelevant whether you come first or last. What's evident every time you pass the finish line is that you're humbled. There's no greater means of self-development or mental resilience than that."
The biggest event yet
With the Midlands weekend gearing up to be the biggest Spartan UK & Ireland Virtual event so far, several high profile athletes have committed to the challenge. They include Britain's Strongest Man, Adam Bishop and Professional Rugby Player and England International Joe Gray.
Joe is Co-Founder of MyoMaster, the Official Recovery Partner comments: "We are so excited to be part of Spartan's Virtual Race series and be able to bring our recovery products and knowledge to their awesome community. We are on a mission to help everyone taking part achieve their fitness dreams with bodies that are injury free and ready for optimum performance."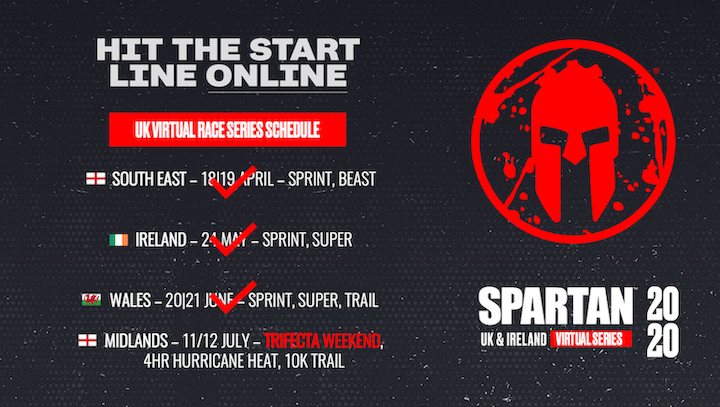 Back with a bang
Emily leRoux, Director of Partnerships at Spartan, added: "The Virtual Race is back with a bang in the Midlands! As well as the epic race day experience we have some fantastic discounts that will benefit our participants."
NGX – 25% off their meal shakes, personalised to your DNA.
MyoMaster – 10% off their recovery product range
All Virtual Race participants will get their hands on a virtual medal, certificate and a spot on the leaderboard.
To sign up for free visit their website by clicking here. The first 500 residents to register from England will receive a free 3-can Tenzing sample pack.