I first ran The Vitality Big Half on 1 March 2020, just before 'that' happened. And almost 18 months later, I was on the start line once again ready to tackle 13.1 miles on the streets of London.
Having reviewed the race last time, I wanted to see how London Marathon Events had managed a very difficult period for mass participation events.
Header image © The Vitality Big Half
Pre-race information
Just like last time, it was comprehensive, clear and timely. Personalised emails arrived around 10 days before the event confirming my start zone, wave time and so on. Links to online information once again led to a very clear summary of information.
My only two suggestions would be a layout map of the start areas and a detailed FAQ on some of the jargon that us runners take for granted – for example: What is a timing tag? What is a wave start?
Start areas
One significant difference from last year was baggage lorries were replaced by baggage vans. Combined with everyone having a timed slot for dropping off their bags it seemed to work well.
Rather than having to identify your own lorry you just joined a single queue and then put the bags into a single van for them to then be sorted at the end. The queue was long when we joined it, but I estimated it was only a seven to eight minute wait as it moved quickly.
A usual pre-race visit to the toilet (part necessity, part research!) and there were literally NO queues. Yes, that's right. At an event with over 10,000 participants across two start areas there were no queues when I went (and I wasn't in the last wave).
We then joined the flow into the start zone and instead of being kept in prearranged wave groups, we just walked towards the start, and they set people off in groups of a few hundred every few minutes. It worked really well, didn't feel overly congested and there were plenty of announcements and lots of music to keep us occupied.
All in all, I think it was very well handled. There may be some minor changes and improvements to make, but overall it was very impressive.
The course
This was the same as last year. Mile markers every mile (although the mile two marker was probably in the wrong place) with clocks on everyone plus 5km markers and timing mats. There were three water and one Lucozade drinks stations (one fewer than last year) – which is probably more than enough.
I know that London Marathon Events are trying to reduce the number of bottles used so I held onto mine for longer and the Lucozade came in cups. Add in a reasonable amount of crowd support, lots of DJ trucks and a couple of bands/choirs and this meant we were well entertained. There were a couple of cobbled sections that can be tough – but that's London. It's historic and diverse.
As with last year, there was a relay option for teams of four and a free Vitality Big Mile event that was held in the afternoon – aimed at a wider range of people. A great initiative as this meant the participants got the race day experience and finished at the same place we did.
The course is a big plus for the event and I loved it!
Marshal / race crew
Just as last year, they were fantastic. Smiles galore, helpful, friendly and encouraged us along the way. Couldn't be faulted!
Finish and post finish
Finishing right by the Cutty Sark is a huge part of this race and it didn't fail to impress me again. Over the line and immediately round to collect the medal.
It was a different design to last year and whilst I loved the running figure from before, this year's bling was weighty and it reinforced the #werunasone message.
We were also given a bag with the finisher T-shirt, a bottle of water and a bottle of Lucozade – both of which were very welcome (it was quite humid).
Last year's long queues to cross the road to collect our bags had completely disappeared and the only impediment to getting my bag quicker were my own legs that had stiffened since finishing!
So from the moment I crossed the line to getting my medal, T-shirt, drinks and my own bag was less than 10 minutes. The bag collection was brilliantly organised – on our running number there was a bag collection number, we went there and they were laid out in number order. Very impressive, although if it was raining, I am not sure whether there would have been any cover for them?
There was no post-race festival in Greenwich Park this year.
This whole part was a massive improvement on last year's event so a big thumbs up here.
Overall
I wrote last year that the event aims to bring more people into running who haven't run before, or are in communities that don't engage with running.
I'd be interested to see any stats on this, but I would say (anecdotally) that the runners I saw at my part of the field did look more diverse on a number of measures than I observe at the London Marathon for example.
London Marathon Events seem to have worked hard on their various community outreach programmes and it seems to be working.
As ever, I witnessed the uplifting feeling that you get at mass participation events. Smiles, support, friendliness and camaraderie were all present in abundance.
Whether this was magnified because of the last 18 months I'm not sure – but I am sure that it reaffirmed my view that for the many problems that London faces, underneath it all is a mass of humanity that are wonderful people.
I would DEFINITELY recommend this race.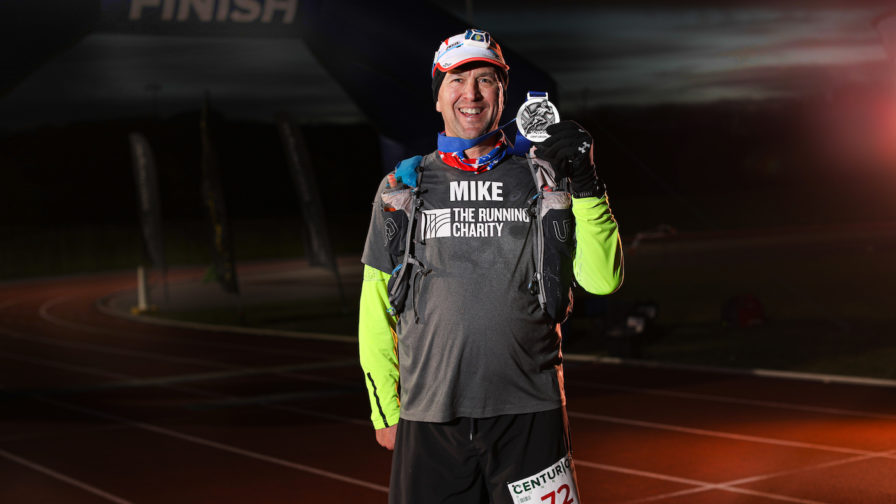 Mike Clyne has been running since 1982 aged 16.  At nearly 55 years old he is still running although he says it seems to be getting a little harder. His first half marathon was in March 1983 and was the first of many.
Along the way he has encouraged others to run as well. Not only a keen parkrunner and former triathlete, Mike has also completed a couple of Ultras such at the South Downs Way 50 mile in April 2021 and attempted the Thames Path 100 mile race in May 2021 but 'only' got to 71 miles. 
He's also done the Comrades Marathon and 10 Ironmans so isn't is reasonably experienced at what he says is the 'slower end' of endurance events. In six weeks he will be back at Greenwich on the start line for the London Marathon and is clearly as excited by this as the many other times he has toed the line since his first in 1985. 
When he isn't running, he can sometimes be found with a microphone in hand as a race announcer / commentator (#mikeonthemic !) and virtually always with a smile on his face. You can read more from Mike here.