The Risk Kitchen Llanelli Half Marathon was hailed a great success after today's event (Sunday 8th March), where almost 2,000 runners lined up at the start line from Parc Y Scarlets to take on the first race of 2020 organised by Front Runner Events. Hundreds of spectators came out to support runners across the course, and despite the wet forecast the sun shone down just as the race began at 9am.
There were many happy faces crossing the finish line with lots achieving PB's regardless of the windy conditions. Setting off from the start, (home of famous the Scarlets rugby team) runners took to the route along fully closed roads onto Sandy Water Park and along the magnificent stretch of the Millennium Coastal Path towards the National Wetlands' conservation area.
Athletes returned to the finish where they were cheered on by sponsors Risk Kitchen, their cuddly mascot "Risky", Badger from The Wave and a very supportive crowd which contributed tremendously to the atmosphere of the event.
The title this year was claimed by Swansea Harrier; Dewi Griffiths with an impressive time of 01:06:52. Luke Williams of San Domenico Running club took second place completing the race in a time of 01:09:54, followed by Swansea Harrier; Matthew Rees who took third place in 01:11:04.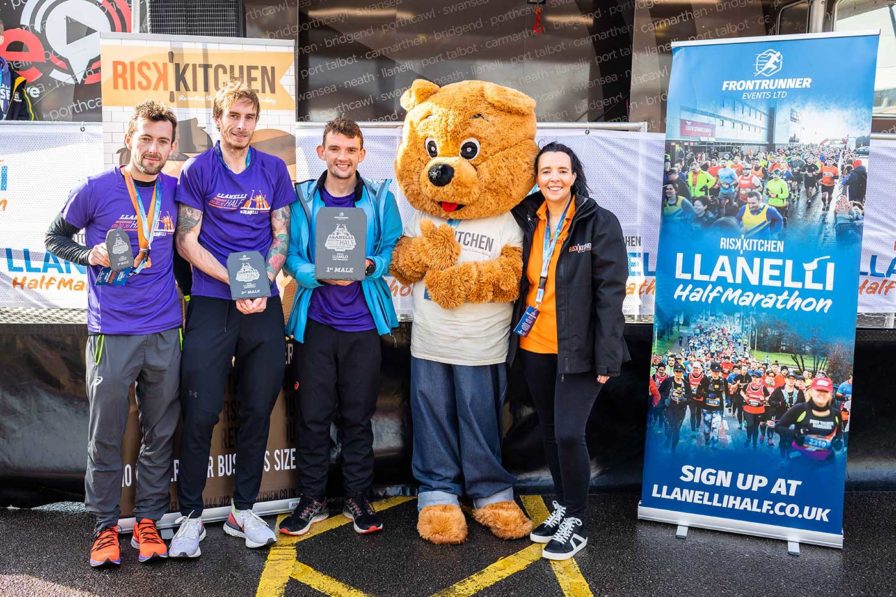 The first female home was Natasha Cockram of Micky Morris Racing Team in a time of 01:15:27, followed by; Carys Hughes of Cardiff AAC finishing with a time of 01:20:35 and Rachel Davies of Swansea Harriers claiming third place in 01:23:37.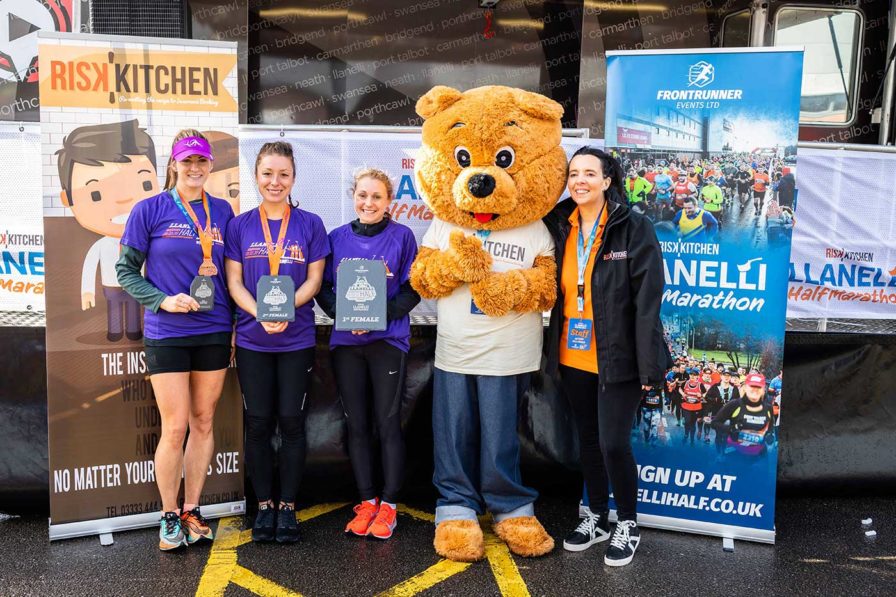 Runners were able to benefit from a fantastic team of pacers from Racecheck.com at the event, helping many runners achieve their PB and hitting their target time. The fully marshalled race was led by vehicle partners; Sinclair of Swansea and title sponsors Risk Kitchen insurance brokers. Runners benefitted from water stations every 3 miles (thanks to hydration partners Brecon Carreg), energy gels, and nutrition bars (thanks to Eat Natural). Runners were also treated to pre and post-race massage courtesy of students from Gower College Swansea. Finishers were quick to flash their medals and take photos donning their new race t-shirts too!
Results (provisional) – Llanelli Half Marathon 2020
Male:
| | | | |
| --- | --- | --- | --- |
| Position | Name | Club | Time |
| 1. | Dewi Griffiths | Swansea Harriers | 01:06:52 |
| 2. | Luke Williams | San Domenico Running Club | 01:09:54 |
| 3. | Matthew Rees | Swansea Harriers | 01:11:04 |
Female:
| | | | |
| --- | --- | --- | --- |
| Position | Name | Club | Time |
| 1. | Natasha Cockram | Micky Morris Racing Team | 01:15:27 |
| 2. | Carys Hughes | Cardiff Amateur Athletics Club | 01:20:35 |
| 3. | Rachel Davies | Swansea Harriers | 01:27:21 |
The winning team of the Corporate Challenge went to Carmarthenshire Actif, with an average combined winning time of 01:31:17, and were amongst other teams from JCP Solicitors, Burns Pet Food, Risk Kitchen, Parc Y Scarlets, Eat Natural and Owens Logistics Group.
The full results and race day photos are available on the website www.llanellihalf.co.uk
Race Director David Martin-Jewell said:
"Overall, we were very pleased with the event, and turn out following the postponement our original date for the Risk Kitchen Llanelli Half Marathon. The field of runners remained to be competitive, although we did have some drop-outs.
"The scenes from runners was incredible, seeing such happy faces cross the finish line really is the best part of my job! I would like to thank each and every one of the volunteers who helped us deliver a very successful event for Carmarthenshire. Their roles are vital to the success of the race and both the runners and I really appreciate their full support that lasted from the start to the finish."
"We would also like to thank our sponsors, event partners and crew who all play an important part in creating such a special event."
The organisers added that they are already looking forward to their next race of 2020; the Great Welsh Marathon & Half Marathon, which takes place on Sunday 5th April from Pembrey Country Park.  All places are sold out for this race, however anyone wishing to enter the JCP Swansea Half Marathon in June can do so by heading to: www.swanseahalfmarathon.co.uk
Go to www.llanellihalf.co.uk for further details, and full race results. You can also like the Facebook page www.facebook.com/llanelliHalf and follow @LlanelliHalf #Runelli on Twitter and instagram.