Mayayo, of CarrerasdeMontana.com, checks out the K42 Villa La Angostura race, which will provide the venue for the 2019 World Mountain Running Championships.
A different part of the world. Distant and isolated with huge lakes, snowy peaks, primeval forests and the wind, the almighty "Viento Blanco", whose power is ever present this far down South. Mapuches, conquerors, Jesuits, pioneers, soldiers, fishermen, hunters, mountaineers, skiers, they all passed through here and left their mark. The end of the world for some. Paradise on earth for others.
Running here for the first time with the 16th edition of the classic mountain marathon K42 Argentina Series has been a unique combination of pain and pleasure. The K42 Villa La Angostura race is situated in the middle of Patagonia, Argentina. When travelling from the Barilochee airport to the race village you do so along Via 40, a greatly scenic route that welcomes you into the heart of the Nahuel Huapi National Park.
The National Park's creation in 1922 was a first for Argentina, from land donated by Perito Moreno himself. It is therefore a historic territory for all the country as the most ancient National Park, yet Villa La Angostura also boasts a second national park. Back in 1971 the tiny peninsula of Quebrihue, just 13km long, where the first local pioneers settled, was divided to house the brand new Los Arrayanes National Park. It is the smallest in the country, providing shelter for the sweet cinnamon tree that gives it its name and with privileged views from the top of its cliffs to the huge lakes and snowy mountains that encircle it.
History has been kind to this region, which is now one of the best preserved in Argentina, as well as boasting great public services and security for visitors and locals alike. It sure has come a long way: from the old Jesuit mission of the Nahuel Huapi, who were massacred in 1717 by the natives, to the Cerro Bayo ski resort created by a Belgian from 1975, Villa La Angostura has managed to maintain its natural charm and get closer to those passionate about the mountain, hosting skiers, mountains bikers, fishermen, trekkers and trail runners alike.
A key breakthrough for mountain runners came when Diego Zarba and Norma Heredia realised their dream of a great alpine marathon, to climb from the village to the snowy top of Cerro Bayo at 1,800m. Sixteen editions later, this is the K42 Villa La Angostura that I experienced, where the race report is but a part of the great charm of travelling here. This was my personal experience:
Madrid-Buenos Aires-Bariloche-Villa La Angostura. More than 30 hours of travel to rest in La Posada del Cipres, I hope it was worth it … Yesterday I picked up my bib and the mandatory "T-shirt" for running the race. Tomorrow I will run my first K42 here and I'm uncertain. Two injuries this season have left me with few runs and low form. Up to 21km last Saturday in Ecotrail Madrid I was slow, with cramps in the final stretch. We went through the physical afterwards, of course, but still … How will this 42k / D+2200m course treat me now?
Saturday 17th November. The only advantage of changing schedules when crossing the Ocean? We run at 9am, but at 5am I wake with my eyes like saucers already. For once, I have time to prepare everything with care and arrive without any stress to the start, with Ragna Debats and Bernard De Matteis as top favorites. Martin already won yesterday on the 15k race.
There's a great atmosphere here today, over 2000 runners come together for this event. There are a lot more women on the start line than you normally see at a race like this and because the organizers allow for more than 12 hours to cross the finish line this makes the race accessible to many others who might have been put off by tight cut-offs. This should ensure that many will get hooked on mountain races from this finish line onwards. Bravo!
We are off! Cries of encouragement throughout the town, until we turn and enter the spectacular Patagonian primeval forest. A first loop of 15km going up and down the thick forest. It is magnificent. We run along single trails and just a few meters away, the land appears virgin, as if man had never stepped on it. Forest loop done! It hurts, but we're already down. Now we are heading gradually up to the base of Cerro Bayo ski station, which from the top of its 1,800m always decides the race.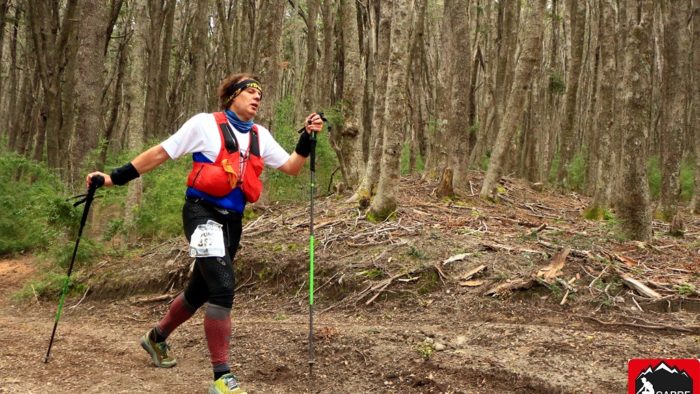 There is a lot of support along the course. Every 6km or so there is a check point where we can replenish food and drink, and more than that, every few metres there is someone cheering, supporting. And many, many marshals, almost on each ramp. And of course, do not forget icy river fording, a classic in Patagonian racing. Here it will be up to three freezing currents where we refresh our legs before finally reaching the base for ski station Cerro Bayo, on the 26k. Here begins the fiercest climb, along the vertical path aptly named RAIZAL II, for we negotiate the climb among thick roots and trees along its 3.5k / D + 800m.
Finally, we are out of the forest and into the snow. Cold. It starts to snow. Stop. I put on arm warmers, gloves, a hat and a windproof vest. Let's go! Last loops on snow and as we reach the Summit at 1,800m, the whole panorama of Nahuel Huapi opens up: forests, lakes and snowy peaks. Down there you can see La Angostura. VAMOS!
It was a very fun downhill, more than I expected. The upper section has tricky parts with broken rocks and variable snow. We keep going down, until we leave the ski station after the Tronador Restaurant, now we are back to the forest.
We run along the last 10km and it is amazing. There are a thousand curves and counter curves along the path on the long descent where you can show off…if you still have strength. And this is where you suffer if, as it happens to me today, cramps appear! Patience, alternate run-walk as you need to, and continue. Last kilometre! We run all along the main avenue with the whole town cheering. It was a very nice touch.
THE FINISH LINE. It has taken 7h03m for these 42km/D+2200m. I'm happy … even more so when they welcome us in with a hot stew of lentils and meat, before taking a shower and getting ready for the big night party with all the other runners. This is happiness.
All images copyright Carreras de Montana.
Mayayo is editor of Carreras de Montana and Trailrunningspain.com.