'Brutal beyond belief. Savage beyond reason.' This was the lovely strap line associated with the Silva Ultra Trail Snowdonia 50 / 100. Fortunately, I hadn't seen this before I signed up, or started this race.
And what a race this is! 102 miles, 10,220m of ascent up, over and around (but mostly up and over) some of Snowdonia's finest hills, including 3 goes up Snowdon, lots of technical ascents and descents, the Glyders, the Devil's Kitchen, bogs, Moel Eilo, Rhyd-Ddu and the Nantlle Ridge, huge boulder fields, more bogs, Cnicht, epic climbs and ridges, Carnedd Llewellyn, 2 sunsets, two sunrises, rain, ice, sun and lots and lots of fun. Throw in plenty of mentally dark moments, a few hallucinations, some amazing competitors and volunteers, and you have yourself the stuff of legends. Billed as trail run, I heard someone describe the route as 'extreme sky running', which at times it definitely was.
May 11th saw the first running of this event, organised by Mike Jones / Apex Running and it is an absolutely stunning, stunning run. The course is breath-taking, the organisation was faultless (for such a big event being held for the first time, run over such a distance and a long period of time) and the volunteers all unbelievably wonderful.
Jacob Snochowski (who finished 4th in the 50 mile) took this video which shows some of the highlights of the 50 route:
For reasons I'm yet to fathom, I'd entered myself into the 100-mile version of this race. I live in Oxfordshire, we have one hill of about 400ft and I don't get up that as much as I'd like. Quite why I thought I'd be able to compete in a mountain race around Snowdonia I don't know. When signing up I 'accidently' pushed the 100 button instead of 'just the 50'. Then I looked at the entrants list for the 50, and the 100… and I knew that I was in with the wrong crowd and definitely in trouble. With 57 people signed up for the 100, and only 45 of those making it to the start line, it was obviously going to be a tough race, but I'm reasonably sure none of us realised how tough it would be.
Headquartered at The Heights in Llanberis, the 2 races start and finish here. The 100 runners go out on 2 50-mile loops: one to the north, one to the south, with the 50-mile runners starting 12 hours later and taking on the second, southern loop.
The first loop took me the best part of 20 hours and was utterly incredible! Starting at 5pm on Friday, I ran a lot of it with Becky and Chris, friends from the Offa's Dyke race. We enjoyed the first go up Snowdon, the sunset, dark forest sections, then sunrise, as we caught up on adventures past and hacked through bogs, over technical, non-runnable rocky sections and cruised along some road sections. Once we had made it through Friday night and the rain, the sunrise brought hope, warmth and some incredible views. We were at the top of Carnedd Llewellyn as the sun came up and lit the top of the mountains. It was freezing cold, but amazingly beautiful. The cold also brought verglas, a thin layer of ice covering the rocks, which made traversing the rocky, boulder sections even more treacherous than usual.
Saturday was a glorious day weather wise, and slowly slowly, the rocks de-iced and the miles ticked by. I think the worst / slowest mile was a 40 minuter, along the top of the Glyders. I used to think I liked the Glyders. I don't any more.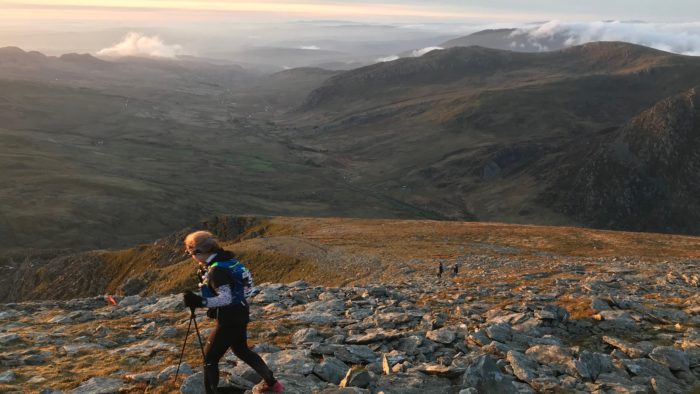 A high point was the team at checkpoint 7, who were dishing out amazing lasagne cake – for breakfast in my case – and were so full of energy and excitement that it was hard not to get enthused. I left with a joke and a huge cheer that kept me going for the next 8 hard and slow miles to Llanberis and half way.
I thought I was dropping out at the half way point… 20 hours was a long time to have be out and this second loop would take me at least 25 more. I knew this would be all about getting into the 'you are going to be running for a long, long time' mindset, but I was struggling with concentration on the technical bit of the trail, and some pretty knackered quads. It took half an hour and a few pep talks from my support team before I was out running again, into the second loop and second day of running.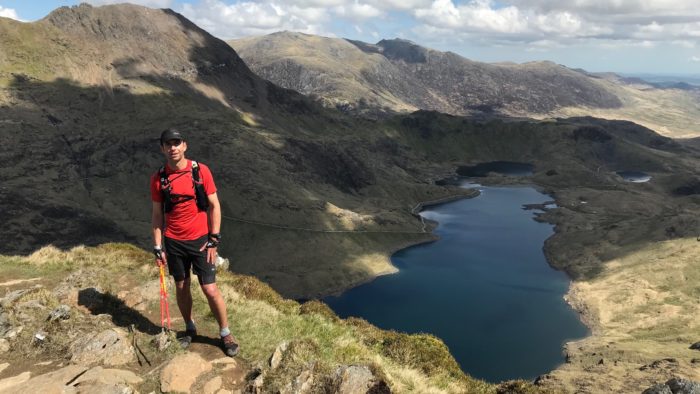 The second loop was just a bit mental. I left Llanberis again around lunchtime on Saturday and had a few fun hours as I made reasonable progress on trails I've run before up and around Moel Eilo and down to the Tafarn Brew Pub. As it got to evening, the relentless hill climbs were starting to make things go a bit weird! We went up Snowdon again, this time up the Ranger Path, then down the other side on the Rhyd-Ddu path. This was pretty tricky running at the best of times, but by now it was dark, and I was hallucinating all over the place – it was getting 'interesting'. I was very glad to have the company of Bobby and Mervyn for this second night, two lovely lads who had caught me up about 70 miles in and I'd managed to hang on to.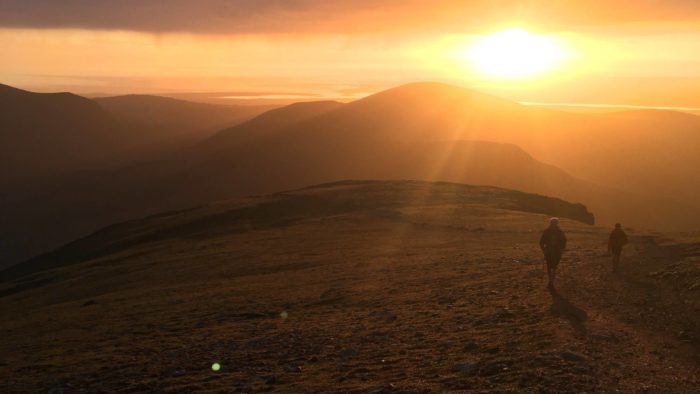 We got to Rhyd-Ddu and checkpoint 11 at 23:00 and were all in a bit of a state. They had beds here, so we all decided a quick 30-minute power nap was a good idea before the next horribly steep section up and over the Nantlle Ridge.
Invigorated by the power nap, we got over the Nantlle ridge in one piece, just, and finally got to Beddgelert at 5am, just an hour ahead of the cut off. Onto the next stop, double expressos and support crews at the Nantgwynant Café before the last, and final push, which consisted of another crushingly long ascent of Snowdon, this time via the wonderful / horrible Watkin Path, before taking a right over the jagged peak of Y Lliwedd… then descending to the final aid station at Llyn Llydaw, and then one final ascent of Snowdon via the Miners Track. Even the 4 miles down the Llanberis Path hurt now and was more of a hobble down to the finish.
We finished in 47 hours and 9 minutes, just after 4pm on Sunday. 11th, 12th and 13th, out of only 13 finishers.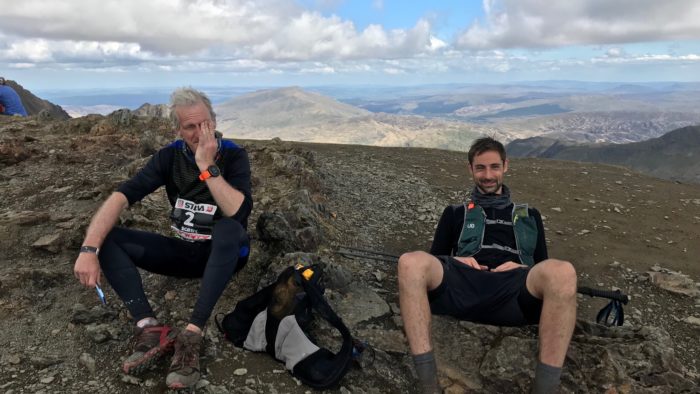 A truly humbling experience, I can't think of much I'd do to improve the race (although I'd ask the farmer to unlock the 5 or so gates that we had to climb over – it's surprisingly hard after 40 hours of running!). Having (only just) completed the 100, I am still stunned nearly 2 weeks later. I suspect that as word gets out and rumours spread about this race, it will become a legendary event – it certainly deserves to be – and it is by far and away the hardest thing I have ever done.
See more information and full results of the 50 and 100 here.