Day 12 on the Weekly JOGLE Update and my first day with Nic. It was great and I've been forcing myself to eat more, even when I'm not hungry, but it has paid off and I feel so much better for it. Our route today took us along Cycle Route 74, which wasn't overly hilly so my knee very much appreciated that! We are stopping in a B&B tonight, having a pub tea again and the owner donated £10 to a cause, so the day is ending as great as it started!
I crossed the border today and I'm now back on home turf. However, I did start day 13 quite tired and feeling a bit down but that soon changed, I had many visitors and gifts along the way that spurred me on. My Aunty and Dave visited again, then with 10 miles to go, my good mates, Jess and Dinno surprised me and gave me company for a few miles, whilst the guys from 361° ran with me over the border and brought me some new kit. I also received some new shoes from Metres to Miles and Sportlink. I then had a lovely sports massage from Jess and refuelled myself with a bbq on another lovely campsite with good company. Nicola heads home tomorrow and Julie is taking over.
Day 14 was a very hot one but it started well and I was feeling good. Then my route took me off-road and through a field of cows where one took a dislike to me and charged at me, I had to jump a barbed wire fence but ended up getting lost and walking in a circle for about a mile. So I feel like I wasted a lot of time but then my next support crew, Julie, arrived as we entered the Lake District. Another day of surprise visits from Taz and the dogs and my lovely friends from Harworth Football Club, Elaine and Tomo. It really does help being surrounded by friends to cheer me on to achieve another 32 miles today.
I steadily ran the first 15 miles of day 15. More friends from Harworth FC joined today and it felt like we were on tour but with 12 miles to go my knee gave way again. I had to walk the rest of the way which took forever but I had some gorgeous flapjacks from Shell Styro and the end of the lakes are now in sight. I'm slightly behind schedule by about 10 miles but hopefully, I can cut some more miles out further south.
My knee can't seem to make its mind up! I started today just outside Kendal and I was running and feeling good. I tried my new trainers from 361° and it was all going well until my knee went again! It's really frustrating as it's slower walking and I feel I'm not getting anywhere. Julie is leaving tomorrow and Taz is taking over for the last leg but for now, it's another bbq on another campsite.
Day 17, another 31 miles completed – the first 20 were great as I ran them no problem, but you guessed it, my knee went and I had to walk the remaining 11 miles. It swelled up today too, the first time it's done that but this evening I had some more physio from the lovely Leah Macauley free of charge, who would you believe is from my hometown of Thorne and now lives this way on! Leah confirmed again that my knee is my IT band, and it will be fine in the long term it will just have to be managed while doing the run. It's not happy at the minute. I also had a lovely surprise visit from my Steps colleagues, Joy Poole, Kay Koe and Jackie Baghurst who brought along the Steps mascot Chris! They also bought my tea, the absolute legends.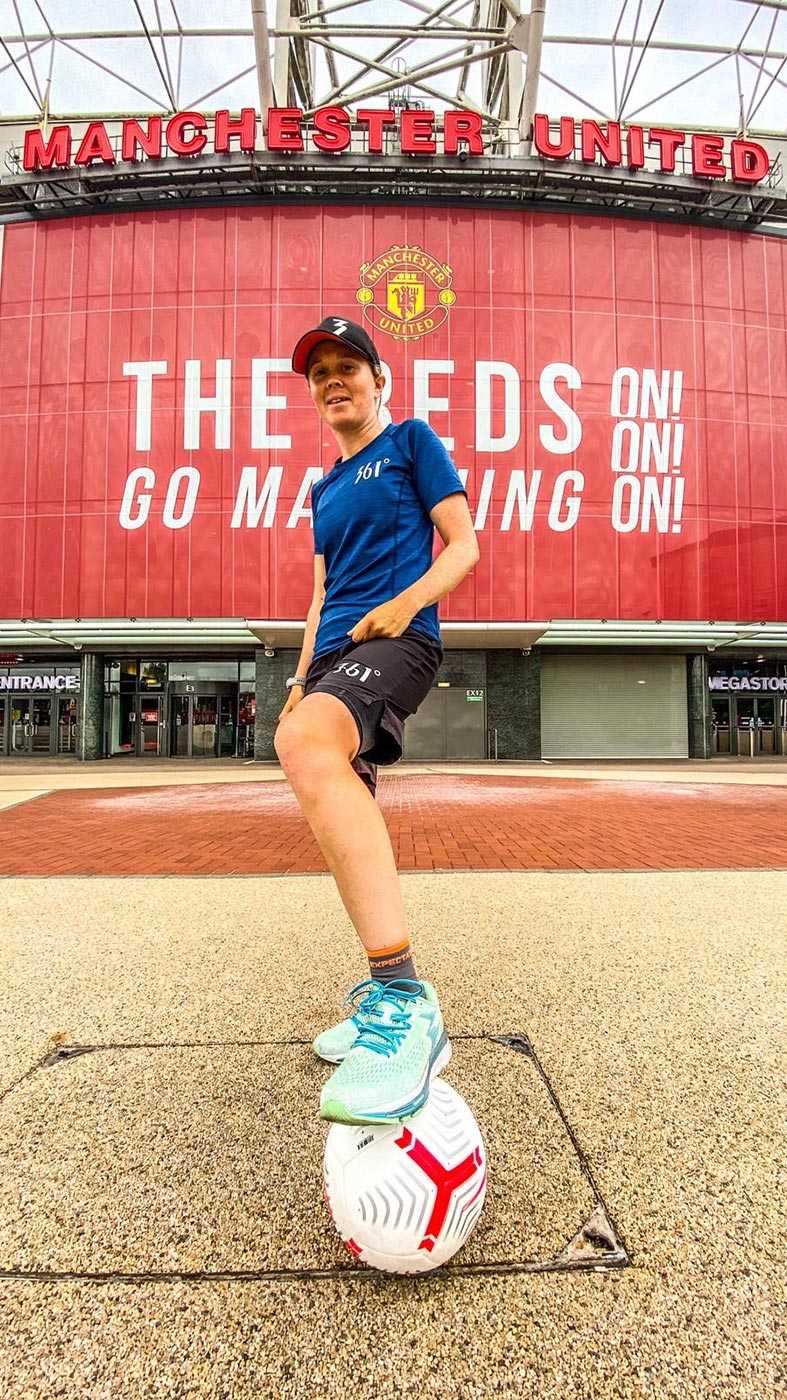 Day 18 and it's been the best day yet! Leah worked her magic on my knee and I was able to run for the whole day! I met my good friends Tim and Paul Shaw who organised for me to go to Old Trafford cricket ground. What an experience it was unbelievable, what a place. Of course, I had to put my Man United shirt on! We also went up the road to the Old Trafford footy ground and got some snaps. Had the best day. I did an hour walk with Tim and it was great to have some company again. I also had a lovely surprise on the route, my Aunty brought my Granny to see me which made my day and we're having tea together at the pub tonight. Me and Taz are camping tonight with Berty the dog who has been co-pilot for Taz. Also, a massive shout out to Ian Lynch for the amazing sports massage free of charge – today was definitely a good day.
Thanks to everyone who has wanted to come and visit and do a few miles with me. It's brilliant and all for a fab charity – can't wait to see what the next few days hold!
Vicky has a JustGiving page: https://www.justgiving.com/fundraising/vicky-hogg6
Read about the journey here in Vicky's JOGLE Update:
Read about Stage One
Read about Stage Two