Support worker Vicky Hogg continues on her 900 mile John O'Groats to Lands End (JOGLE) run to raise money and awareness for Dementia UK. The 35-year-old support worker from Doncaster has seen the devastating effects that Dementia can have on families and is hoping that her challenge can help raise money or awareness so that families and carers no longer have to sacrifice their own wellbeing to ensure that their loved ones have the best care possible.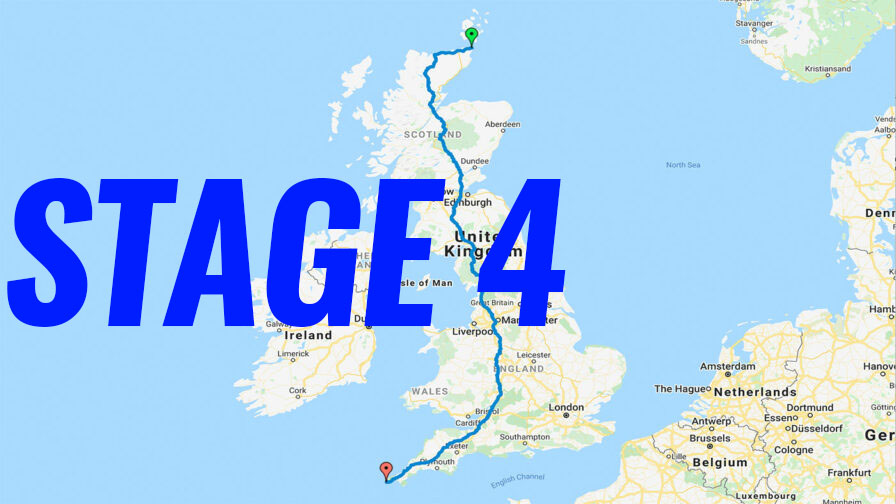 Day 19 and today was a day where I had to really dig deep but last night, I had a surprise visit from an old Harworth teammate and good friend, Colleen John who I haven't seen in 3 years! She flew over from Ireland for work and popped in to see me so that was nice and gave me a boost. Plus, my Aunty and Granny were still here this morning, and my Aunty gave me company the whole way on her bike. I think she's a bit sore now, but it was great to have her pushing me on and keeping me entertained. I did manage to run the whole way today as my knee is still holding up. I just felt a bit more tired than usual and didn't have much in the legs but with the help of my support team, I pushed on and was finished for 3pm. I should have been camping tonight but opted for a hotel, a much-craved McDonald's and an early night. I have met some fab people along the route who donated to the charity and campers from the campsite last night all showing support. There are so many good people in the world. I finished today in a place called Stone and I'm now back on track with miles after tweaking the route slightly.
Great start and a full day of running
Today started really well. We got up early to avoid the sun and I ran the whole day today except for the odd walk up the hills. I did have a close call today as a car narrowly missed hitting me, and if that wasn't enough they came back and shouted verbal abuse at me but he didn't dampen my spirits, today was a good day! Today consisted of lots of nice country roads which were mostly flat and I had a lovely visit from one of my best friends, Lucy Wright, who cycled the last half of the day with me. She also brought a nice little gift from her Mum and Robert consisting of some nice, new comfy underwear and some cereal bars, the little things but highly appreciated. I also got another surprise visit from Kayski Shaq and Wendy Sissons who also joined in on cycling alongside me, and telling everyone we passed what we are doing, taking in donations. Spending tonight in another hotel and also had another massage tonight from the lovely physio Claire Hyde free of charge. There seriously are so many good people out there, feeling hugely grateful at the moment.
Day 21 started so well until my knee went but to boost my spirits my good friend and teammate Rachael Bell and Neil Hamilton visited me and walked with me for about 8miles. As soon as they left, things then got worse – the clutch broke on the van too! What a nightmare. However, as always so many lovely people wanted to help, family, friends and strangers. A big thanks to Neil Leggott from Thorne and his Mum who lives in Worcester who came and picked us up and took us to the hotel. Other huge thanks to Lee from Cheltenham Fireworks who is paying for a rental van for tomorrow. Also, to Kay and Wendy for sorting out a hotel as we should have been camping tonight. Lots of offers of help so thanks to everyone, it's been a nightmare day and a pricey one but the good people of the world have really come through for us. A shout out to Taz for staying positive and keeping calm in the heat.
Back on track
Day 22 and we're now back on track with the miles and even have three in the bag! Today was a late start due to having to wait for the van rental place to open but I set off from Worcester heading to the finish point which was Gloucester. It was still a long day as I had to walk the whole day which is not good for my blisters. I had a lovely surprise from my good friend and teammate Sophie Gray and her dad, Steve. It was ace to see her and she walked a good 10miles, pregnant and in the heat, what a woman! Loved having the company and Steve helped loads while Taz had to collect the van. A massive shout out to F1 Auto Services who knocked some money off the bill because of what we are doing for charity. The weather was so hot and with my knee not being great, we got to Gloucester and called it a day. We are staying with Taz's family tonight and they have kindly put us up, paid for pizzas and did our washing and I also had another lovely sports massage from Emma Tustin Lothian free of charge, a good end to the day.
Day 23, 30.50 miles done. What a day. Started at Gloucester after a lovely night and today's endpoint today was a little place called Stoke Gifford just before Bristol. Started off well and ran the whole lot today as my knee behaved. I was on busy A-roads from the start which was okay just nosy! I had a lovely surprise visit from my brother Ric who was on his way to Cardiff for work. I then ended up on quiet country lanes which were nice but struggled to get out of the sun. It was ridiculously hot today. I had another lovely surprise from the sports massage lady from last night Emma. She tracked us down and brought brownies, what a lovely person with a heart of gold. In a hotel again tonight and my brother has popped back and stayed the night before work again tomorrow. So we have just all had a Chinese together and chilling watching the footy. The perfect end to a good but hot day.
Was able to run again today but getting through Bristol was a nightmare, with lots of stopping and starting. It was mostly flat to start with until we hit the Mendip Hills. Wow, I forgot how hilly they are. It was also red hot again, so I walked the hills, as there was no chance I was running up them with these tired legs. The scenery was incredible. At about mile 17 I had to stop and sort my feet out, another new blister and I'm going to lose another toenail, gross I know. I really have to switch off from in my mind and just keep moving forward. I got a phone call from BBC Sheffield Radio and I'm due to be on air with them on Saturday to talk about the run. In general, today was a long day and my route took me off-road, I got lost and wasted a good hour walking round in circles! However, Taz treated me to an ice cream which and we are in another hotel tonight as the weather is set to change tomorrow and didn't fancy getting wet on the campsite.
Day 25, a really tough day today, just nothing left in the legs. Not much happened today other than me suffering a lot! We took a late start after a fab nights sleep in the hotel and the weather was nice and cool until the sun came out again. We have had a chippy tea and off to bed. A massive thanks to all the people who have offered to pay for hotels. It's definitely easier in the hotels than camping, less faff when tired. However, one positive to come from today is that we made it over the £5000 mark today for Dementia UK. Unbelievable. Here is to the final stretch, I wonder what else we can achieve.