There was action out on the track last night. OK, so it was a go-kart track but there was running nonetheless, and what's more a lot of it was at blistering pace, which always makes for a great spectacle.
Last night was the Fast 5km event at the Three Sisters Circuit in Wigan. Conditions where incredibly wet and windy but it didn't detract from some fantastic results. Laura Weightman won the women's race in a time of 15:10, a time which placed her 3rd on the UK all-time 5km road rankings.
In the men's race American Eric Jenkins finished in 13:52, just ahead of Adam Clarke, who finished strongly with a time of 13:57 in 2nd place, with Adam Craig back in third in 14:02.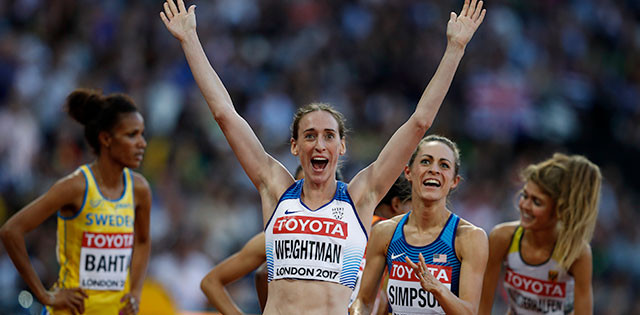 There had been talk before the event that Laura Weightman might be eyeing Paula Radcliffe's 20-year 5km road record of 14:57 and given the form she has shown on the track this year, and after setting a 5,000m PB of 14:35 in Monaco back in August, it did look more than likely she would be able to break the record on the flat course last night.
The weather conditions, however, have a lot to answer for – although it seems Weightman was making no excuses post-event with what was still an 11-sec road PB for the British athlete, "I'm delighted with 15:10 at the end of a long hard track season but I think I could have run sub-15 minutes with a few more people in the race as this is a fast course," She said, "It was perfect weather for a northern athlete to race in! I've done many races in weather like this over the years."
Australian Jess Hull was 2nd, behind Weightman, in a time of 15:50 and Amelia Quirk was close behind in 3rd with a time of 15:54.The event was broadcast live on BBC Online and Red Button which is obviously great for athletics and the event itself.
The BBC will continue with their running coverage this week by also showing the NN Valencia World Record Day, Live BBC Online and Red Button tomorrow evening, where Joshua Cheptegei is aiming to beat Kenenisa Bekele's 10,000m record.