It can be hard to keep your running motivation in the winter. Take this weekend just gone for example. Who else was lying in bed listening to bins blowing around in the street and the rain lashing against the window trying to muster the motivation for a run? Here are some great tips for how to keep training from Colin Jackson, World, European and Commonwealth Champion and former world record holder for the 110m hurdles. He's an ambassador for RunFestRun, which takes place in Windsor Great Park next May.
Share Responsibility
Sharing the responsibility to get outside in these cold months is a huge help. Whether that's as part of a running group or with a friend – it will help motivate you and pick each other up on days when you don't feel like it or are making excuses. You won't want to let one another down, and you can conquer the runs together. It also makes running in the dark safe and social.
Set a realistic goal
Depending on your schedule you might have to be honest with yourself and realise that you won't have as many chances to run in the busy and cold winter months. Set yourself a realistic target and lay it out in front of you with clear ways to achieve it. That way you can plan your weeks and know what you need to achieve and what days you can do it.
Good food is good fuel
The colder months will affect your immune system and we can often over indulge in festive treats that won't help our health. Make sure to have well thought out nutrition where possible with enough vitamins to keep healthy so you don't miss your planned training sessions. Your nutrition will also help in your muscle recovery so make sure you are getting enough good nutrients into your body pre and post run.
Wear the right kit
Be prepared for body temperature fluctuations whilst you're running. Layering is the key to keeping warm and staying dry. Having layers that you can take off easily will help you regulate your temperature and mean you can maintain a steady pace and not have to worry about being too hot or cold.
When it's dark, keep safe by wearing an item of fluorescent clothing, a reflective vest or flashing lights so drivers can see you. Also pop some identification in your pocket or shoe. The floor can be hazardous with ice, puddles or potholes so be careful with your footing and make sure you have suitable shoes on to match the conditions.
Mix up your training
You don't just have to just run outside to get fit for a run, other things will work your cardio. Try something new such as a dance class, you may find that you enjoy it as much as running. If it's very wet or icy, just hit the treadmill, it's a great way to train without risking an injury.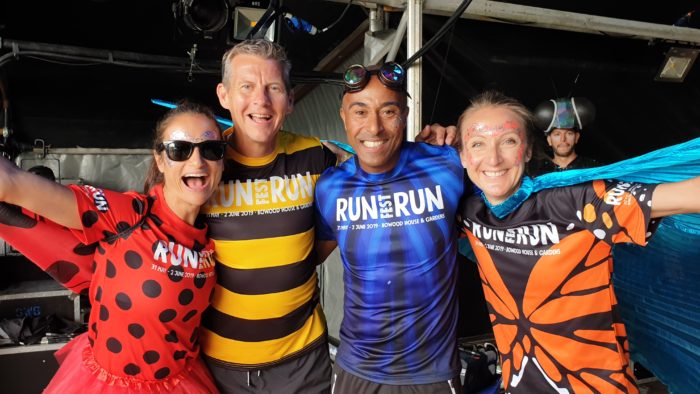 Colin Jackson is a team captain and ambassador for RunFestRun, the three-day running and music festival taking place in Windsor Great Park 28th – 30th May 2021. Join Colin, Chris Evans Paula Radcliffe, Steve Cram and many more. Details and tickets here: www.runfestrun.co.uk
Read about last year's RunFestRun