After a glorious summer which provided incredible conditions for training outside many of us probably haven't been on the treadmill for a while. But Specialized Zwift Triathlon Team Member Bex Rimmington, who's currently preparing for Kona, gives us five reasons to include Zwift/indoor running into your training regime this Autumn.
With the nights drawing in and the weather conditions being slightly more unpredictable, Zwift is a great way to keep safe and continue your training routine – there is no need to worry about your lights having enough battery, heavy frosts and ice as winter closes in, you can continue to train for your goals in your own home.
Zwift is a great way to get a quality workout in a short duration, having to combine working full time and training can often be a balancing act and so you can get a really good training stress score doing a high intensity session similar to that of a long ride, so you don't need to feel the pressure of trying to cram more into your daily lifestyle than what is really possible.
It's quick and easy to get ready for – as the seasons begin to change, you start to wear more layers – so you can be nice to your washing machine and electric bill by walking through the door, putting on your summer kit and jumping on the bike or treadmill which is already set up.
Community – join in a group session so you never feel as though you're on your own, training with others can provide great motivation and if you sign up to a workout then you can be sure that there are others enduring the pain with you.
It's fun – if you are new to running or a seasoned professional it is a great way to build up fitness, for the competitive Zwifters you can sign up to an event or race, or try and get a jersey for segments, or if you simply happy doing your own thing it is a great way to log your miles and fitness progress – once you sign up to Zwift you will soon see what I mean.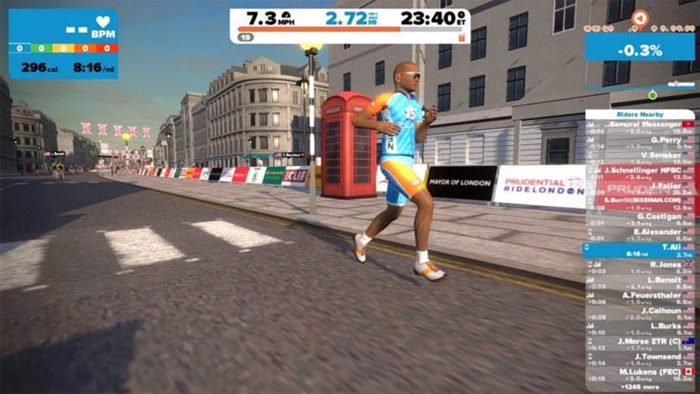 Bex is the product of Zwift's amazing Zwift Academy global talent ID program which invites both females and male cyclists/triathletes to compete for a pro contract by riding Zwift. Participants follow a program designed by world-class coaches to help uncover hidden talent throughout the Zwift community.
She is currently training for the Ironman World Championships in Kona, having qualified for the event at her first attempt this summer.
Zwift Run free to download on both Android and IOS.