If you're doing the same thing all the time it's easy to get bored. Maybe you're sick of pounding the pavement or circumstances have dictated that you've had to stick to the treadmill for a while. Maybe you're just sick of doing the same old local routes all the time. Or maybe you've just lost your running mojo.
If there's one brand that loves to do 'different' when it comes to running it's Red Bull. Whether it's a 400m race up a ski jump or Wings for Life, where you're chased by the catcher car, Red Bull events are never the same old boring same old. To mark the release of tickets for Red Bull Quicksand – a new event inviting competitors to run a unique mile over man-made sand dunes on 1st September in Margate, Kent – they've put together some wildcard tips to improve your running strength and technique.
Underwater running
Not only is underwater running ideal for recovering from injury as it's low-impact, but it also burns nearly double the amount of calories as running on land, as it works your entire body, including upper body and core. There are underwater treadmills nowadays of course, but the only problem might be finding one available for public use. Aqua jogging is a similar concept that is more widespread and easier to have a go at – the difference is that your feet don't touch the floor. All you need is a flotation device and you're away.
Pram jogging
Admittedly, you need two essential accessories for this one: a buggy and a child to go in it, but if you have recently become a parent, taking your child out for a run in their buggy is a great way to up your fitness. Wendy Rumble set up Runningbuggies.com following the arrival of her children and her attempts to fit in exercise around her new life. She quickly found that running with a buggy gives you a total body workout, including your core, arms and back. "Pushing a load is harder than normal running, making it effectively resistance training," she says. "As a result, it makes solo runs feel like you are flying."
Run An Empire app
There are plenty of running game apps out there to inspire you to run farther, but Run An Empire offers something a little different. The idea is you capture territory as you run, and gain 'rewards' (coins) by taking territories and reaching distance achievements. So when someone else wins territory off you, you'll want to get straight back out there to claim it back. A great way to add an element of play to your regular runs.
Sand running
It can be like wading through treacle, but running on the golden stuff can do wonders for your leg strength and balance. Eoin Keith, Irish ultrarunner and Columbia sportswear ambassador, recommends it to all runners for several reasons: "It takes a lot more effort to run a given speed in sandy terrain, and takes more work. It's good strength training as a result," he says. And, if you are taking part in Red Bull Quicksand, he says, it's useful to test your gear out on beforehand." This way you can work out in particular what system will work best to keep sand out of your shoes."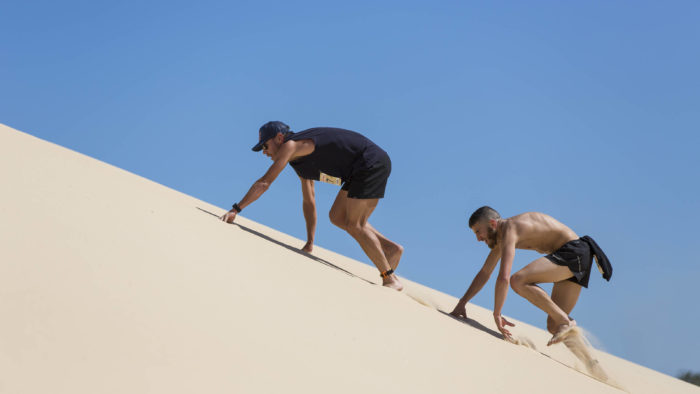 Zwift
You may have seen virtual-reality app Zwift used by cyclists, but now it's available for runners on treadmills, too. Download it and enter the virtual world while you pound the treadmill – you can choose to run anywhere from central London to the fictional land of Watopia. You can also enter races, from relaxed 5ks to intense tussles on the embankment, combining gameplay and exercise for a much more effective calorie-burner than Wii Tennis. We take a closer look at Zwift for runners here.
Tower running
A sport on the rise in the UK, tower running is simply getting to the top of a tall building as fast as you can via the stairwell. Events usually focus on a single ascent, but some allow you to train towards repeated ascents up the same building to reach a vertical mile. The sport is perfect for building leg strength, but also works the core hard, too, as well as saving your joints from knee-knocking descents, as you will be relaxing in the lift for the journey back down.
Red Bull Quicksand takes place on September 1 in Margate, Kent. Entries cost £30, to sign up and get more information head to redbull.co.uk/quicksand