Zwift, the global online training platform, has announced an initiative this Movember as part of a new year-round approach to support and raise money for great causes. Zwift users can unlock their own Movember jersey and a donation to the charity.
Zwift is encouraging the community to Move for Movember by setting a target of 10,000 Zwifters riding or running 9.9 hours during November. Breaking this target will unlock a Zwift donation of $25,000 to the Movember charity in support of the 9.9 million men living with prostate cancer globally.
"Movember is a globally recognised organisation doing great work to combat prostate cancer, testicular cancer and suicide prevention." says Eric Min Zwift CEO and Co-Founder. "These are serious issues that affect not only those who have been diagnosed, but also those around them – families, friends, and co-workers. This is the start of a bigger year-round charity support initiative, so stay tuned for more events in support of great causes over the next 12 months."
To take part in the Movember mission, Zwifters must sign up in-game. Once enrolled, all exercise in Zwift will count towards the goal.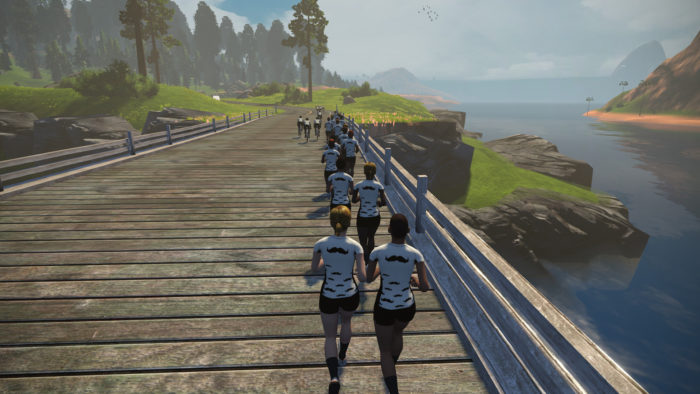 Enrolled participants will receive a Movember jersey that updates over time. The update is based on an individual's personal contribution to the community goal. There will be five different jerseys based on different levels of personal completion (0%, 25%, 50%, 75% and 100%). Each unlock jersey accumulates Mo's as you progress. As each Zwifter hits a different level of activity over the month, a new jersey is unlocked and the previous jersey expires. If the Zwifter hits 100% of his or her personal contribution to the community goal, they are awarded a digital jersey to keep.
Movember focuses on raising awareness and tackling prostate cancer, testicular cancer, mental health and suicide prevention in men. As stated above, there are 9.9 million people living with prostate cancer globally, with over 1.3m new cases of prostate cancer recorded annually, and there are over 300,000 prostate cancer related deaths each year. While this disease primarily affects men, they are our fathers, brothers, husbands, and friends, and therefore, it impacts us all. Movember looks to shine a light on the health risks men need to know about, increasing awareness to stop men dying too young.
Throughout the month, Zwift will feature in-game Mo' events to help us hit our goals together. Movember events give you an exclusive opportunity to ride or run with the final jersey and tee before you have unlocked it. Successful completion of the mission will unlock the $25,000 donation to Movember by Zwift.
Here are some Zwift treadmill sessions to kickstart your training.