Looking for a Christmas present with a bit of muscle? Japanese company MTG has launched its latest range of SIXPAD electrical muscle stimulation devices in the UK, aimed at helping athletes to develop aspects like core stability and strength.
SIXPAD's EMS technology works by transmitting external electrical stimuli to the muscles in the body, causing them to contract and relax just as they would during exercise. The new EMS product range will deliver a unique 23-minute workout at the optimum training frequency of 20Hz, boasting new features and functionality.
Why 20Hz? Through years of research and development they found that 20 Hz is the frequency at which muscles can be trained much more effectively than at other frequencies. When 20 Hz is used, muscle tension is maintained over time, which allows for sustained efficient training. To add to that is the fact that, when exercised, muscles use energy and consume oxygen. It has been demonstrated that more oxygen is consumed and training efficacy is higher at 20 Hz than at other frequencies.
SIXPAD's product line-up includes:
Abs Fit 2 – designed to train and develop muscles in the abdominals
Body Fit 2 – designed to deliver a full body workout on waist, arms, legs and oblique muscles
Arm Belt – designed to exercise the biceps brachii and the triceps brachii
Leg Belt – designed to exercise the quadriceps, adductor muscles and the hamstrings (RRP: £250.00)
Abs Belt – combines the Abs Fit 2 and the Body Fit 2, designed to exercise the whole abdominal region including the obliques
And runners might be interested in the new Training Tights. Designed to tone and develop muscle, the flexibility of the fabric used for the SIXPAD Training Suit applies moderate resistance to everyday movements, the simple bending and straightening of the leg encountering resistance that effectively trains the muscles. The muscle activity level of the hamstring muscles is increased by about 1.3 times when compared to not wearing the tights! RRP: £135.00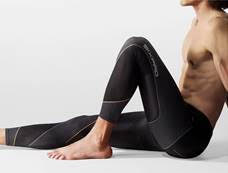 Find out more about SIXPAD at sixpad.uk or at their flagship store in Westfield White City.