We are big fans of Tom Craggs's sensible, tried and tested coaching advice here at Run247. He's an ambassador for the Loch Ness Marathon (coincidentally one of our favourite marathons) and earlier this year we brought you his advice for runners training for Loch Ness, or other Autumn marathons. Now he turns his attention to the 10k distance. Here's his advice. 
The 10km distance is one of the most rewarding challenges in distance running. It is long enough to be a real test of endurance, but short enough for you to get your heart and lungs pumping and feel achievable for those newer to long distance racing. Here are my top tips for getting the key weeks of training right and enjoying race day itself.
Callus yourself: If you are used to running longer easier efforts in training or racing switching up to the higher intensity of a 10km can be a challenge. Callus yourself to the intensity by getting out and running harder efforts over 5km by including two or three parkruns in your training between now and race day (www.parkrun.org.uk).
Build your range: Endurance is still really important if you are trying to crack your PB. A long run building up to 90 minutes will put the tiger in your 10km cat. Spice it up by including 6-8 sets of 45-60 seconds fast, 2 minutes easy in the final 30 minutes.
Find your balance: If your goal is to get to the finish line with a mix of running and walking then use your longer runs to practice the right mix for you. It is much better to mix short blocks of easy running and brisk walking from the start (e.g. 5 minutes easy run, 2 minute brisk walk) than to try to run as far as you can and walk the remainder. Over the next 6 weeks gradually aim to reduce some time from the brisk walk breaks.
Firm foundations: Yes it can feel fast but the reality is it it still an endurance event and as such your easy and steady running is still the sponge of your 10km cake. Only include the faster interval sessions recommended further down in you have a good base of easy and steady running in your week first. Learn to run at a conversational and relaxed intensity.
Enjoy it! Ultimately running is a hobby, run with a smile on your face, enjoy your harder sessions and view them as a challenge not a hardship and remember that on the day, not matter what pace you're running to suck in the atmosphere of one of the UK's most iconic races!
Power up: Hill training can give you that extra power to run faster on race day. Short fast hills over 30-60 seconds will allow you to practice good running technique and will get your heart pumping. Try sessions like 5-10 minutes at 10km pace on the flat + 8-10 x 45-60 second fast hills with a jog back recovery between each + 3 x 3 minutes at 5km pace on the flat with 2-3 minutes rest between the sets or you can….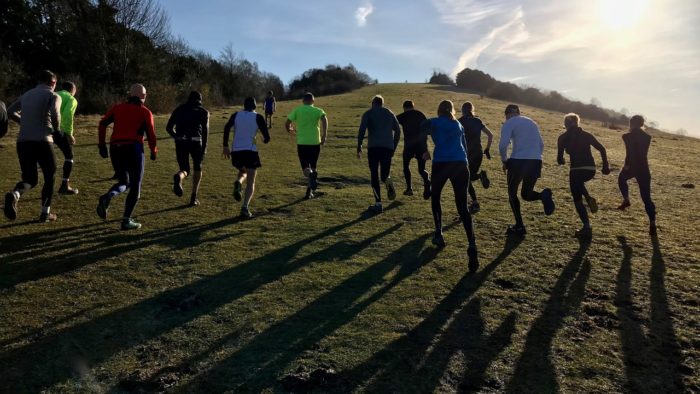 Hills can really help your 10k training
Run Faster:  Yes in order to run a new PB then you have to test your body. Interval sessions are a key way to progress your fitness. If you don't fancy the hills once a week sessions working efforts between minute and 4 minutes running faster than your goal pace can really push you along. As a start try 45-60 minutes including efforts of 5 minutes, 4 minutes, 3 minutes, 2 minutes, 1 minute starting at 10km pace getting faster each block with 90 seconds jogged recovery between each.
Take the hard with the easy:  Avoid two consecutive hard days; allow your body to recover well after your challenging sessions, this is the point in which you get fitter and faster! Any sustained running at and effort where you could speak less than 3-4 words at a time could be considered a hard day.
Set your tempo: Efforts of controlled discomfort run at or a little slower than your goal 10km pace (more like a 10 mile pace) can be really valuable. Once every 7-10 days include 20-30 minutes of this intensity. You can break it up e.g. 5 x 5 minutes with 90s easy recovery or 12 minutes, 10 minutes, 8 minutes with 2 minutes easy recovery, or do straight blocks of 20-25 minutes. You should be able to soeka 4 words or so at a time.
Cross it off: Some of the UK's fastest 10km runners include cross training throughout their week. You can replicate every session in a 10km training plan with sessions on a bike, aqua jogging, swimming or the elliptical machine, working to time rather than distance. Your heart and lungs will get the same workout and you get more variety, and less impact.
Stronger, faster: Let's not stick that new Ferrari engine you've build into the body of a mini. Build your racing chassis by including a weekly Pilates class or a series of core exercises which include planks, side planks, single leg squats, lunges and bridges. If you already go the gym and include exercises such as squats, deadlifts and lunges then keep this going as they will contribute to your new 10km PB!
Cut it back: A week out from the race trim your longer run to 60-70 minutes and then in race week tick over with the same frequency of running you are used to but in short 30 minute runs. You might want to keep a handful of short 30-90 second efforts here and there to prime your legs for the weekend.
Pace to effort: On an undulating course you need to get good at keeping your effort consistent even if your pace might change. If your goal is to get to the finish safely aim to stay as conversational as you can on your running sections and mix it with brisk walking on the climbs. If you are looking to run around 60 minutes aim to be able to speak 4 words or so at a time in the race. If you are looking to run faster then start at that controlled 4 word intensity and build this to a harder effort after 2-3km.
And that's it! Good luck if you're taking on the Loch Ness 10k or any other Autumn 10k.