Tom Craggs, renowned UK running performance coach and Loch Ness Marathon ambassador, has put together a host of insightful tips and tricks to get your training underway for an Autumn marathon. 
The beautiful Loch Ness Marathon – and other Autumn marathons – may still seem a way off, but you'll want to stand on the start line feeling like you've done all you can to prepare. The early few weeks of training are about building a foundation and setting good routines you can fall back on when the bigger weeks kick in.
What's the frequency? If your lifestyle allows aim for small and regular runs in the early weeks. 4-5 runs of a shorter duration will be a better stimulus than 2 big long efforts with nothing in between.
Small steps. The long run eventually puts the tiger in your endurance cat. Build patiently and slowly adding 10-15 minutes as a maximum each week and in the early weeks focus on starting these at a relaxed and conversational pace. It can be good to get used to increasing to a steadier pace in the final 30-40 minutes if you feel good.
Plan ahead. Track back from race day and plan in those key bigger runs 3-8 weeks out from race day. Get organized and structure your training week in advance to ensure you are running at times you have most chance to completing the sessions and feel most energized. Plan to take at least one full rest day each week and a slightly lighter week every 3-4 weeks.
Midweek gains. Whilst the long run is certainly critical some quality midweek runs can give you just as much. Try a 45-60 minute run where you include 5 sets of 5 minutes running at a pace where you can only speak 3 or 4 words at a time, jogging for 90 seconds between each effort. Aim to build this up over coming weeks to 6 x 5, 3 x 10 or even 20-25 minutes as a solid block.
Break it up. 16 weeks of training can seem daunting if you're training for your first marathon. Aim to book in a half marathon 5-6 weeks out from your goal race. You could either run this hard, looking for a PB or turn it into a long run by adding a couple of miles before and after and running the race at goal marathon pace. If you can't get into a half consider a parkrun every 3-4 weeks which can be great for testing your fitness.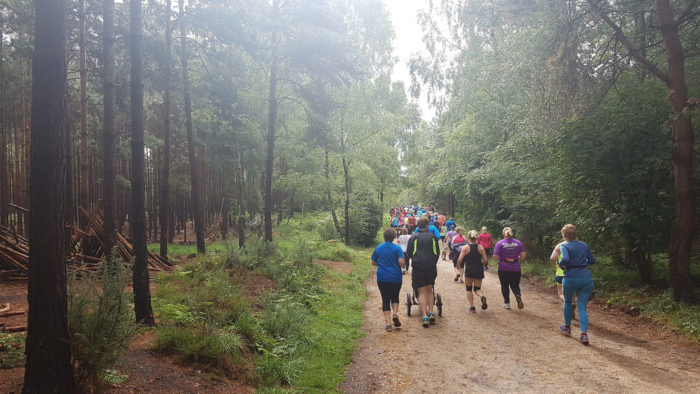 Mix it up. Running on different surfaces such as grass and trails will help prevent injury. Consider also mixing your running training with other forms of cardiovascular cross training such as a static bike, swimming or elliptical trainer which will still give your heart and lungs a workout but reduce the impact of running. Running between 40-60% of your training on trails or grass will both reduce your injury risk but also help build strength and balance.
Consider a pair of trail shoes with a bit of extra grip, forget the pace on your watch and run to effort.
Easy does it. If you find yourself short of breath and feeling like you need to stop after 4-5 minutes quite simply you are running too hard. Try to stick at the 'speed of chat' to get yourself fully working with oxygen and enjoying your running. Don't worry if you need to mix running and walking in the early weeks. Aim to keep the pace of your running easy and gradually reduce your walking breaks as the weeks progress.
Ramp it up. You'll probably be aware the Loch Ness course is not flat! Clearly if you are going to race on the hills, you'd do well to include them in your training. Try adding a 'continuous hill session' as you get into your plan. Pick a hilly loop or single stretch of hill and aim to run up and down at a sustained effort at 3-4 word answer pace for blocks of time e.g. 3 x 10 minutes, 4 x 8 minutes etc. with a short recovery of 2-3 minutes. Running both up and down hill sprinting will develop great lower limb strength and balance.
Build your frame. Runners who are more robust and who can hold their posture and technique even when tired tend to perform better on marathon day. Getting into a good routine of 2-3 short core sessions a week is a great goal in the early weeks of training. For the more experienced simple squat, deadlift, lunge, row and press up exercises can be a great addition.
Pack mentality. Surround yourself with positive people and look to training with friends or family sharing the same goal or even join a local running club. Having a group to motivate and support each other will help keep you out running when the weather gets tough! Share your goal with family and friends.
Log it. Getting your training down on paper…well at least on a screen can be a great way of monitoring your progress and having accountability. Aim to note down 2-3 positives from every week on your training, and a couple of priorities to develop for the following week. When you look back before the marathon, you'll have a big bank of positivity to review!
Adapt to succeed. We get fitter when we adapt to training. Aim to focus as much on high quality nutrition with a good range of fresh fruit and vegetables and adequate protein. Sleep is your friend so aim to get off the smart phone in the final 90 minutes before bed. Create a good pre bed routine to ensure he quality if your sleep is improved which is when many of the positive adaptations to training occur.
These first 4-6 weeks are critical to allow you to safely tackle the bigger marathon specific training before the marathon. Get started now!
The Baxters Loch Ness Marathon takes place on October 6th and entries are still available.