The Scafell Sky Race is a 40km race with 2,800 metres of ascent across some of the most challenging terrain in the Central Lake District of England.
The route takes in technical single-track trails from start to finish including sections of scree and light scrambling and to add to the challenge, competitors have to summit England's highest mountain along the way.
It's a real test of skill and endurance and entries are vetted for race and mountain experience.
Here is our full guide to learning about the event, following it live or even taking part.
Date, start time & live tracking
The race gets underway at 8.30am on Saturday, June 3 with realistic cut-off times at Seathwaite Farm (13:00) and Styhead Pass (15:00). The course closes at 19.30 so competitors have up to 11 hours to complete the race.
All competitors will carry a GPS tracker issued by Open Tracking. We will post a link here so that dot watchers can follow the action.
Scafell Sky Race route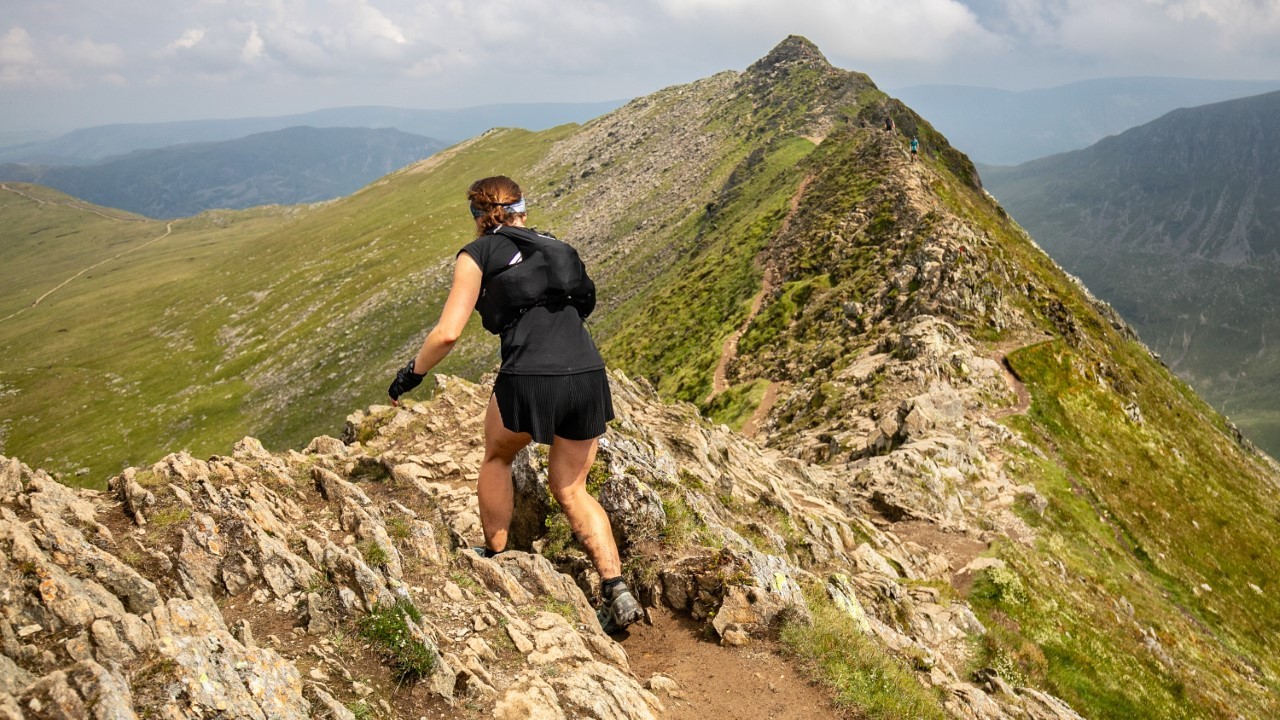 The race covers a circular route, starting and finishing at the New Dungeon Ghyll Hotel in Great Langdale. Competitors are into the challenge straight from the off with the tough ascent of Harrison Stickle before traveling across some of the highest ground in the Lake District.
Other summits include Pavey Ark, High Raise, Green Gable, Great Gable, Scafell Pike, Broad Crag, Esk Pike and Bowfell.
The 40km route also takes in some highly technical sections including the ascent of Scafell Pike via the 'Corridor Route' and one of the best stretches of single-track in the Lakes, the 'Climbers Traverse' that weaves under Cambridge and Flat Crags.
There are nine manned checkpoints on the course and one fully-stocked feed station at Stonethwaite Village.
Facts, Tips & FAQ
The Scafell Sky Race is held in accordance to the ISF and SkyrunningUK rules but there are additional rules specific to this race.
This includes the rule that Any runner must halt their race to offer help to any fellow competitor who is in trouble or injured. Runners who do stop will be rewarded by the race director, those that don't face disqualification.
Running with dogs is not allowed in this race.
How to qualify and enter Scafell Sky Race
To enter the Scafell Sky Race you must be at least 19 years old on race day. Entries are handled by SI Entries and are not vetted, but as this race is much tougher than a typical trail run, you will be asked to detail your running and racing experience which should reflect your skill and confidence as a mountain runner. Entries will open on Sunday, December 3.
Scafell Sky Race records and past winners
2022
Men
1st Tom Evans (UK) 04:31:12
2nd Mark Darbyshire (UK) 04:59:31
3rd Oliver Mitchell (UK) 05:08:03
Women
1st Georgia Tindley (UK) 05:48:56
2nd Helen Brown (UK) 06:36:55
3rd Alicia Schwarzenbacher (UK) 6:53:12
2021
Men
1st Spencer Shaw (UK) 05:03:13
2nd Josh Wade (UK) 05:16:50
3rd Simon Roberts (UK) 05:24:34
Women
1st Lauren Woodwiss (UK) 06:18:09
2nd Sophie Likeman (UK) 06:36:14
3rd Bethan Nadin (UK) 06:44:54
2019
Men
1st Damian Gielty (UK) 04:20:25
2nd Jayson Cavill (UK) 04:25:29
3rd Matt Reedy (UK) 04:34:40
Women
1st Jo Stevenson (UK) 05:24:07
2nd Kasia Osipowicz (POL) 05:38:55
3rd Eva Wilkes (UK) 06:25:22
2018
Men
1st Jonathan Albon (UK) 04:26:50
2nd Tom Evans (UK) 04:39:57
3rd Sebastian Batchelor (UK) 04:59:50
Women
1st Henriette Albon (NOR) 05:59:27
2nd Sally Fawcett (UK) 06:26:16
3rd Catherine Slater (UK) 06:47:48
2017
Men
1st Tim Campion-Smith 04:55:33
2nd Brennan Townshend 05:26:06
3rd Lawrence Eccles 05:26:53
Women
1st Lucy Bartholomew (AUS) 05:34:05
2nd Catherine Spurden (UK) 05:43:22
3rd Claire Wilshaw (UK) 07:06:26
Scafell Sky Race kit list
The Scafell Sky Race covers technical terrain, and the mandatory kit list is designed to ensure all racers are suitably prepared for the conditions. There will be a full kit check at registration as well as spot checks and at the finish. Failure to carry full mandatory kit can result in disqualification.
The Race Director reserves the right to ask for additional warm clothing to be worn or carried if the weather conditions on race day require it.
The following items must be worn:
Short/Long Sleeve base layer top – or race vest (NO COTTON)
Shorts or tights – 3/4 tights are acceptable
Shoes – Mountain or Trail running shoes, must have minimum 3mm tread
The following items must be worn or carried:
Waterproof jacket – must have hood and taped seams (water resistant jackets are not acceptable)
Waterproof trousers – with taped seams (water resistant products are not acceptable)
Spare Long Sleeved Base Layer Top – Cotton tops are not permitted, spare means you are not wearing this top the start.
Hat – Buff or similar
Gloves
Head Torch
Survival Bag – survival/space blankets are not acceptable
Whistle – to be used in case of distress
Emergency food – 200 Calories of emergency food which must be unused at the finish unless you had a real emergency
GPS – A GPS watch device is acceptable and/or Map & Compass . A Race Map is supplied at registration and must be carried
First aid kit – Kit must contain, as a minimum, triangular bandage, roller bandage, roll of tape, safety pins
Race Vest Race Pack or Bumbag