The Sierre-Zinal is a highly regarded and competitive mountain race that takes place in the Swiss canton of Valais.
It is also known as the race of five 4000s (La Course des Cinq 4000), as the route takes competitors in sight of five peaks of over four thousand meters: Weisshorn, Zinalrothorn, Obergabelhorn, Matterhorn, and Dent Blanche.
31km long and with 2200m of elevation gain, Sierre-Zinal is widely considered one of the world's most coveted ultrarunning titles.
In addition to its individual status, the race also acts as a Gold Label Race for the WMRA Mountain Running World Cup, and is also a stop on the Golden Trail World Series.
So here is everything you need to know about Sierre-Zinal, one of Europe's most famous races: from the route to how to watch live and even how you can enter yourself.
Date, start time & live tracking
The main events at the 2023 Sierre-Zinal gets under way on Saturday, August 12.
There are two starts an entrant can register for ahead of the race – 'tourist' and 'runner'.
The 'tourist' start begins early, between 4:45am and 6:10 am (CET). This category is for participants expected to take longer than 4h30, and results will not be taken into account for indexes like the ITRA or UTMB. It features wider time barriers, and runners you can choose to begin the race by climbing via Niouc or St-Antoine.
The 'runner' is reserved for elite runners and more serious amateur participants. It is for those from 20-years-old onwards, and has more demanding time cut-offs. It starts later, between from 11:00 and 11:20 am CET.
Video coverage of the 2023 Sierre-Zinal will be available on Eurosport, while live tracking is available HERE.
Sierre-Zinal route
In the heart of the Valais Alps, the 31km course tests the mettle of some of the world's leading athletes.
Beginning in Sierre, runners face a steady climb in the early stages of the race as thy pass through Beauregard and Ponchette before reaching Chandolin – a climb of 1,420m to the mid-point of the race.
A further, shallower climb takes competitors through Tignousa and Hotel Weisshorn before the course peaks at Nava, which has an altitude of 2424m.
That comes 85% of the way through the course, with the remaining 15% of the course taking athletes on a steep descent down to Zinal.
These final salvos take them to Barneuza, from which there is a final 535m of descent to the finish line in Zinal.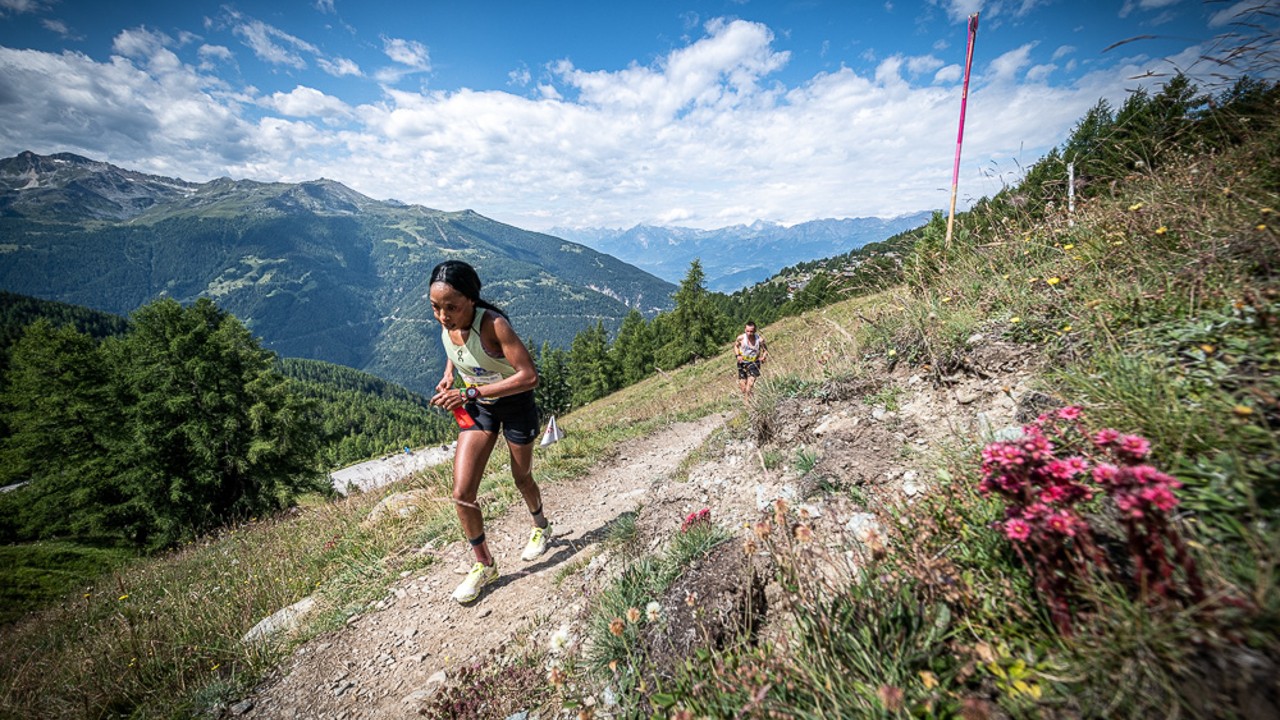 There are six aid stations on the course, plus an extra water station:
Beauregard (4km)
Ponchette (7.5km)
Chandolin (12km)
Tignousa (16km)
Hotel Weisshorn (20km)
Nava – only a water station (24km)
Barneuza (27km)
Competitors will need to complete the course by 17:30 (CET), but failure to pass through certain checkpoints at set cut-offs will also be seen as DNF finishes.
There cut offs times (all CET) are at Chandolin (10:40 'tourist'/14:10 'runner'), Tignousa (12:00/14:40) and Hotel Weisshorn (13:30/15:20).
Facts, Tips & FAQ
The Sierre-Zinal race was devised by Dr. Jean-Claude Pont, a Doctor of Mathematics and Professor of History and Philosophy of Science at the University of Geneva.
The race was partly to help people 'rediscover the virtues of physical effort' as well as promote the Anniviers Valley in Valais.
The most successful athlete in the history of the Sierre-Zinal is the legendary Killian Jornet- since 2009, he has won the race a total of nine times- more than any other individual.
How to qualify and enter the Sierre-Zinal
Registration for the 2024 race will begin in April next year through the Datasport website, with entries available for each category on a first come first serve basis.
The cost of both the 'runner' entry and 'tourist' entry is around 95 Swiss Francs (£85).
Elite runners can also earn an invitation to the race under the following criteria:
Men must complete the race under 2h50; women must complete the race under 3h20.
You must have completed several trail running events.
You must have completed several track running events (5k, 10k, half-marathon or marathon).
Other criteria includes:

Recognised athletes
Future talents
Athletes having performed significantly in various kinds of running events
Ethnic diversity
Loyalty
Runners will be competing for a 2000 CHF first prize in both the men's and women's races, with the top ten securing prize money.
Sierre-Zinal records and past winners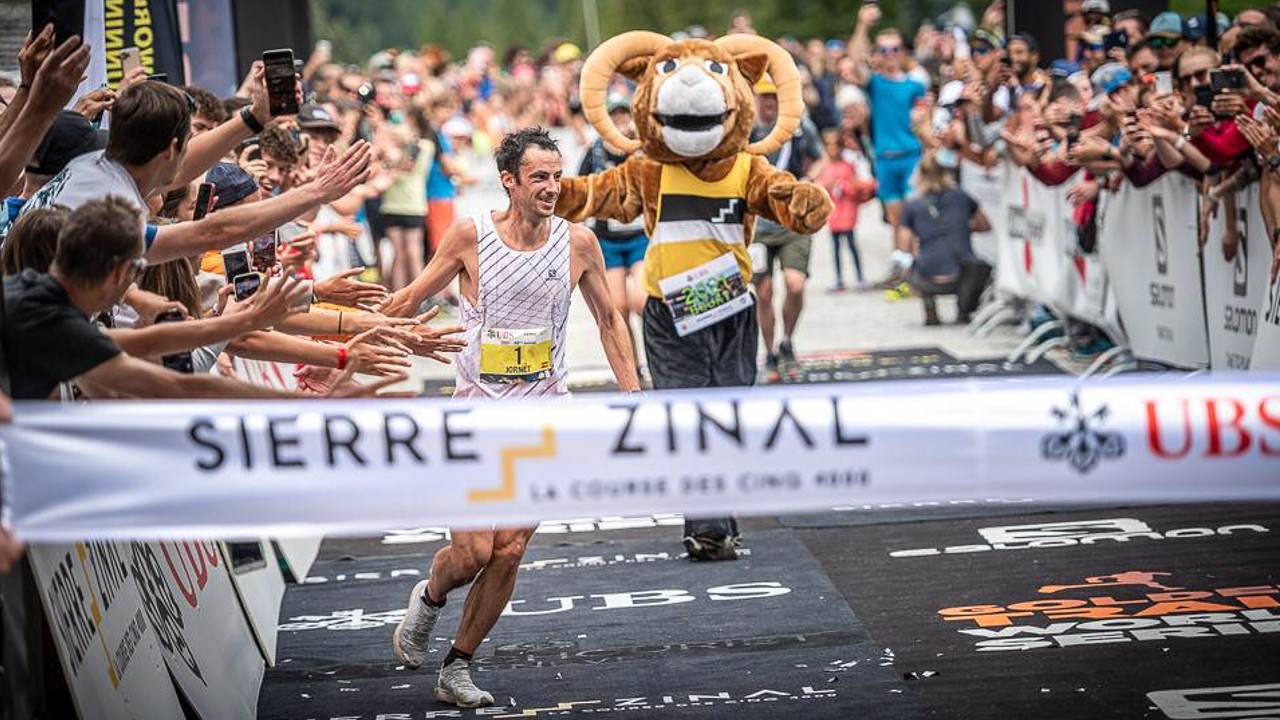 Kilian Jornet has dominated the Sierre-Zinal in recent years with a record nine wins since 2009. He set a course record of 2:25:35 in 2019.
Maude Mathys has the women's record with a time of 2:46:03, set when she won the 2021 race.
The current men's champion is Spaniard Andreu Blanes Reig, with Mathys winning the women's title.
Men's winners
2009 Spain Kilian Jornet (Spain)
2010 Spain Kilian Jornet (Spain)
2011 Marco De Gasperi (Italy)
2012 Marco De Gasperi (Italy)
2013 Marc Lauenstein (Switzerland)
2014 Kilian Jornet (Spain)
2015 Kilian Jornet (Spain)
2016 Petro Mamu (Eritrea)
2017 Kilian Jornet (Spain)
2018 Kilian Jornet (Spain)
2019 Kilian Jornet (Spain)
2020 Kilian Jornet (Spain)
2021 Kilian Jornet (Spain)
2022 Andreu Blanes Reig (Spain)
Women's winners
2009 Anna Pichrtova (Czech Republic)
2010 Megan Lund (USA)
2011 Oiha Kortazar Aranzeta (Spain)
2012 Aline Camboulives (France)
2013 Italy Elisa Desco (Italy)
2014 Stevie Kremer (USA)
2015 Lucy Wambui Murigi (Kenya)
2016 Michelle Maier (Germany)
2017 Lucy Wambui Murigi (Kenya)
2018 Lucy Wambui Murigi (Kenya)
2019 Maude Mathys (Switzerland)
2020 Maude Mathys (Switzerland)
2021 Maude Mathys (Switzerland)
2022 Maude Mathys (Switzerland) NOTE: Esther Chesang (Kenya) was stripped of her title over a doping scandal
Who is running at Sierre-Zinal?
The 2023 Sierre-Zinal offers to be an exciting clash of some of the world's best runners.
Killian Jornet was set to return in 2023, but a bone edema has seen him ruled out. Tom Evans included the race on his 2023 schedule but has also pulled out as he focuses on UTMB.
WMRA Mountain Running World Cup regulars will also be in attendance: Kenyans Patrick Kipngeno and Philemon Kiriago are two names to watch, as is 2016 Sierre-Zinal champion Petro Mamu.
In the women's field, WMRA World Cup champions Joyce Muthoni Njeru will be racing, and she will face fierce competition from her Kenyan compatriot and three-time Sierre-Zinal winner Lucy Wambui Murigi.
American Allie McLaughlin and German Kim Schreiber are two more leading contenders in the women's race
Sierre-Zinal equipment
There are no official apparel or equipment requirements for the Sierre-Zinal Race, but with parts of the trail 2000 meters above sea level it is advised to bring clothing adaptable to weather conditions and risks.
Those on the tourist race may want to bring a headlight with the race starting at 5am.
The one major rules is that poles are not allowed, with those who use them being disqualified.