The Snowdon SkyRace is a spectacular 40km race held in the Snowdonia National Park and features 3,150 metres of climb including the iconic Tryfan North Ridge and Crib Goch. Both of these are rated Grade 1 scrambles – it's not a race for the faint hearted.
Part of the Skyrunner UK and Ireland series, the route is regarded as a real test of mountain speed, endurance and technical ability
Here is our guide to learning about the event, following it or even taking part.
Date, start time & live tracking
The 2022 Snowdon SkyRace starts at 8am on Sunday May 8th with a 12-hour limit on completing the course. The elite runners are expected to be finishing the race around 1pm.
Every runner is wearing a GPS tracker and dot watchers can follow the progress of the runners by tracking those GPS signals.
We will update this section with a link for dot watchers once it is available.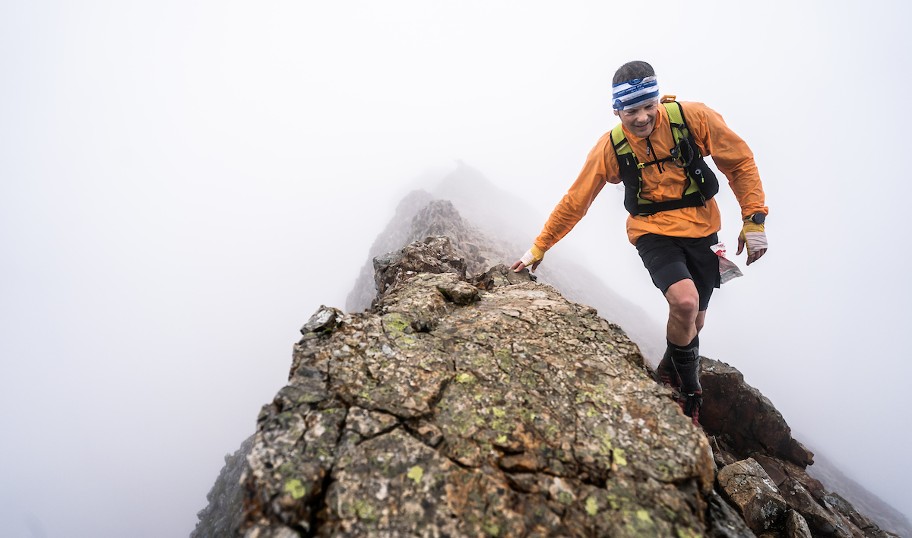 Snowdon SkyRace route
There is no gentle introduction into the Snowdon SkyRace. It Starts with climbing the famous Rhyd-Ddu path, before heading east to top out across the epic Y Lliwedd ridge. There is a technical descent down to the shores of Llyn Llydaw before a 4×4 track to Pen-y-Pass, and the first Aid Station. This is followed by a steep ascent to the challenging terrain of the Glyders, before plunging down the technical Y Gribin ridge to the Ogwen Valley to Aid Station Two.
The course then heads south to ascend the Grade 1 scramble to Tryfan North Ridge and passes the famous cannon stone on route to the summit. Technical, rocky and undulating trails guide runners back to Pen-y-Gwryd Aid Station Three, then it's the western loop of this figure-of-eight route. After a west-bound traverse of another Grade 1 scramble, the iconic Crib Goch Grade, the stunning Snowdon Ranger Path descent awaits, offering runners a fast and rocky descent home to Rhyd-Ddu.
Facts, Tips & FAQ
External support (your own crew) is only allowed at the designated checkpoints where this is tolerated. Accepting assistance in any form, including water or food from passers-by, at any other place on the route is strictly forbidden. The only exception would be in a genuine emergency situation.
The Snowdon SkyRace does not allow pacers or external motivators. This extends to crews or supporters meeting or filming their runner, walking alongside them at any point throughout the route, etc. Crews may only walk alongside their runner to offer verbal assistance within a 20 metres radius of any checkpoint where outside assistance is tolerated.
Participants are not allowed to wear headphones or listen to music at any point in the race. Failure to abide by this will lead to disqualification.
Hiking poles are permitted during the Snowdon SkyRace except in the following places:
While descending Y Gribin
Tryfan North Ridge
Crib Goch
There is a three-hour time penalty for anybody using poles in any of these areas
How to qualify and enter for Snowdon SkyRace
Entries are limited to 300 people and close for the 2022 race at midnight on Tuesday April 26. You can enter via the official website. Cost of entry is £99.
Although entry to the Snowdon SkyRace is not vetted, the organisers recommend that you have completed a race or training run of at least 18 miles distance, featuring at least 130m+ elevation gain per mile (e.g. a 20-mile run with over 2600m+ cumulative ascent). You should also have experience on technical, mountainous terrain with extended sections of Grade 1 scrambling, in potentially adverse weather conditions. You should also be able to navigate using a map and compass if necessary.
Snowdon SkyRace past winners
2021 (shortened bad weather route)
Finlay Wild (GBR) Senior Male – 02:16:50
Georgia Tindley (GBR) Senior Female – 03:05:19
2019
Damian Gielty (GBR) Senior Male – 5h 22m
Sarah Ridgway (GBR) V40 Female – 6h 24m 16s
Snowdon Skyrace kit list
Strict rules apply to the mandatory kit list with a full kit check at registration followed by a number of spot checks out on the course. Instant disqualification will follow for anybody found not to be carrying the full mandatory kit.
Footwear – Suitable footwear, road/barefoot style shoes are not acceptable.
Survival Bag – a blanket is not acceptable
Map – This will be supplied at registration. You will need a compass and the ability to use both effectively.
Whistle
Mobile phone
Headtorch – with sufficient light to be able to navigate in the darkness.
Water bottle/bladder – with capacity to carry at least 1L fluid.
Body cover – Full waterprrof body cover: Jacket with taped seams and integrated hood, trousers with taped seams. Both must feature a minimum hydrostatic head rating of 10,000mm.
Hat – Warm hat ('Buff' acceptable) & gloves.
Waterproof bag – containing a spare thermal long-sleeve top (carrier bag acceptable).
Food – 400kcal minimum emergency fuel.