The UTMB OCC (Ultra Trail du Mont Blanc Orsières-Champex-Chamonix) is a 55km race that is one of seven races featured in the Ultra Trail du Mont Blanc event that takes place annually at Chamonix in France. Other feature races include the CCC and OCC.
Here is our guide to the race, how to take part and how to follow live.
Date, start time & live tracking
The 2022 OCC race takes place on Thursday, August 25 and is scheduled to begin between 08:15-09:15 local time (07:15-08:15 UK time), with the first finishers expected to arrive at 13:00 (12:00).
UTMB®TV is the television channel for directly experiencing all the highlights of the event (starts, live-coverage, interviews, films, following the race leader, finishes).
LIVETRAIL® allows you to follow runners as they make their way round the course, giving estimated times and live tracking.
UTMB® Live will carry live feeds of 15 webcams for different races across the UTMB weekend which will also package highlights for each runner as they make their way through their races.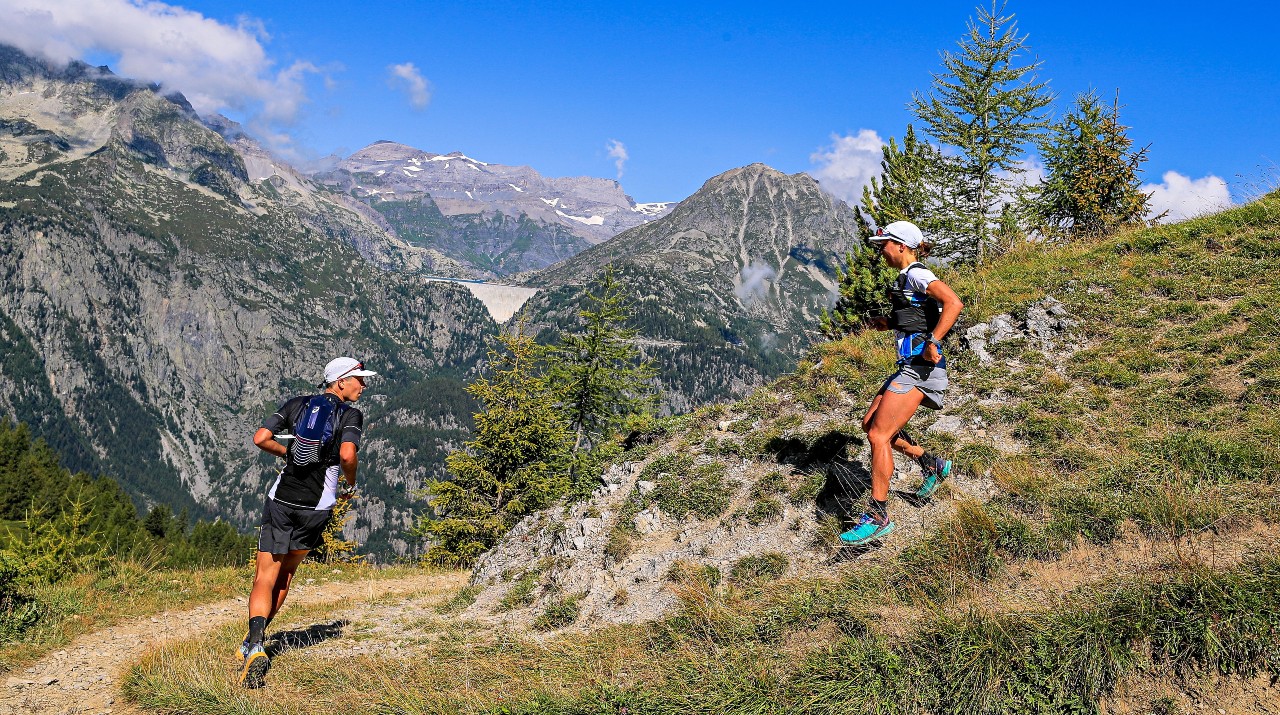 UTMB OCC Route
The OCC begins in Orsières in Switzerland and finishes in Chamonix. The route offers up breathtaking views of the valley and the peaks of the eastern flanks of Mont Blanc.
Runners will see hanging glaciers and polished rocks, a true spectacle as they make their way through nature before reaching Campex and the final part of the course.
Facts, Tips & FAQ
The course contains 3,500 metres of ascension and is 55km long. Competitors must complete the course in a time of 14 hours 30 minutes with a maximum start list of 1,200 runners.
On course there will be five aid stations at 7km, 23km, 33km, 44km and 48km.
Competitors must provide a specific medical certificate in French in order to take part. The entry fee to take part in the OCC is €115 (£98).
Runners using poles must do so from the start and carry them for the whole race. No poles are authorised in the spare bags.
There are some areas of the course where, for safety or environmental reasons, poles are forbidden. These areas are marked by specific signs.
How to qualify and enter for UTMB OCC
The popularity of the UTMB races makes them increasingly difficult to enter. All runners who want to qualify have to do so through a lottery. Previously, entry to the lottery came through a points system with runners securing points from competing in UTMB affiliated races. But from 2023 onwards that system is changing with entry to the lottery requiring runners to have at least one Running Stone which they have acquired in the previous two years. Runners can collect running stones by competing in one of the UTMB World Series races.
Runners also need to have a valid UTMB Index in the category corresponding to the race. In the case of the OCC runners need a valid and up to date UTMB® Index in the 20K, 50K, 100K or 100M category
UTMB OCC records and past winners
Past winners (since 2014)
Men
2014 Nicolas Martin (FRA)
2015 Marc Pinsach Rubirola (ESP)
2016 Xavier Thevenard (FRA)
2017 Marc Lauenstein (SUI)
2018 Erenjia Jia (CHI)
2019 Stian Angermund (NOR)
2020 Cancelled
2021 Jonathan Albon (UK)
Women
2014 Sonia Glarey (ITA)
2015 Celia Chiron (FRA)
2016 Mercedes Arcos Zafra (ESP)
2017 Eli Gordon Rodriguez (ESP)
2018 Ruth Charlotte Croft (NZ)
2019 Ruth Charlotte Croft (NZ)
2020 Cancelled
2021 Blandine L'Hirondel (FRA)
UTMB OCC 2022?
Anaïs Sabrié is the leading contender according to the UTMB performance index (788). She will be challenged by Spain's Marta Molist Codina who took top honours in the 100km CCC race in 2021.
The leading male is Poland's Bart Przedwojewski with a performance index of 927, one point ahead of Spain's Manuel Merillas and four points ahead of Petro Mamu Shaku. Robbie Simpson is the leading Brit, and he can't be ruled out for the race victory.
UTMB OCC kit list
 Basic kit 
Running pack to carry mandatory gear throughout the race.
Mobile phone (smartphone strongly recommended): the runner must be reachable at any time before, during and after the race:
– mobile phone with international roaming allowing for its use in the three countries.
– Keep the phone on, airplane mode is forbidden and could give rise to penalties.
– For smartphones: LiveRun application installed and activated.
– An external battery is highly recommended
Personal beaker 15 cl minimum (bottles or flasks with lids are not accepted)
Minimum water supply: 1 litre
1 working torch with spare cell/batteries (except MCC)
Recommendation: 200 lumens or more
Survival blanket of 1.40m x 2m minimum
Whistle
Self-adhering elastic bandage for bandaging or strapping (minimum 100 cm x 6 cm)
Food reserve
Jacket with hood for bad weather in the mountains. The jacket must be made with a waterproof and breathable membrane
– the jacket must, imperatively, have an integrated hood or one which is attached to the jacket by the original system designed for that purpose by the manufacturer.
– the seams must be sealed.
– the jacket must not have sections of fabric which are not waterproof, but air vents fitted by the manufacturer (under-arm, in the back) -since they do not damage in any obvious way the impermeability- are accepted.
Long-legged trousers or race leggings OR a combination of legging and socks which cover the legs completely
Cap or bandana or Buff
ID – passport /ID card
Hot weather kit (may be required by the organisation, depending on weather conditions)
Sunglasses
Saharan cap or any combination which completely covers the head and nape of the neck
Sunscreen
Recommendation: minimum sun protection factor (SPF) 50
Minimum water supply: 2 litres
Cold weather kit (may be required by the organisation, depending on weather conditions)
Additional warm second layer: a warm second layer top with long sleeves (excluding cotton) weighing at least 180g (men's size medium – M) OR the combination of a long-sleeved warm undergarment (first or second layer, excluding cotton) weighing at least 110g (men's size medium – M) and a windproof jacket* with durable water-repellent protection (DWR protection)
Warm hat
Warm and water-proof gloves
Waterproof over-pants
All clothing items must fit the runner – in terms of size – and they must not be altered in any way after leaving the factory. The mandatory gear must be carried in a running pack for the duration of the whole race. The running pack is tagged during race-pack collection and must not be changed during the race.
Additional recommended equipment (non exhaustive checklist)
Spare warm clothing, essential in case of cold and rainy weather or in case of injury.
Poles in case of rain or snow for your safety on slippery ground
Vaseline or anti-heat cream
at least 20€ cash (just in case…).
Reusable bowl
GPS watch
Knife or scissors for cutting elastic bandage
Emergency sewing kit