The Altra West Highland Way Race will be held for the 37th time in 2023. The 95-mile race takes runners from Milngavie (just north of Glasgow) to Fort William in the Scottish Highlands. Having first taken place in 1985, it is one of the world's longest established ultra-marathons. Although it attracts runners from all over the world, entry is limited to 265 competitors to help preserve the event's friendly nature. There was no race in 2020 and 2021 due to COVID-19.
Here is our full guide to learning about the event, following it live or even taking part.
Date, start time & live tracking
The Altra West Highland Way Race 2023 starts at 0100 AM on Saturday June 17, 2023. Runners must reach checkpoints along the challenging route by certain times in order to finish and get to the finish at Fort William inside 35 hours.
Each competitor carries a GPS tracking device – provided by SPORTident – which allows race organisers to monitor their progress and to ensure everyone stays safe. The GPS device also allows fans to follow the race online.
We will update this section with a link for live tracking once it is available.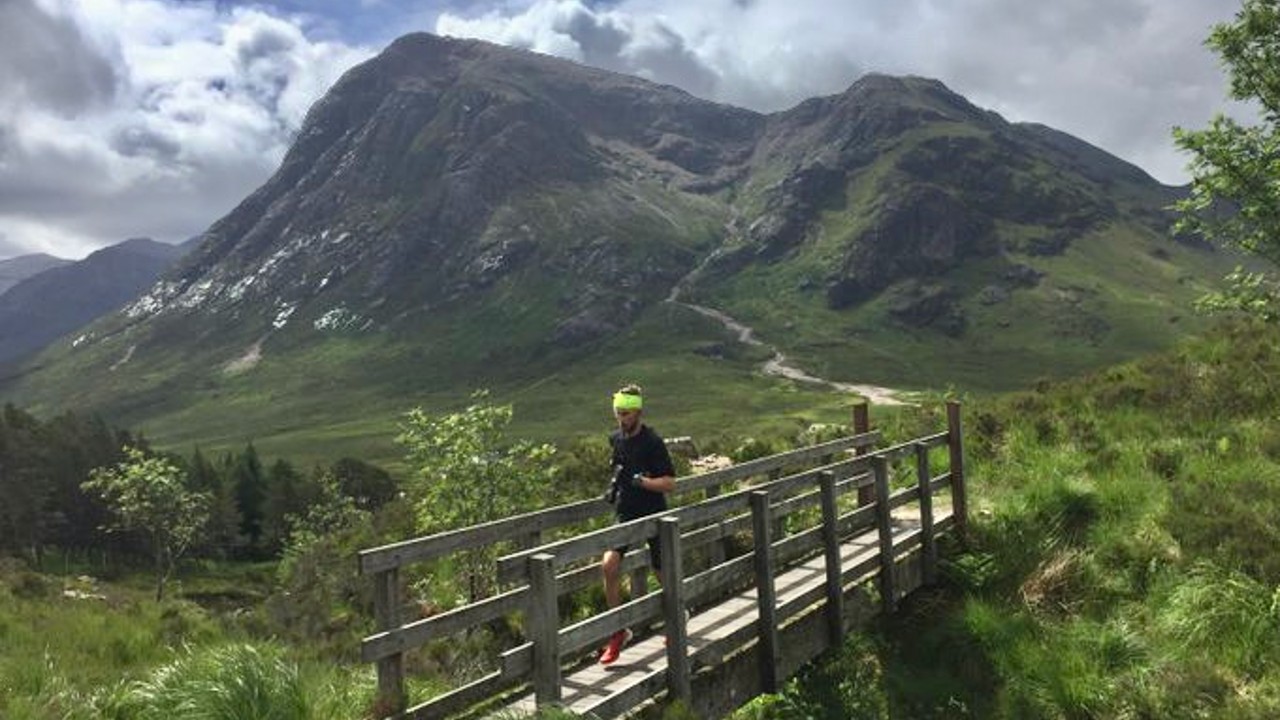 West Highland Way Route
The race begins at the bridge beside Milngavie Station, which marks the start of the West Highland Way. From here, runners must reach the following checkpoints inside these set times in order to continue in the race: Balmaha (19 miles – 5 hours); Beinglas Farm (42 – 12); Auchtertyre (51 – 15:30); Bridge of Orchy (60 – 18:30); Glencoe Ski Centre (71 – 23); Kinlochleven (81 – 28); Fort William (95 – 35). During the course of the race runners will take on 14,760 feet of ascent.
Facts, Tips & FAQ
The race began in 1985 as a head-to-head challenge between lesser-known athlete Duncan Watson and famed ultra runner Bobby Shields, but as the route took its toll, they decided to team up and finished together in 17 hours 48 minutes. Watson became the race's director the following year as other runners were allowed to compete and the event gathered momentum.
However, by the late 1990s, numbers had not reached a critical mass and the race's future looked in doubt. Crucially, the year 2000 saw a major boost (and possibly the survival of the event) as publicity surrounding very fast wins by Wim Epskamp (16:26) and Kate Jenkins (17:37) brought the race to a wider audience.
All runners must have motorised back up for the full duration of the event, but support crews are reminded to use vehicles suitable for the narrow roads en route. Up until the Auchtertyre checkpoint at 51 miles, runners require at least one crew member. From then onwards a crew of at least two people is mandatory, one of whom must be capable of accompanying their runner during the last two stages if required.
In order to monitor competitors' health, all runners will be weighed at Milngavie, Auchtertyre, Kinlochleven and Fort William. If a marshal is concerned about the condition of any runner, this will be referred to the Race Doctor, the Race Safety Officer, or the Race Director, who will determine whether he or she is fit enough to continue.
The prize giving, which takes place, at 1200 PM on Sunday June 18 2023, sees every finisher presented with an engraved crystal goblet. Starting with the winner, every finisher is called out to receive their prize, so all competitors and their support crews are encouraged to stay on for this.
Competitors cannot use walking or running poles or be accompanied by dogs.
How to qualify and enter the Altra West Highland Way Race
All entrants must prove they have 'adequate relevant experience' in order to gain a place. This amounts to having completed 'an off-road ultra-marathon of at least 65k' in the qualifying period. The event website lists the following races as examples of those meeting such criteria: Highland Fling, Devil O' The Highlands, Cateran Trail 55, Skye Ultra, Glenmore 12, Glenmore 24 and Great Glen Way.
Provided they demonstrate sufficient fitness, entrants such as previous winners, course record holders and those with five or more finishes are guaranteed a place. Should the number of entrants with 'adequate relevant experience' exceed the number of places available, entry will be determined via ballot. The Race Director will try to allocate up to 25% of the available places to those who have not started the event before.
Entry for the 2022 race cost £120 for Scottish Athletics members and £122 for members of other UK affiliated bodies.
Entries for the 2023 race will open on the SI Entries site November 1.
West Highland Way Race records and past winners
Since the West Highland Way used its present route in 1991, the men's course record improved steadily before Paul Giblin set a time of 14:14:14, which was expected to stand for decades. However, two years later, Rob Sinclair smashed this with a 13:41:08 clocking.
The aforementioned Kate Jenkins (17:37:48) held the women's record from 2000 to 2007 when she was eclipsed by Lucy Colquhoun's 17:16:20 in 2007. This remains the record to this day, although first-time racer Siobhan Killingbeck (17:41:09) and Lizzie Wraith (17:42:27) came close in 2019 and 2016 respectively.
Winners since 2010
2010 – Men: Richie Cunningham 16:36:04. Women: Kate Jenkins 18:58:49.
2011 – Men: Richie Cunningham 16:24:49. Women: Kate Jenkins 19:08:20.
2012 – Men: Terry Conway 15:39:15. Women: Rosie Bell 20:15:41.
2013 – Men: Paul Giblin 15:07:21. Women: Rosie Bell 19:27:04.
2014 – Men: Paul Giblin 14:20:11. Women: Fionna Ross 18:35:04.
2015 – Men: Paul Giblin 14:14:44. Women: Jamie Aarons 19:28:23.
2016 – Men: James Stewart 15:15:59. Women: Lizzie Wraith 17:42:27.
2017 – Men: Rob Sinclair 13:41:08. Women: Lynne Allen 18:48:31.
2018 – Men: David McClure 16:24:14. Women: Nicola Adams Hendry 17:55:41.
2019 – Men: Rowan Boswood 15:14:32. Women: Siobhan Killingbeck 17:41:09.
2022 – Men: Rowan Boswood 15:09:49. Women: Lynne Allen 18:46:26.
Who is taking part at West Highland Way Race 2023?
We will include a link to the entry list when available. You can read our 2022 race report here.
West Highland Way Race kit list
As well as providing their own support crews, runners are required to carry certain kit, while many other items are recommended.
Mandatory kit
Survival blanket – lightweight blanket must be carried throughout the race
Mobile phone – with enough battery charge to last the race
Head torch – with spare batteries
Waterproof – full body waterproof clothing
Whistle
Recommended kit
Water bottles – with enough water to last between support crew checkpooints
Map – Harveys map of the West Highland Way
Rucksack – Small rucksack or bumbag
Towels
Several complete changes of clothes
Various pairs of shoes
Sunhat and woolly hat
Gloves
First Aid kit
Insect repellant
Blister repair kit
Suncream
Toilet roll