General interest in ultrarunning has been on the increase in recent years, but an event that has recently come out of the dark and into the spotlight, in no small part because of the film about it, is the Barkley Marathons.
This unique event is run annually on or near Fool's Weekend in Tennessee, USA. It is run on a looped course, with each of the 5 loops nominally covering 20 miles (though some say that the loops are actually up to 26 miles long), and the whole 100-miler involves over 54,000 feet of ascent and an equal amount of descent. The 'lead men' start off with 7.5-8.5 hour laps, but soon slow to 12-hour laps. Since the inaugural 1986 event, the full 5 loops have only been completed (within the 60 hour cut-off) 18 times, by 15 runners, with the first finish not until 1995. If 3 loops are completed within 40 hours, this is termed a 'fun run' finish.
The name of Gary Cantrell (aka Lazarus Lake), the race founder, has become legendary in ultrarunning circles, for the difficulty of the course, and for the rather unusual entry procedure. Only 40 runners receive 'condolences' upon gaining entry where an essay, $1.60, and a license plate from their home state for their first attempt, and some item of clothing, for repeat attempts, serve as the entry fee. The race start can happen at any time from midnight to noon on race day, and the Barkley officially starts when Laz lights a cigarette. The only clue given to competitors is a conch blown exactly an hour prior to this.
No female has yet completed anything like the full 100 miles (Sue Johnston covered the greatest distance – 66 miles – back in 2001, on an arguably easier course than what currently is being used) but, in 2012, Beverley Anderson-Abbs, a name you may not recognize, finished the fun run in 34 hours and 18 minutes, on her first attempt….and remains the last woman to do so when she did it for a second time in 2013!
Beverley came to ultrarunning via road biking, mountain biking and adventure racing (she met her equally sporty husband, Alan, at a track cycling class and their first date was at an evening criterium), but her path has been far from smooth, as she has struggled with a knee problem since high school. She has had multiple procedures on it, and after knee surgery in 2010, doctors told her she would never be able to run on it again.
Alan went to the Barkley Marathons in 2010 and 2011, and when Beverley crewed him at the latter event, she started to think that she'd quite like to give it a go, especially when she found that she could actually run pretty consistently by mid-2011.
The rest, you could say, is history….but I wanted to delve a little deeper into the world of this hard as nails yet lovely lady, so I asked her a few questions…
Jo: How did you prepare both physically and mentally for the event?
Beverley: I don't think I ever thought of the Barkley Marathons as a 'running' event, I considered it more like an adventure race, and Alan and I trained for it in that way. We lived in a fairly rural area during those years, so we had a lot of Federal and State open space lands near us to train in. We would pick points on a topo map and just go out running and hiking to hit the points. Most of our training was off trail, or on pretty marginal trail, so we were both pretty strong physically and could run, jump, and climb over almost anything.
Each year, we would fly to Tennessee a couple months before the race and spend a couple days, and nights, out in Frozen Head running and hiking all of the areas we were allowed to be in, building our "mental map" of the park in the most horrible conditions, using the heated bathroom as a "basecamp". This also gave us an idea of where compasses didn't work because of the geology in and around the park. If anyone thinks the weather they've experienced during race weekend has been bad, they should try being in the park in February! We would have to wear our hydration packs under our clothes so the water didn't freeze solid.
Another standard training weekend in March each year was to go to Whiskeytown National Park, in Northern California, on a Friday after work and spend all night hiking, running, and climbing, usually getting about 50 miles or so, then go into the nearby city, Redding for breakfast, and race the Nor Cal 10 mile, trying to hold around a 7:00 minute per mile pace.
Reading maps was also a big thing for my preparation. I was able to locate a number of different maps of the area, some old mining maps and other versions that included roads and landmarks not found on the park map. I spent hours poring over the different maps and committing strange roads and the topography to memory, because of decades of mining, some areas of Frozen Head don't look much like the available topo maps, and the park map doesn't provide a lot of detail. I think being familiar with the other map versions helped a lot in navigating some areas.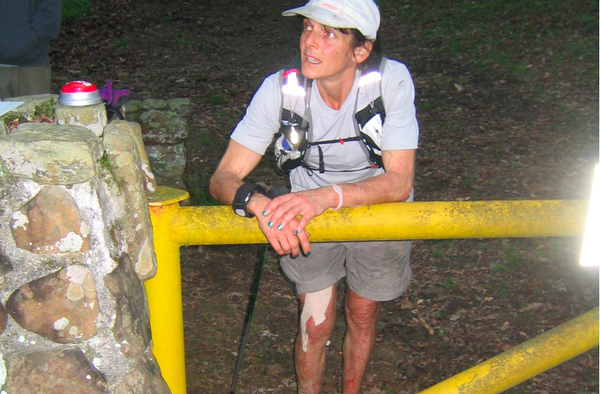 Jo: Do you think that crewing Alan prior to running it yourself helped?
Beverley: Yes, I suppose it did in that it got me excited about the park and the possibilities. I wasn't able to cover much of the park that year because I was still struggling with my knee and couldn't really do a lot of distance on the trails while I was there, but helping him and seeing what it took, and how methodical you needed to be when you come in to the campground, helped me with future planning.
Jo: Did you know about the paucity of female results before yours?
Beverley: Part of my preparation was reading everything there was written about the race and the area, so yes, I knew about how few women attempted it and even fewer had any kind of success there.
Jo: Why do you think that nobody has managed what you did since?
Beverley: I can't speak to anyone's preparation for the race, although if anyone goes in preparing as though it is a running event, I believe they will be in for a surprise. It is so much more than that and preparation needs to be for everything you are likely to encounter. The course itself gets more difficult each year as new hills are added, and sections are changed. I think if I were to be successful again, it would take essentially quitting my job to focus everything I had on training. Working full time, and now living in a city, does not afford the time necessary for the level of training required. The Barkleys need to be your job for at least several months.
Jo: Did you/your friends/family realise the enormity of what you'd achieved at the time?
Beverley: I think in general most people don't think it's much of big deal, since men have done the whole five loops, a woman doing three almost seems like exactly what Laz says about it, 'women are too soft to finish the race'. I often see comments about how no women "strong enough" have attempted it, and they list all the women they think will finish (I'm never on that list, btw). So far none of those women have gone three loops. So I guess, no, I don't think many (any) think of it as a big deal. Probably some of my close friends recognize the accomplishment.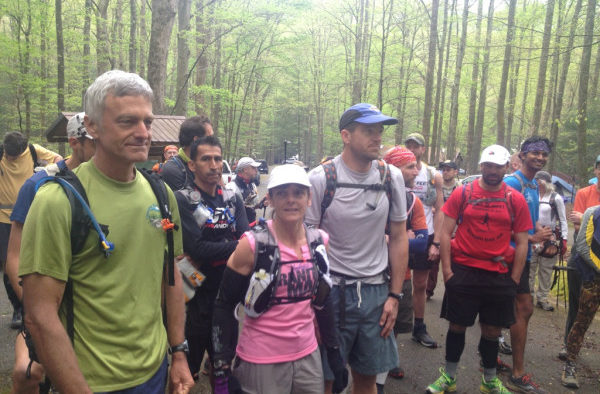 Jo: Do you have any specific good, bad, funny memories?
Beverley: Lots! How much time do you have?
2012 – running with Brett Maughan, Jared Campbell, and Alan was amazing. These guys are so strong and to be able to share the trails and stories with them for that first loop was a wonderful experience. To have someone like Jared comment on how strong I am was a huge lift.
-chasing the three of them down the trail below zip line and watching both Brett and Jared side vault over a downed tree, then coming to the tree, not thinking and doing exactly what they had done, successfully- I still feel a little giddy when I think about how I cleared that jump
-standing in the downpour on loop 3, at the one moment I didn't know exactly where I was, and realizing I'd lost most of my food when I fell in the New River, and just screaming into the rain
2013 – spending so much great time with Alan, we did all three loops together, it was awesome!
-falling asleep walking along North Boundary trail and suddenly waking up and not seeing Alan and the panic that gripped me in that moment.
-the amazing thick fog where Alan, Jon and I walked back and forth on one road for almost 30 minutes before we could see enough to realize we were on the wrong road and needed to be on the next parallel road.
2014 – the horrible sideways 40 mph winds, snow, rain, sleet, hail and the sudden realization that I was surrounded by wild pigs in the dark, with fog so thick I couldn't see them 3 feet from me, as I was hiking down Quitter's road
-coming into camp and getting the typical Laz comments about being soft, then overhearing him say "she looks like she'd fit in my cigarette pack right now"
2015 – the disappointment when I finally accepted that we had messed up loop 2 so badly there was no way we could even make the loop 2 cut-off
-this was a bad year with both Alan and I getting new jobs, going through a home purchase and two home sales and all the stress of moving, our heads weren't in the game and it definitely showed.
Jo: What were the best things you crew did for you…..and maybe what were the worst things they said to you during the event?
Beverley: For 2012 neither of us had a crew, although we had people who offered to help out, it seemed to never work out when we came into the campground so we were pretty much on our own. I would have loved to have had someone there when I finished loop 3 to not let me quit right away. I rationalized it with my achilles inflammation and knee swelling, and in the long run stopping was probably the right thing to do, but if someone had been there to stop me quitting, even for enough time to clean me up and get some food into me, I might have gone out to start a 4th loop.
In 2014, my amazing friend Ed Hudson flew out from California to crew me. When I finished loop 1 he had the car sitting right at the yellow gate with a pot of hot macaroni and cheese inside. He drove us to the heated bathroom where he had all of our clothes and gear laid out and kept feeding me and helping me get dressed. It was awesome.
Jo: How did it compare to other events that you have done before or since?
Beverley: The Barkleys are difficult to compare to anything, the event is just so different. I guess the best comparisons would be to multiday adventure races, but with only the foot sections.
Jo: How did you feel when you finished (both immediately and a few days after, as I'm interested in what draws people back, especially those who have had a successful run)?
Beverley: After the 2012 fun run, I suppose initially I felt a bit of relief that I wasn't going "out there" again but as I had time to clean up and sleep and think about it, I started feeling like I could have gone further, and I was disappointed with myself for giving up. I thought I could do better if I trained a little differently so planned to keep trying.
I can't really say what brings someone back once they've had a "successful" run, since, by definition, my runs haven't been successful 😊
Jo: Would you have any advice for people considering it themselves?
Beverley: Don't think about this as a "run", plan and train for everything, train in all possible conditions, get out to the park if you can and spend as much time as possible on the trails and areas where you are allowed, although you can't get to large portions of course, knowing the lay of the park can be hugely beneficial. Make sure you can keep up with the top guys on loop 1, if you are in the 2nd tier, you will likely not be able to get a fun run, you have to be with those front guys.
Jo: Do you think we will see a female finisher any time soon?
Beverley: I prefer not to say, I think there may be women out there capable of 5 loops.