This time last week ultra-runner Beth Pascall was in the midst of breaking Jasmin Paris's Bob Graham round FKT. Starting and finishing outside Moot Hall in Keswick, the route takes in 42 of the Lake District's peaks. The challenge covers 106km and includes around 8600m of ascent.
The run of my life
I say "breaking" but that would suggest a slight duck under the previous 15:24 record set by Paris in 2016; Instead I guess smash or shatter or crush might be more suitable when considering the 50 minutes Beth was able to shave off (hmmm?) when setting a new time of 14:34:26. "I thought I'd have to have the run of my life to get anywhere close to Jasmin's record," Beth said afterwards. "so running sub-15hrs was a massive shock. I had a carefully written schedule for a 15:23 round so I was aware I was up on record pace. I still didn't dare to believe I could maintain it until the final leg."
Under the radar
There was very little by way of announcements or hype in the build up to Beth's attempt and to many, outside of those close to her, it kind of came out of the blue. "I wanted to keep my attempt under the radar." Beth said when asked if this approach was intentional. "This was in part because I didn't want too many people gathering to watch (due to current restrictions and social distancing guidelines), but also because I didn't want the extra pressure. The lack of tracker and social media announcement were also because the 2 weeks before the attempt were incredibly busy and it was just another thing to think about!
There were a fair few people at Moot Hall at the finish which was wonderful, but it was nice to have the fells to ourselves." "I had originally planned my attempt for the Saturday and had all my support runners lined up for that day." Beth said referring to a very last minute change in the original planned attempt. "The weather was looking really ropey so I asked around to see if a Friday attempt might be possible. Inevitably a lot of my original support team couldn't make the Friday, but with the help of many others I just managed to scramble together enough people in time.
Plenty of records
It wasn't until the day before that I was sure it was going to happen at all!" Talking of support team one of the guys out there helping Beth out was Kim Collinson, who himself has had quite an entertaining July – first setting the 24-hour record in the Lakes by scaling 78 peaks covering 145km, then jumping in and supporting Damian Hall during part of his Pennine Way FKT record, before capping the month off by supporting Beth in her attempt, "It was great to have Kim out supporting me! My whole team of supporters were hugely experienced and knew the route well. I had done a lot of hard work in training, but on the day the supporters had a lot of responsibility and I had complete confidence in them. All I had to do was show up and run, and my supporters did the rest"
Bob Graham
Covering that sort of distance and over that kind terrain for more than 14 hours you'd fully expect there to be huge low moments and question marks during the run. In Beth's case it really sounds like everything went almost as well as it could've possibly gone, "I wouldn't say it was easy, but I had no major low points. I got a little cramp in my quads from time to time in the latter stages, but it was very manageable."
When asked if there was anything she might've done differently in spite of the record breaking time Beth responded, "Not really. I doubt anyone finishes a Bob Graham and doesn't think they could've shaved a few of minutes off but there was nothing major I would have changed. Although there was no rain on the day, it was actually very wet underfoot so I'm confident I could go faster in the right conditions."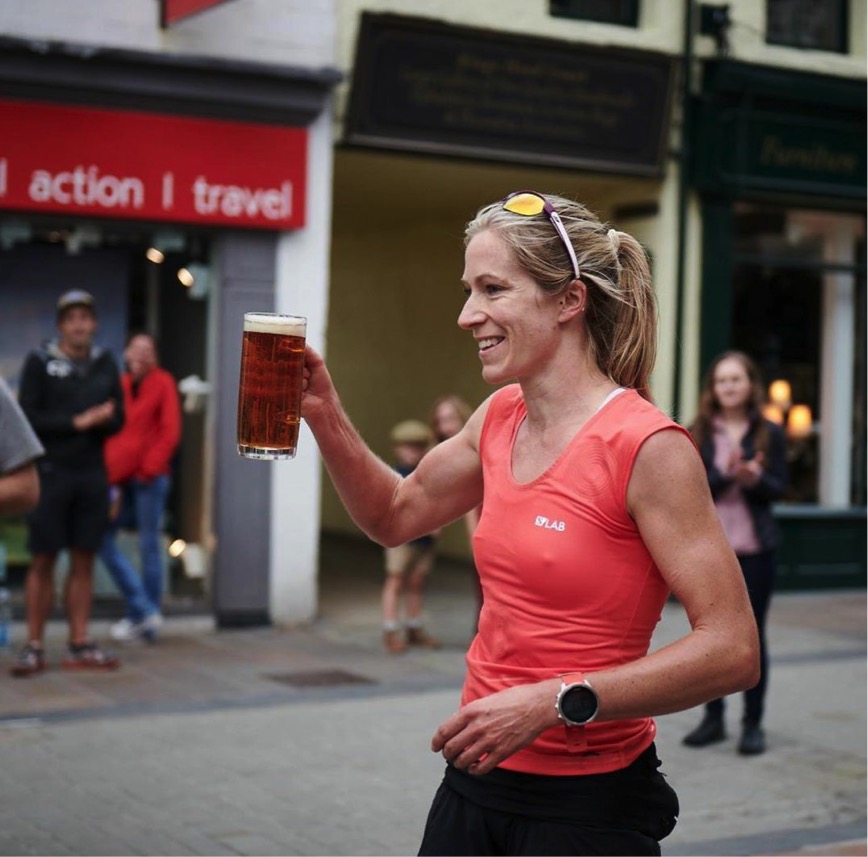 Back at work on Monday!
At the finish line Beth managed to get hold of what looked like mighty thirst quenching and well deserved pint, which always seems like the perfect way to start the recovery after such an unbelievable achievement. It's always intriguing how someone who completes a feat such as this goes about their rest and recovery, especially for a runner like Beth who also works, in what must be a very demanding job, as a paediatric doctor, "I stayed up in the Lakes with my family for the rest of the weekend. We did some gentle walks but didn't feel up to much else. My quads were pretty sore and then back at work on Monday!"