Laura Muir and Jemma Reekie both continued their recent fine form in Stockholm on Sunday evening at the Bauhaus Galan Diamond League Meeting.
Great Britain 1-2-3
Fresh from breaking the British record over 1000m, running 2:30.82, in Monaco just a little over a week prior, Laura Muir was again in full control as she upped the distance to 1500m and finished in a world leading time of 3:57.86. After leading for the majority of the race Muir pulled away steadily and efficiently over the final 400m and opened up a sizeable gap, leaving the rest of the field to fight it out for second and third place honours. Laura Weightman and Melissa Courtney-Bryant came out on top after some fantastic running to complete the GB 1, 2, 3. Sitting in around 5th and 6th position on the back straight, Weightman and Courtney-Bryant began to work their way through the field, before both pulling away slightly after the final bend. Weightman finished in a seasons best 4:01.62 with Courtney-Bryant finishing closely behind after a personal best 4:01.81.
Speaking after the race Laura Muir said "It went really well, very happy with it! It was really windy.
I felt strong in the last lap and was able to work well into the wind and ultimately come away with a clear win! My strength is my endurance and I really wanted to run fast today and ultimately I made sure I cut behind the pacers as best I could when I did have them and then tried the best by myself."
Jemma Reekie Wins Again
Jemma Reekie won her first Diamond League event in the 800m, less than a week after her success at the World Athletics Continental Bronze event in Poland in the 1500m. Pulling away on the final bend Reekie was able to expertly kick on for home and crossed the line in 1:59.68, with Raevyn Rogers of USA in 2nd (2:01.02) and Hedda Hynne of Norway in 3rd (2:01.44). Fellow Brit Alexandra Bell finished in 5th place with a time of 2:02.25.
"I enjoyed it and I like to run fast. My coach said if you have a kick at the end, kick, and I felt good so I did." Reekie said. "I don't have a completely set plan because you never know what's going to happen in a race, but it went one of the ways it could have went. We're really fortunate that we (Laura Muir) train together and we're world class athletes and we complement each other in different ways. I'm bringing her on in speed and she's bringing me on in endurance and we're both working so hard together. I've run 1:57 indoors so I was hoping to run a bit quicker but this year is about getting experience before next year and learning to win. It's been hard without physios and camps but you have to look at the bigger picture – athletics might be our whole world but there's other things going on in the world as well."
Adama Gemili in the 200m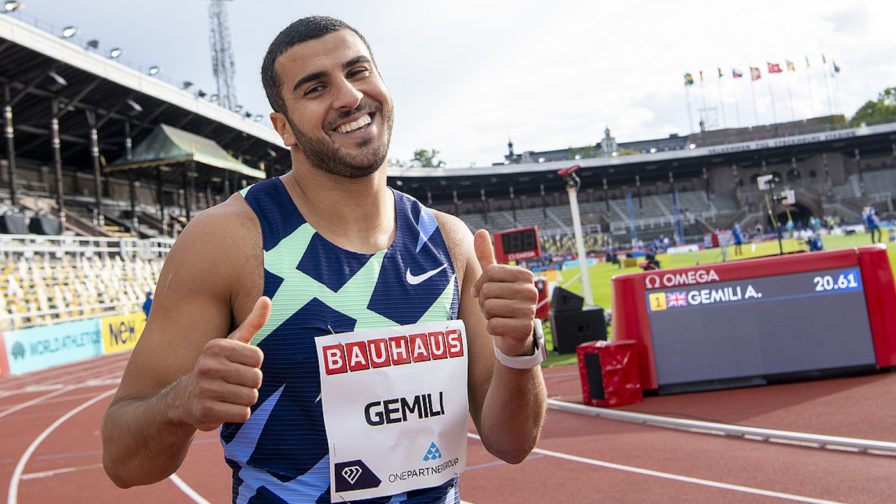 In the men's 200m Adam Gemili was able to take the win with 20.61, despite it seems not having full confidence in his running at the moment. Speaking after the win he said "It was good, it was nice to get the win. Execution wasn't great and my speed isn't amazing and my speed-endurance isn't amazing at the moment either. It was nice to come out here and get competitive and a victory is fantastic so I'm really happy!"
Cheruiyot and Ingebrigtsen Battle 
Elsewhere, Timothy Cheruiyot and Jakob Ingebrigtsen continued their personal battle in the men's 1500m. Cheruiyot coming out the victor once more with a 3:30.25 and Ingebrigtsen coming a close runner up in 3:30.74. Australia's Stewart McSweyn rounded out the top 3 with a 3:31.48 PB. Speaking after the race Ingebrigtsen said, "It's fun to race, my goal was to get close to Cheruiyot or see if I could beat him but he's still a little bit stronger than me. I didn't have the great legs that I had in Monaco, it was a tough race, it wasn't too easy today. I'm closing in on him though, it's just a matter of time before I beat him – I'm happy to race him. It's tough for us and everyone with the Olympics postponed – you have to take every opportunity to race, I'm happy to have at least some races to run, there's plenty of other people that don't. My goals for this season was to get a fast race – I did that in Monaco – so now going forward I just want to get some good runs and enjoy competing."
Full results are available here