"I'm doing what I'm supposed to do in my life and enjoy every moment out there," was how ultra runner Camille Herron summed up last weekend's record-breaking achievements.
She broke her own women's world best mark as she took victory in the USA Track and Field 100-mile Championships in Nevada.
The American athlete, 40, knocked 1:29 off the record time she set in 2017 as she crossed the line in 12:41:11.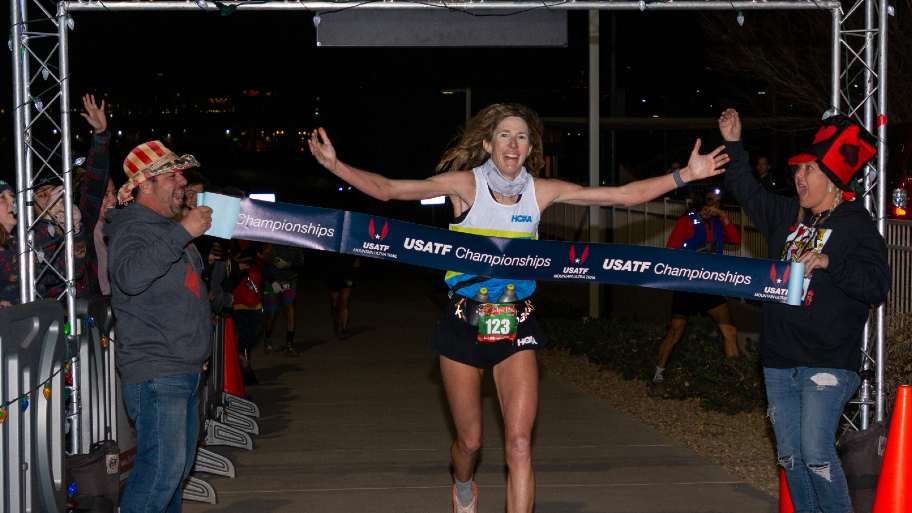 But not just that, she also claimed the 50-mile world record for the 40-44 age range as she clocked 6:08:24 in her first race as a Masters runner and she set a new 12-hour world record of 94.5 miles.
Herron, who came fourth at the same event last year, finished 29:14 clear of the first male athlete, Arlen Glick.
Perfect pacing
And talking to BBC World News, she admitted that had been a big incentive: "I was feeling very motivated going into the race to beat everyone there – men and women. And I just had to be patient, pace myself and run my own race.
"I sort of caught up to the men later on and that motivated me.
"It's my pleasure to show the world what's possible – and to push my human limits."
Her husband and coach Conor explained how she trains for these long-distance challenges: "Camille was a former marathon runner before ultra running, and we've continued training like marathon runners do – we haven't changed a thing, she's just got really good genes."
Faster as a master
"What a difference a year makes," added Camille.
"I came back healthy, humbled, hungry to redeem myself, and [ready] to let the magic come out.
"I've waited 4+ long years for an opportunity to chase my 12Hr/100 mile World Records. This wasn't the easiest course/conditions to do it. I had to dig extra deep those last few laps."