British ultrarunner Jasmin Paris will attempt to become the first woman to complete the Barkley Marathons – the world's most notorious 100-mile ultramarathon which began on Tuesday March 8.
38-year-old Paris, the Spine Race record holder in a time of 83 hours, 12 minutes and 23 seconds when she became the first female to win the race outright, is one of 40 chosen participants to take on the fiendish Barkley Marathons in 2022.
Since its inception in 1986, only 15 different runners have completed the five-lap crusade – all of them male – which takes place every year in Frozen Head State Park, Tennessee, USA – although the date is never advertised in advance to deter spectators.
Race Director Gary 'Lazarus Lake' Cantrell, also known as 'Laz', is the composer of the brutal, unmarked course – with each lap including 12,000ft of ascent over 20 miles – and he started the race in traditional manner at 07:54 CST (12:54 GMT) by lighting a cigarette.
Positive mindset
For inov-8 ambassador Paris – whose resumé includes a completion of the Bob Graham in a then record time of 15 hours 24 seconds – it is a first attempt at the race following in the footsteps of fellow Brit Nicky Spinks – who attempted the course in 2019.
"I feel a mixture of excitement and nerves," said Paris as she answered questions about the race on the inov-8 website.
"The Barkley Marathons is a truly unique challenge, and the idea of running it has been growing on me for the last few years. Sometime last summer I suddenly knew I wanted to see what I could do there.
"There is no single aspect that makes it hard, rather it's the combination of things; navigation, weather, ascent (which is huge), terrain, distance, tiredness.
"I think that will come down to my mindset, as much as my physical capabilities. I know it's going to be very hard, possibly impossible, but at the same time that's what makes me want to run it."
Target: 9:30
Alongside the treacherous nature of the course, runners also have a time-limit to compete against – the full five laps must be completed with 60 hours (12 hours per lap) – another aspect of the race Paris has had to prepare for:
"I've certainly made use of the many blogs and documentaries/films/videos available from previous participants including Nicky [Spinks], and the books that have been published about the race.
"I heard mentioned that 9 hours 30 mins is the longest the first lap should take if one wants to stand a chance of finishing, so I guess I'm aiming for that."
Taking on a challenge as daunting at the Barkley Marathons certainly requires a unique training schedule, and Paris explained what lengths she has gone to give herself the best possible chance of completing the course.
"In some ways, the weather we've had in the last two months has been quite helpful," Paris joked when discussing how she has prepared for the race.
"I've done almost all my training in the early morning (my longest weekend runs started at 4am, to be done before lunchtime), and many of those weekend sessions have taken place in winter storms.
"Wanting to get maximum ascent but being unable to run anywhere exposed (due to the risk of being blown away), has forced me into doing hill reps up and down the safest stretches of hillside.
"On one morning, this involved 22 ascents of Castlelaw (a hill in the Pentlands), accumulating 5,500m (18,000ft) ascent in 7 hours.
"It was hard to stay motivated on those reps in the dark, with wind and hail blowing horizontally into my face. But the thought of how much harder Barkley was going to be kept me going.
'Not enough hours in the week'
"In turn, I hope that once I get out there, I can draw on all that training, and remind myself of the sacrifices I made to be there.
"I've also had a couple of very useful practice 'Barkley Marathons', complete with forest navigation, books/magazines to collect pages from, and terrible terrain.
"Ideally, I'd have done more forest navigation practice at night, but that would have required more travelling (most of the forests close to home are plantation, I tried that, and they are literally impenetrable), and I am also a full-time vet/researcher and mum of two young children, and there simply weren't enough hours in the week."
Paris also believes her performance in the 2019 Spine Race will at least give her a fighting chance of completing 'Laz's' devilish challenge.
"I know the Barkley will be significantly harder, but since both are non-stop races, I think the Spine sleep tactics and 'night-time navigation whilst hallucinating' will probably be useful experiences to call on," she said.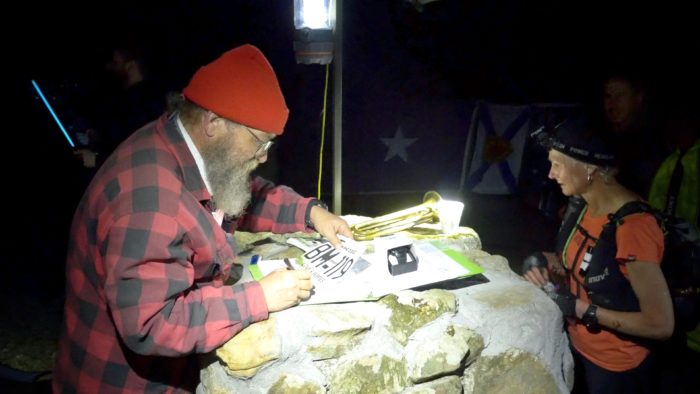 Paris also spoke about the races founder, the enigmatic 'Laz'.
"From what I've seen and heard of Laz, I have a lot of respect for him, I think he understands ultrarunning in the purest sense, he knows what people come to Barkley for, and what they take away."