Ultra runner John Kelly has re-written the history books with a remarkable Wainwrights run that has seen him shatter the previous fastest known time by 11.5 hours.
Kelly completed the 214 peaks of the Wainwrights in five days, 12 hours, 14 minutes and 42 seconds, maintaining a blistering pace throughout.
The previous record was five days, 23 hours, 49 minutes and 12 seconds and was set by Sabrina Verjee in 2019. Verjee was the first person to go under six days, smashing previous record holder Paul Tierney's 2019 time of six days and six hours.
His run has attracted huge interest in the ultra and trail running community with fans following him through every stage of the race via his Open Tracking GPS signal.
Kelly started his record breaking run from Moot Hall in Keswick at 10am on Monday, completing the loop by 10.15pm on Saturday.
It is the last challenge that Kelly will complete in the UK before he returns to his native USA after three years stint in the British Isles.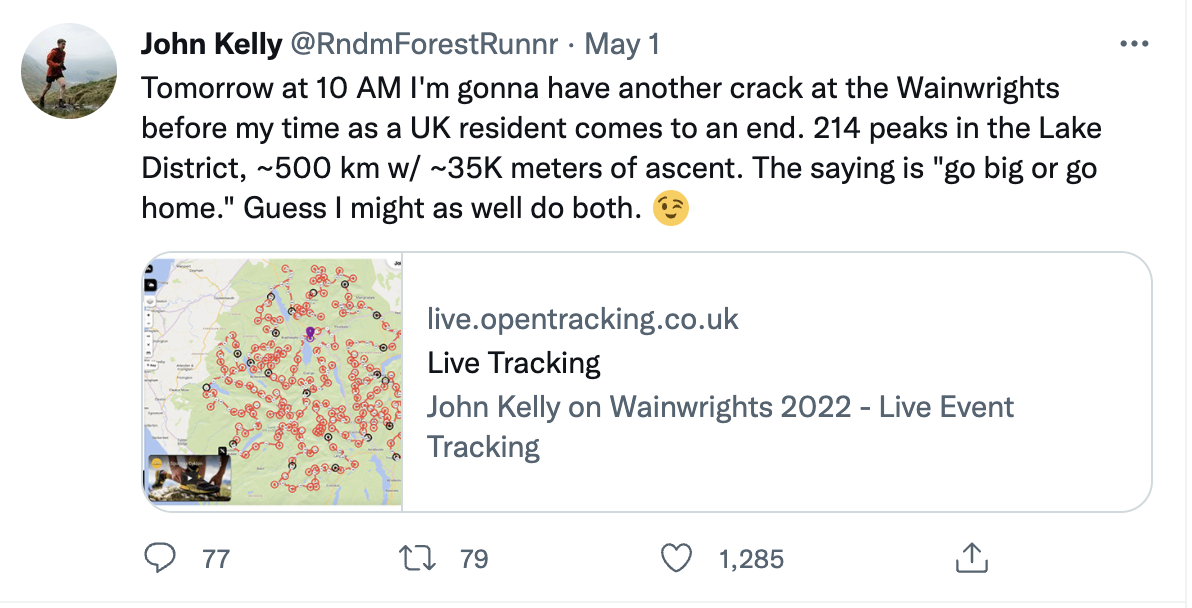 Kelly was forced to abandon a previous Wainwrights attempt in July of 2021 as he was suffering in searing heat and with foot problems having summited 85 of the 214 peaks.
Barkley Marathons finisher
John Kelly has been an endurance athlete, in both ultra-running and triathlon, for a number of years but it was his performance in the 2017 when he became only the 15th person ever to complete the iconic Barkley Marathons.
He moved to the UK from the US with his family in 2019 for business reasons and soon started to make his mark on the wider ultra-runner community with some stunning performances on some of the toughest routes the UK has to offer.
He won the 268-mile Spine Race in 2020, and in the same year broke Mike Hartley's 1989 Pennine Way record – only to have it taken off him two months later by British ultra-runner Damian Hall.
Not one to sit back, Kelly regained the Pennine Way record in May of 2021 with a remarkable time of two days, 10 hours, four minutes and 53 seconds.