Joshua Cheptegei has today announced that he plans to attempt to break the 10,000m record as part of the NN Valencia World Record Day at the Valencia Ciudad del Running event on October 7th.
Cheptegei's recent 5,000m record of 12:35.36, which he ran in Monaco last month, broke Kenenisa Bekele's previous record of 12:37.35; And Cheptegei will once again be aiming to take another of his team mates crowns when he attempts the 10,000m mark. But Bekele has no hard feelings "I was very happy that the record was broken by Joshua, one of my teammates from the NN Running Team. He is one of the best talents, who is obviously in excellent shape, and I wish him the best for breaking the world record of 10,000 meters in Valencia," he said.
Moment of the Month 
Fresh off his record breaking run in Monaco being voted athletics "Moment of the Month" by World Athletics, Cheptegei seems to be keen to ride the momentum forwards and onto the 10,000m, "I am very excited to have the opportunity to fight for the 10,000m world record," said Cheptegei. "As I was able to show in Monaco, I am in great shape, so I would like to make the most of it by attacking the world record of 10,000 meters. Kenenisa's 10,000m WR is one of the most difficult on record, but my training continues to go well and that gives me the certainty of breaking another world record."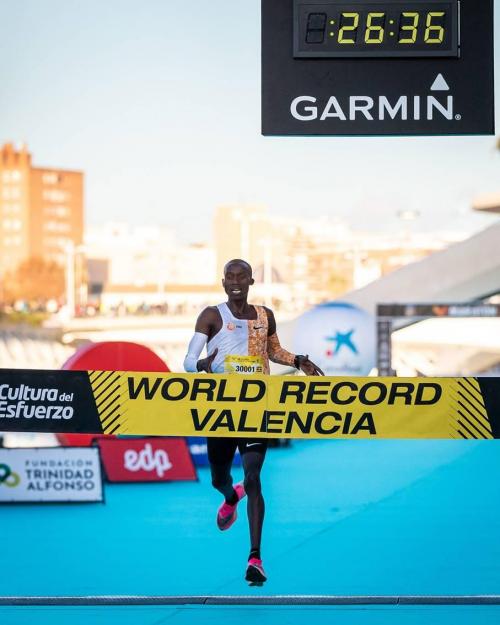 Cheptegei has experience of racing in Valencia, albeit on the road as opposed to the track. Last December he set the then 10K road record of 26:38 in the city, which was subsequently broken by Rhonex Kipruto six-weeks later running 26:24. "I have very good memories of when I broke the world record of 10 km on the road last year in the 10K Valencia Trinidad Alfonso, so I hope to be able to do something special again in Valencia, where running has such a prominent role." Said Cheptegei.
Current 10,000m Record
It will be a fascinating and intriguing athletics spectacle regardless but it will be truly astounding to see how far Cheptegei can push the record, if he gets close to it. Kenenisa Bekele's current record of 26:17.53 has stood for 15 years, breaking it will clearly be no easy feat but it seems that Cheptegei is full of confidence and rightly so if his current form and previous exploits are anything to go by.Cheptegei will then also be competing and making his debut at the World Half Marathon Championships in Gdynia ten days later on October 17th.