It's day 3 of our London Marathon elite preview and it's time to focus on a pair certified distance running icons, each boasting careers of 20 years as professional runners – Kenenisa Bekele and Vivian Cheruiyot.
Kenenisa Bekele (Ethiopia)
London Marathon: 2:06:36 (2016), 2:05:57 (2017), 2:08:53 (2018)
PB: 2:01:41 (Berlin 2019)
Let's get one thing straight Kenenisa Bekele is the most accomplished long distance runner in history; It's just an astonishing turn of events that means we are, as fans of the sport, fortunate enough to live in a time where Bekele can run a 2:01:41 Marathon PB and there still be question marks as to whether he'll come out as top dog at Sunday's race.
Bekele is the first and only athlete to be crowned an Olympic, World Outdoor, World Indoor and World Cross Country champion and across a 20-year career has shattered six world records. His 26:17.53 in the 10,000m, which he set in 2005, is still the current world record and his 12:37.35 was the 5,000m world record since 2004 right up until Joshua Cheptegei bested it by 2-minutes over in Monaco in August of this year.
Bekele stepped up to the marathon distance in 2014 after spending his entire career at the point predominantly, and dominantly, running 3000m to 10,000m no matter whether it be indoors, outdoors, track, road or cross country. In 2013 he ran his debut half marathon race. the Great North Run, to a first place finish in a time of 1:00:09. Then in April 2014 he set the course record in his debut marathon by winning the Paris Marathon in a time of 2:05:04, before following it up with a 4th place finish at the Chicago Marathon with a time of 2:05:51.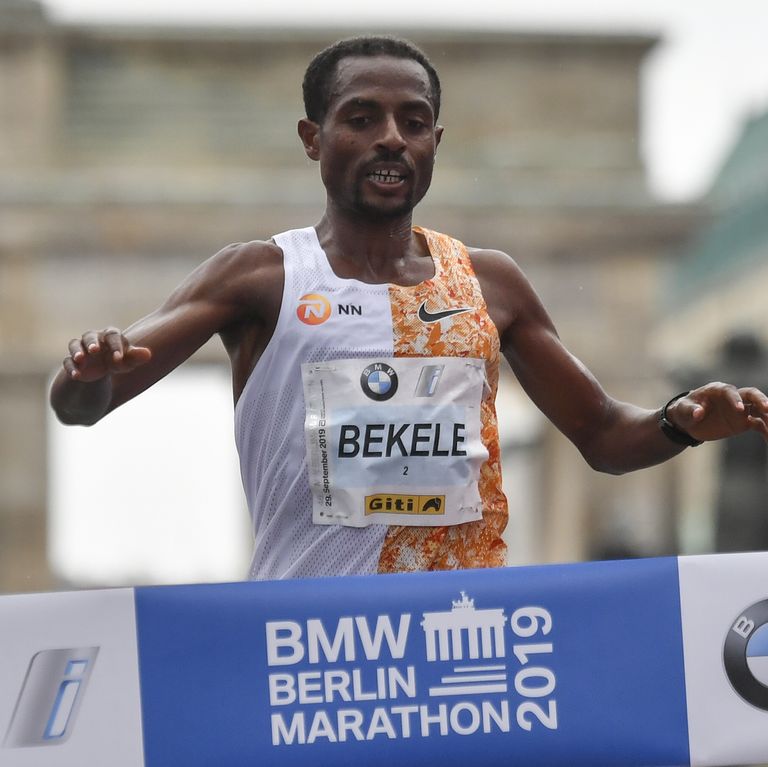 In 2016 came his first London Marathon and with it a 3rd place finish, impressive and yet some three and half minutes behind Kipchoge in 1st. Later that same year Bekele ran 2:03:03 at Berlin taking 1st place and, at that time, 2nd in the all-time list. Bekele returned to London in 2017 and, sandwiched between two DNF's at Dubai Marathon (Jan) and Berlin (Sept), he would run 2:05:57 for a 2nd place finish.
He returned to London in 2018 as his only marathon that year and came in 6th with a time of 2:08:53. Could it be that age was catching up with him? Ah, no. The following year in 2019 Bekele once again returned to race in Berlin as not only his single marathon distance race, but his singular race that year full stop. There in the German capital Bekele would run his astounding 2:01:41 to win the race, just 2-seconds shy of Kipchoge's 2:01:39 world record.
In this current year of uncertainties and limited racing opportunities Bekele was able to set out his stall early before the world went into shutdown by running a course record 1:00:22 at the Vitality Big Half in London back in March. Obviously it remains to be seen how Bekele has been able to manage the intervening downtime of this year, as it does for all runners toeing the line on Sunday. But it does seem that Bekele was in confident mood back in April this year, in an interview with the Olympic Channel he was quoted as saying "I can run maybe faster than the world record, maybe close to two hours or something. It's down to the weather and a good course." Roll on Sunday!
Vivian Cheruiyot (Kenya)
London Marathon: 2:23:50 (2017), 2:18:31 (2018), 2:20:02 (2019)
PB: 2:18:31 (London 2018)
All eyes will be on the battle between Vivian Cheruiyot and her fellow Kenyan Brigid Kosgei on Sunday morning; albeit possibly very tired eyes what with the 07:15 start time for the Women's race, but they'll be on these two runners nonetheless!
The past two London Marathons have gone like this –
2018:
1st – Cheruiyot (2:18:31)
2nd – Kosgei (2:20:13)
2019:
1st – Kosgei (2:18:20)
2nd – Cheruiyot (2:20:14)
So it would seem 2020 is the winner takes all in this head-to-head.
In a similar career path to that of Bekele, outlined above, Cheruiyot spent the majority of the earlier part of hers running the 3000m, 5000m, and 10,000m. She won numerous World Championship gold medals; 5000m in Berlin 2009, both 5000m and 10,000m in Daegu 2011, and then 10,000m in Beijing 2015, as well as Commonwealth Games, World Athletics and World Cross Country Championship medals. In 2012 at the London Olympics won a silver medal in the 5000m (15:04.73) and a bronze in the 10,000m (30:30.44), she returned to the Olympic games in Rio 2016 and set the Olympic record in the 5000m with her 14:26.31.
It will be truly fascinating to see the 3rd instalment Cheruiyot and Kosgei London race, although it will be familiar streets masquerading as an unfamiliar course it should not detract from what will be an entertaining race.
Cheruiyot ran her debut marathon at the 2017 London Marathon finishing 4th with a time of 2:23:50. In October 2017 she won the Frankfurt Marathon with a time of 2:23:35. After her win at the 2018 London Marathon she raced the New York Marathon in the November and finished 2nd (2:26:02) just over 3-minutes behind Mary Keitany in 1st. Last year Cheruiyot returned to the London Marathon again for the previously mentioned role reversal Kosgei / Cheruiyot 1-2. At the Valencia Marathon in December last year Cheruiyot finished 4th with a time of 2:18:52, only 20-seconds off 1st place.
Next up tomorrow: Eliud Kipchoge and Brigid Kosgei