Multiple world champion Jon Albon continued his preparation for Marathon Du Mont-Blanc later this month with an appearance in the Geiranger frå fjord til fjell [from fjord to summit] half marathon in Norway on Sunday.
Calling itself "one of the most demanding half marathon races in the world", entrants start at sea level and finish 1,500 metres up at the top of Mount Dalsnibba.
The Briton, who competed in the race with friend and ultra running legend Kilian Jornet, finished second in 1:30:05 and was only bettered by the Spanish star who clocked 1:29:40, with the pair well clear of Morten Eilifsen (1:33:17) in third.
Threshold effort
Having focused mostly on running mountain, trail and obstacle course racing, Geiranger frå fjord til fjell provided a different challenge for Albon as it is mostly on road.
Nevertheless, Albon said the race was 'great training' in the lead up to June 26.
He told RUN247: "It's a half-marathon that climbs 1,500 metres, so pretty much all on road except for two to three hundred metres on gravel.
"But it's great training because it means you can power your way up and don't have to worry about the impact on the way down so it's like a good threshold effort.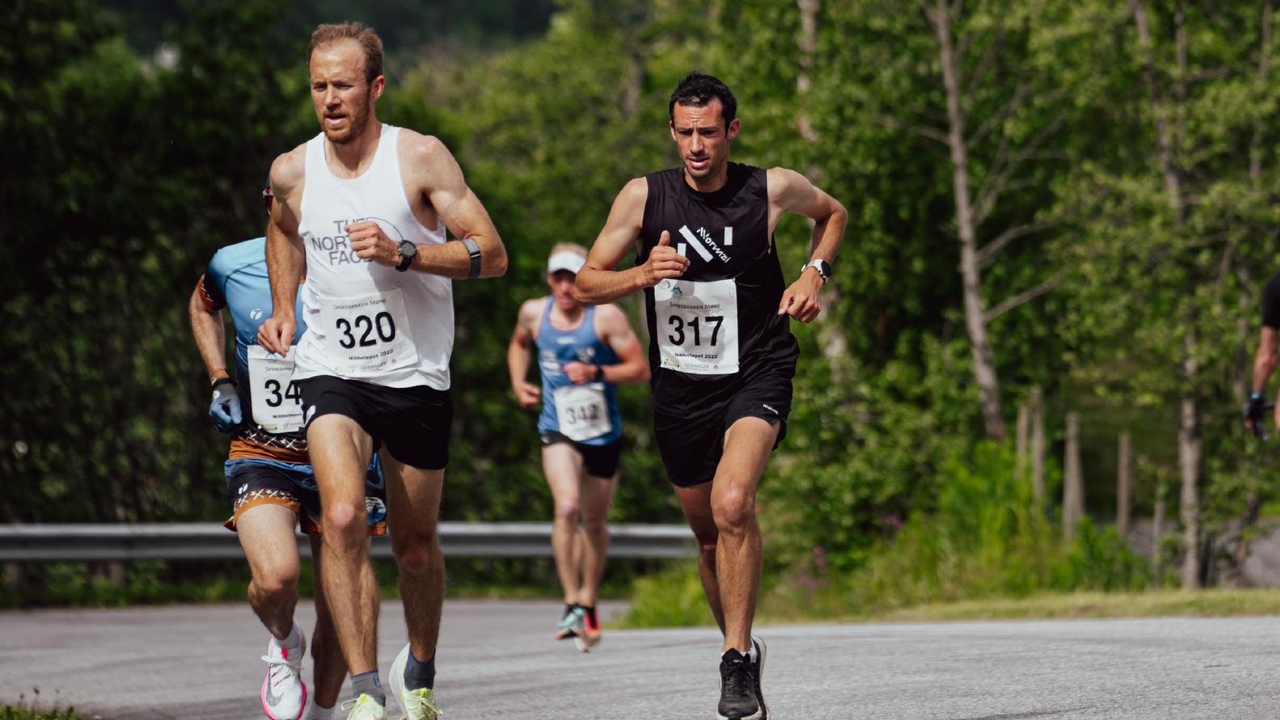 "It was really interesting though, not running that many road races. After 1km you know that is exactly how your legs are going to feel and they will just get gradually worse through the whole race – but that's sort of a psychological thing that you have to deal with and have a bit of patience which I am not really used to.
"Normally in mountain races you have ups you have downs you have things to look at and other things to concentrate on whereas this was kind of how much power can you put down."
Taking turns on the front
Soon after the race started and Albon and Jornet began to break from the rest of the field.
And with the two facing strong headwinds along the route, they decided to take turns ducking behind one another.
Albon, who had just recovered from a pain in his foot, told us the majority of the race went smoothly for him up until the final few kilometres, where the gradient began to steepen.
He said: "In the last five kilometres it did really kick up to like 10% average rather than the 8.5% average that we had been having pretty much up until that point. And Kilian just maintained the same speed whereas that sort of slight increasing gradient just showed my weakness which is slightly steeper running and Kilian just powered off."
Albon concluded: "It was a great experience, it was really fun, didn't put too much of a dent in energy levels I can continue to train towards the main goal which is the Marathon Du Mont-Blanc."
Jon Albon will be writing regular blogs for RUN247, starting with a piece ahead of the Marathon Du Mont-Blanc.