Kenyan duo Philemon Kiriago and Joyce Muthoni Njeru were crowned 2023 WMRA Valsir Mountain Running World Cup champions at Sky Gran Canaria over the weekend.
The weekend's three WMRA World Cup races on the island were much changed due to a wild fire warning which limited the elevation at which events were allowed to take place.
On the modified roots, Kiriago confirmed his victory with first in the Classic Mountain race. Njeru did the same, also coming third in the weekend's Vertical Uphill event.
Kiriago holds off Kipngeno
Heading into the weekend, defending champion Patrick Kipngeno trailed his compatriot Philemon Kiriago by only 20 points.
Both were running two races, the Uphill Vertical on Friday and Sunday's Classic Mountain race, with Kipngeno knowing he needed to win both races to stand the best chance of retaining his title.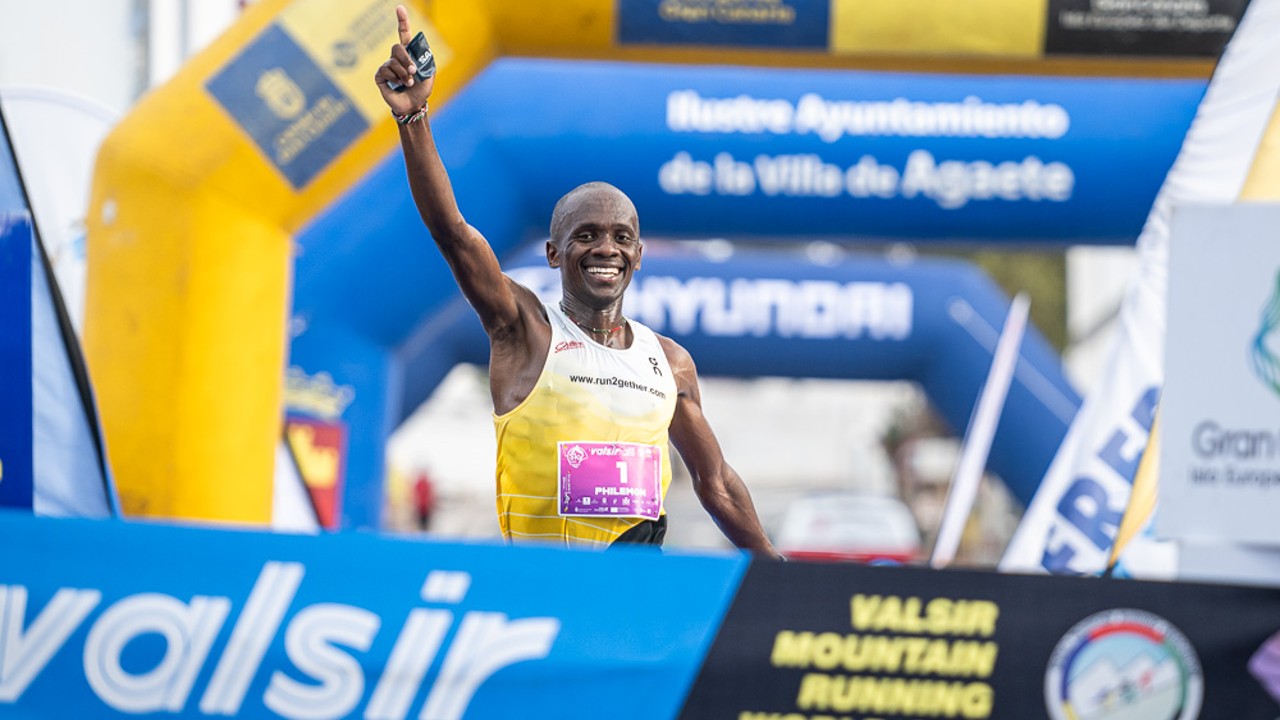 The vertical race was reduced to 4km, and did not go above 400m of elevation. That may well have gone against Kipngeno, who had won both the vertical races he had entered in the WMRA World Cup this year.
He could only finish second in the heavily altered race, with Britain's Joe Steward taking the win, but with Kiriago finishing fifth, and the WMRA World Cup standings only taking into account a runner's six best results, that meant going into the final event Kipngeno had in fact done enough to take the overall lead: he sat on 275, with Kiriago on 255.
But when the Classic Mountain race began, Kiriago took the lead early on as a sign of his intentions. Reduced in altitude, the race became a much faster 22km than was expected and Kiriago knew he had to push himself to beat his rival for the title.
Finishing in a time of 1:13:54, less than half a minute ahead of Kipngeno who came second in a time of 1:14:23, Kiriago did enough to claim the title.
He earnt 55 points for winning the race, which improved his overall score by 30, while Kipngeno only improved his total points haul by 5 as a result of finishing second.
There was good news also for Steward: he came fourth in Sunday's race which, along with victory in the uphill, helped him climb above Canadian Remi Leroux to claim third place overall in the standings.
Njeru secures three-peat
For Joyce Muthoni Njeru, there was little pressure on her results at the weekend with the WMRA World Cup title already all-but secure.
That meant that when she finished third in the vertical uphill, there was little drama. Britain's Scout Adkin secured the win, which proved the crucial result as she pipped Kenyan Philaries Kisang to second place in the overall standings.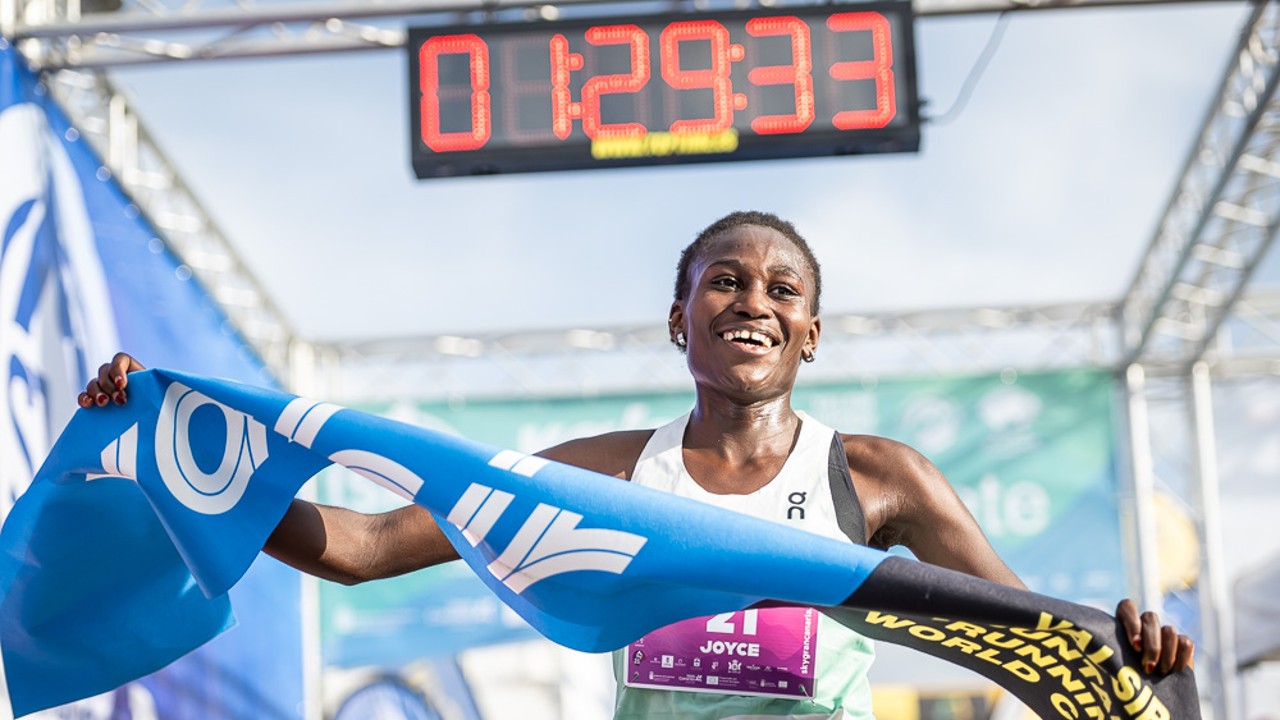 Njeru was not about to go home after 'merely' a bronze, however. She stormed the classic mountain race to finish in a time of 1:29:33. Kisang came second, with Adkin third.
With the 2023 titile, Njeru has now won three WMRA World Cups in a row as she added this year's honour to her 2021 and 2022 prizes. The question is, what she will look to do next?
WMRA Valsir Mountain Running World Cup 2023 final results
Men
1. Philemon Kiriago (KEN) 285pts
2. Patrick Kipngeno (KEN) 280pts
3. Joe Steward (GBR) 211pts
Women
1. Joyce Njeru (KEN) 295pts
2. Sout Adkin (GBR) 230pts
3. Philaries Kisang (KEN) 215pts
Sky Gran Canaria results
WMRA World Cup Classic Mountain final men's results
Philemon Kiriago (KEN) – 1:13:54
Patrick Kipngeno (KEN) – 1:14:23
Liam Meirow (USA) – 1:16:58
WMRA World Cup Classic Mountain (Sky TPT33) final women's results
Joyce Njeru (KEN) – 1:29:33
Philaries Kisang (KEN) – 1:30:40
Scout Adkin (KEN) – 1:32:52
WMRA World Cup Long Distance (Sky TPT33) final men's results
Christian Allen (USA) – 2:29:29
Andrew Wacker (USA) – 2:35:52
Ondrej Fejfar (CZE) – 2:36:50
WMRA World Cup Long Distance (Sky TPT33) final women's results
Ikram Rharsalla Laktab (ESP) – 2:57:26
Camilla Magliano (ITA) – 2:59:01
Sara Willhoit (GBR) – 3:17:14
WMRA World Cup Uphill final (Sky A4Uphill) men's results
Joe Steward (GBR) – 17:43
Patrick Kipngeno (KEN) – 17:54
Christian Allen (USA) – 18:01
WMRA World Cup Uphill final (Sky A4Uphill) women's results
Scout Adkin (GBR) – 21:17
Susanna Saapunki (FIN) – 21:30
Joyce Muthoni Njeru (KEN) – 22:13