Eddy Clarkson has been reflecting on his 'once in a lifetime experience' to be involved in an expedition that saw the British athlete run from one border of Lesotho to the other.
ASICS' 'Uplifting Trails Border to Border Lesotho' documentary, released earlier this month, saw Clarkson and three fellow ASICS FrontRunner members take on the 250km challenge across Lesotho's challenging terrain.
The ASICS FrontRunners – Clarkson, Cailin Whyte, Cathrine Melson Walle and Mbalenhle Gumbi – were guided along the way by Olympian Tstotang Maine with the group coming together to form a special bond.
Seven days of running
Starting off in Lesotho's capital Maseru the group ran for seven days straight, running between 30km-42km every day, before reaching Qachas Nek.
Looking back on October's challenge, Clarkson has spoken about his experience in Lesotho, how his 2015 cancer diagnosis spurred him on and plans for 2022.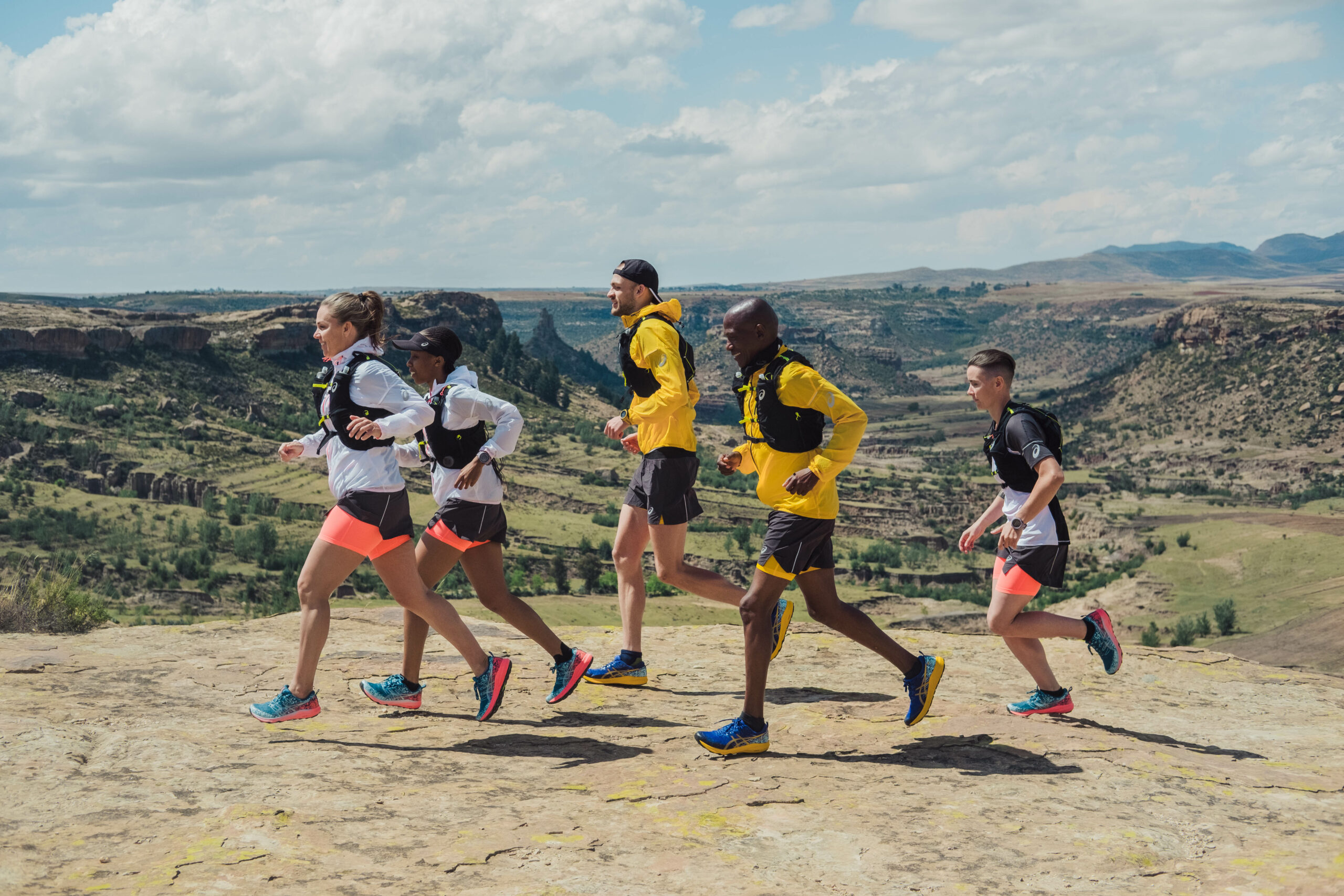 Always pushing boundaries
Fittingly, the York-based athlete first became aware of Border to Border Lesotho whilst he was running – when ASICS contacted Clarkson to gauge his interest.
Always looking to push his boundaries, Clarkson was immediately drawn to the trail run and was picked to go to Lesotho just a few days later.
Despite having already completed a number of endurance events – including IRONMAN Copenhagen and the Paris Marathon – Clarkson said he felt 'apprehensive' ahead of his first ever multi-day event.
Multi-day challenge
"I was very apprehensive about the multi-day aspect of the challenge," he said.
"I know my body really well and I know that it has never felt good the day after a marathon or IRONMAN.
"I have also never got up the day after thinking: 'Let's go run another marathon!' But in all honesty, since we were running at a lower intensity my body coped surprisingly well."
He added: "I still find it hard to fathom that as a team we ran from border to border in Lesotho, covering 250km over mountains, through rivers and in unimaginable conditions. It is mind blowing."
Running at altitude
Prior to heading out for the challenge, Clarkson made sure to research what he can expect to encounter whilst trekking across Lesotho – with the country renowned for its high altitude.
Clarkson admitted however that the weather in Lesotho took him by surprise – with the temperature reaching as high as 30 degrees Celsius during the day but plummeting to three degrees Celsius at night.
"The documentary also covers one of the days when the weather completely turned and we were pelted with huge hailstones, which was the last thing I expected in Africa," Clarkson remarked.
Welcome from locals
In addition to the conditions, Clarkson has also spoken about how Lesotho's residents welcomed the ASICS FrontRunners with open arms, with some even deciding to run alongside the group for some stages of the challenge.
"They didn't even break a sweat despite the fact that they were running alongside us in trousers, a t-shirt and a hat!" He began.
"Every time we stopped, villagers would come and say hello, talk about their love for their country and generally just be very welcoming.
"For me, I have two great memories of the locals. The first, the lady who offered us a chicken as a sign of good luck and the second playing football with the local kids during one of our lunch stops."
Mental and physical challenge
Clarkson said the mental and physical aspects were both equally as challenging throughout the run.
With all four members having differing abilities, Clarkson says he found it tough to race at a different pace for such a long period of time and managed to set aside his mental struggles to encourage the group to keep going.
Resilience of mind and body
Having completed the challenge, Clarkson said it proved to him that the human body can adapt and push itself to succeed in such difficult circumstances.
He said: "The biggest lesson I learnt from the challenge was that the human body and mind is unbelievably resilient and capable of so much more than you think."
Emotional moment
In one of the documentary's most emotional moments, a tearful Clarkson opens up on his 2015 acute myeloid leukaemia (AML) diagnosis.
Despite a gruelling seven-month treatment, which led to him losing 25kg in body weight, Clarkson was inspired to take his athletic career to another level.
Having only ever ran a 10km race before, he set his sights on running marathons and IRONMAN events, which has ultimately led to his involvement in Border to Border Lesotho.
Positive impact of cancer
"This is going to sound a little bit crazy, but I owe cancer a lot because it changed me for the better and allowed me to succeed in so many ways," Clarkson said.
"Before cancer I would have said no to this challenge because I wouldn't have had the self-belief, nor the appetite to go out and truly live.
"I have become a more resilient, confident and determined person following my cancer treatment and all of these attributes have been key to taking on these endurance challenges."
Plans for 2022
Clarkson is now looking to complete another border to border challenge with a friend in the near future.
In April, Clarkson has confirmed he will be running in the Manchester Marathon and has set himself the goal of completing the race in sub-three hours.
The Briton will also be taking on another IRONMAN in September after booking his entry for IRONMAN Italy Emilia-Romagna.