Jim Walmsley is giving himself every chance of breaking his duck at the Ultra-Trail du Mont-Blanc (UTMB), the marquee race that has so far escaped his clutches.
The 32-year-old American has enjoyed a glittering ultra running career so far, including three victories in the Western States 100.
But in his quest to land what is arguably the sport's greatest prize in Chamonix this August, he and his wife, fellow ultra runner, Jess Brazeau, have moved to the French Alps to prepare for the race.
With a highest finish of fifth in 2017 and DNFs in 2018 and 2021, Walmsley has struggled to replicate his form from elsewhere when competing in the prestigious 170km French race.
But he is determined to put that right and find the energy "to turn yourself inside out" that has characterised his numerous race wins.
In an exclusive interview with RUN247.com, Walmsley explained there were lots of marginal gains he was pursuing in pursuit of UTMB, but the biggest was not running the Western States this weekend (June 25-26).
Seeking big gains
Asked why he had not yet been able to find top form at the UTMB, Walmsley replied: "I think the most obvious one is that the UTMB always comes after Western States.
"During this whole process, I am trying to change a ton of little things in my training. But I am trying to keep in mind that it's going to be as simple as not doing Western States.
"But little things all add up to potentially big gains. There are simple things such as not travelling a week, two weeks before the race from the US eight or nine time zones away.
"I have been training with a pack and poles all year now. I have been doing style of racing suited for UTMB rather than fast-paced heat training at Western States.
"UTMB is more of a night race, so I got some preparation at Madeira Island Ultra-Trail earlier in the year.
"I have raced a lot less this year. So far, I have only run Madeira Island in April. That was nice. It had some rain, it got a little cold on the mountain, we ran through the night. So it was really good preparation, lots of vert, pretty technical.
"Since then, it has basically been about trying to stay focused and not get distracted with doing different style races, sticking with some longer, harder, with more vert training runs.
"That, I think, makes me more prepared for long ultras rather than more explosive races."
Walmsley is clear that winning the UTMB would be among the greatest accomplishments of his career, hence his single-minded focus on this year's race.
He said: "I'd like to frame a couple of events that are higher than the others. I think it [UTMB] is right up there – as high an achievement in ultra running I or anyone else can do.
"Career-wise, it's huge. It seems like a capstone and goal. But me being American, I would put it up with Western States as well.
"And I don't think it gets much better than being able to pull off a Western States win."
Should Walmsley win the UTMB, he would become the first American man to achieve the feat. But he reckons this statistic has become quite a burden for his countrymen, prompting many to overtrain as a result.
He said: "The American men are almost hyper aware of that. It's brought up every single year, so it puts extra motivation there.
"But it's another race and just like what can happen at Western States, when it is one of the biggest races of the year, you think you have to do more and more and more.
"I don't think that's always the case. American men, I think, end up doing a lot more and maybe don't end up running to their full potential at UTMB a lot of times."
Getting his schedule right
Walmsley feels part of this is down to scheduling and that has prompted his decision to race lightly this year.
He said: "In general, the European calendar starts two or three months later than the American calendar.
"It's pretty common for myself or other Americans to start racing in January or February, just because that's what North America's weather allows.
"We have a big race just south of Flagstaff, where I live, in February. I have raced out in Texas in January. So sometimes the race season kicks off really early and that makes for a really long season by the time you get to August.
"I know for myself in the past it has been difficult to back off in the middle of everyone racing to make sure you are fresh enough towards the end of the year."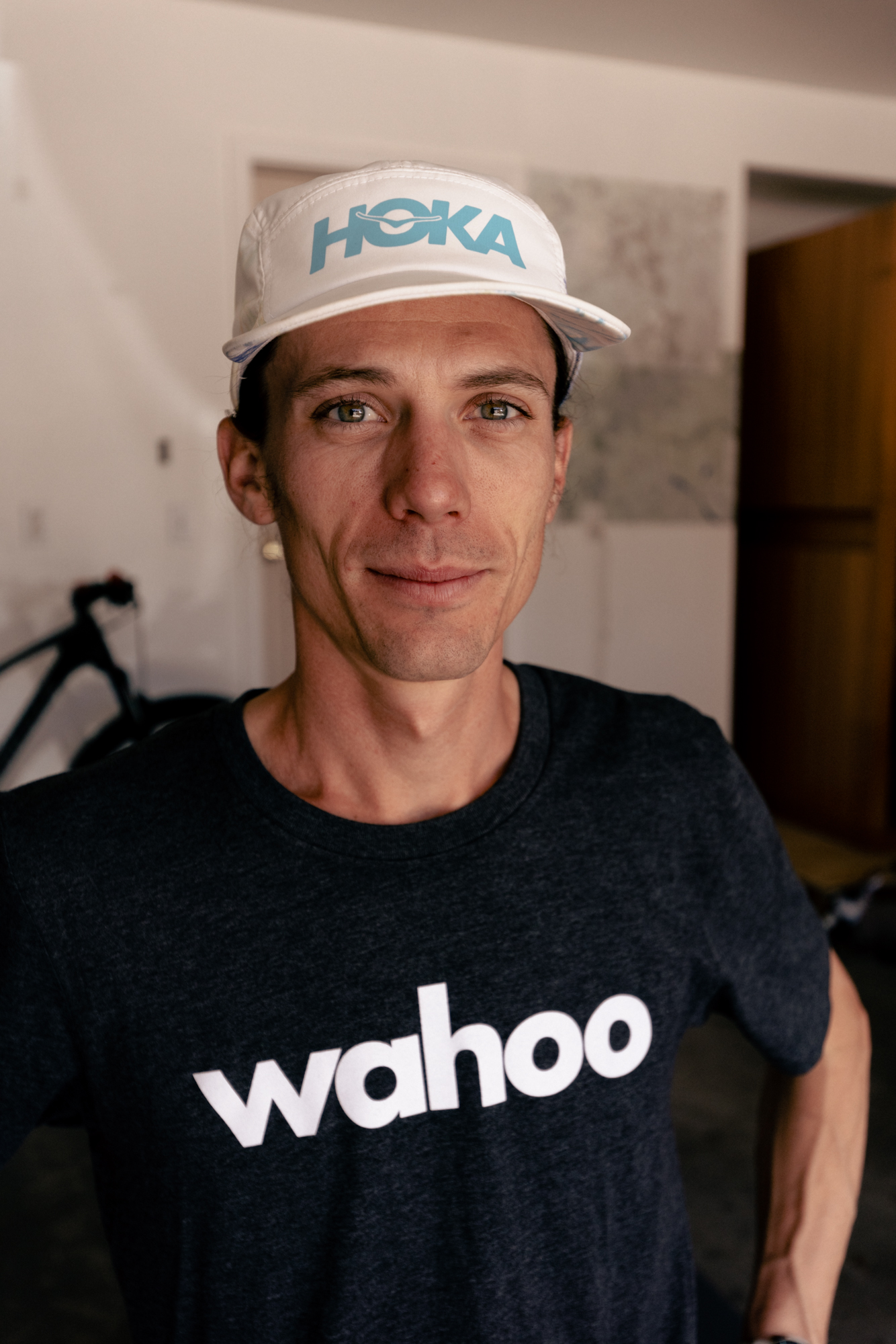 Helping Walmsley to back off is the move he and Brazeau made to set up home about 90 minutes away from Chamonix in May.
Moving to France
He said: "It's pretty busy and hectic in Chamonix. I'm in a tiny little village a couple of valleys down. Talking with [four-time UTMB winner] Francois D'Haene, whom I'm pretty good friends with, he ended up finding a house for us just near him.
"There's other world class ski mountaineer guys around as this valley absolutely crushes it in the winter. That makes for really steep mountains to train on.
"Looking at the Strava heat map, pretty quickly you can tell there is lots of loop options. It's a pretty nice little playground of mountains.
"From my door to the peak, I can do in less than five miles. That's with 5,000 feet of climbing and without having to drive. If you took the most direct route, it might be three and a half miles to the top, so it's steep, steep.
"There's quite a few other mountains around here, but generally they are going to be under 8,000 feet.
"It's not crazy high elevation, I'm living at 4,000 feet as opposed to 7,000 feet in Flagstaff, but I'm still getting some climbing here at altitude.
"I have a ski lift that goes past the house. It's pretty obvious that this is a ski town. The terrain is really, really steep."
Walmsley added: "Generally in years past, after Western States I have lived in a tent and gotten away from things. I guess in a lot of ways it's nice to be basing out of a house instead of out of a tent!"
Taking on Kilian Jornet
D'Haene is not defending his title this year, but the UTMB offers the prospect of a showdown between Walmsley and Spanish superstar Kilian Jornet, himself a three-time winner.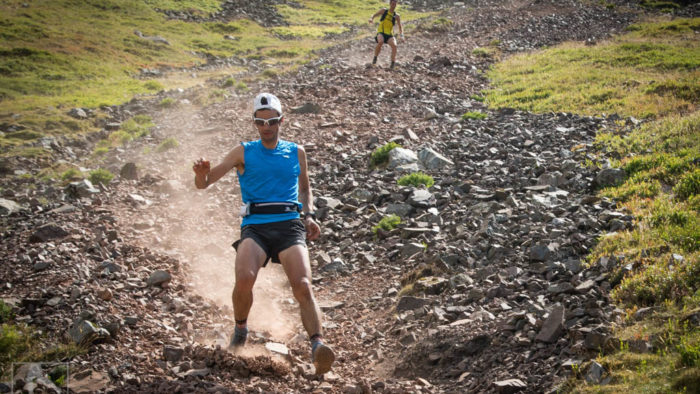 Asked who he saw as his main rivals, Walmsley, who will wear the No 1 bib, said: "For me to win the race, other people come in as a factor and I don't really have control over that.
"One of my biggest goals and takeaways with this is to get the most out of myself for this race.
"I mean that, not really ducking the question, but in the fact that in years past I feel like doing it after Western States, I have just been fatigued.
"It's a deeper fatigue and I felt pretty disappointed with the energy that I had during the race.
"Showing up and just having the will to push really hard and just keep pushing and feel like I have had a really good run, I think is by far the biggest goal.
"It feels like a healthy goal for me. It's within my control, especially setting up the calendar of the year.
"If you talk about other competitors, it's pretty obvious that Kilian Jornet is the big elephant in the room.
"I would say that out of anyone, perhaps even if I have my best day, he is better than me anyway.
"I think England's own Tom Evans is really strong, Thibaut Garrivier, very similar, extremely fast.
"Hannes Namberger, from Germany, is really strong. He won Madeira last year. The Chinese runners will hopefully be back this year and then you also have a three-time winner in Xavier Thévenard.
"It's a typical UTMB, extremely loaded. Some people will have their day and some people won't.
"You have got to focus on yourself, remain pretty dynamic and prepare for a long night and push when the sun comes up."
Turning himself inside out
Does Walmsley feel he has unfinished business at the UTMB?
He said: "Since I haven't had a race that I am really proud of and happy with there, I would say it just feels like the opportunity is still on the table.
"Especially when you mention first American male, it feels like we are starting on square zero all over each year.
"It still feels like pulling off a win there is within my capability and control. But as far as digging and digging and digging, I think that comes from some of my feelings that I have just given a lot of thought to between Ultra-Trail Cape Town at the end of last year and Madeira this year and the reflection of what went wrong at UTMB.
"It's kind of just scrapping my feelings at UTMB because I just didn't feel normal compared to other ultras.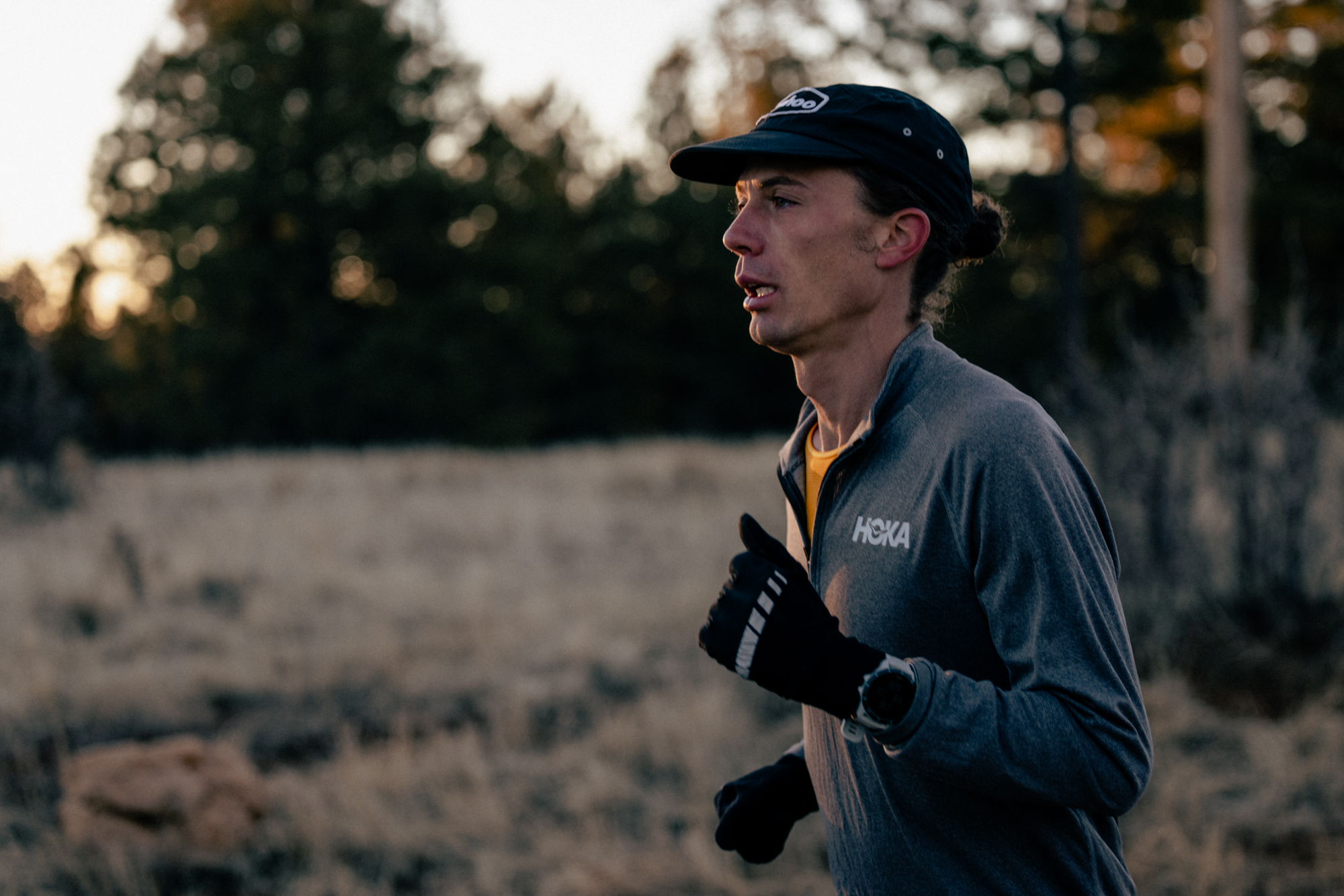 "What I have been able to do at other ultras is that there was always another energy to keep digging, keep digging and basically turn yourself inside out, keep getting the absolute most out of yourself.
"It just hasn't felt like I have been that person at UTMB and it feels like I am more of a shell of that person. When it really gets tough, it just breaks and I'm so tired.
"Ultimately, the finger gets pointed back at doing Western States.
"Being an American, I have put so much time and training and energy into the Western States. Doing almost marathon workouts combined with temperatures in the low-mid 40s Celsius, running with water bottles, no pack, no poles.
"Desert, canyon as opposed to mountain tops and spring water, sometimes getting caught in sudden storms. It feels like a night and day transition that I'm trying to just not get caught up in this year."
UTMB has been the "outlier"
Walmsley is determined he will be able to summon up the deep reserves of energy that have served him so well in other races.
He said: "I at least feel more confident that I'm not going to be using it in a different race this year. If I don't have it this year, then it's another problem.
"I'm just trying to fix what I feel is the most obvious reason for not performing how I want to.
"I have been pretty happy with all the other ultras I have done in the last couple of years and being able to get the most out of myself that way.
"Really, UTMB has just been the outlier and it's been following my biggest day race [Western States]. Simplifying that part of it seems like it's going to take care of a lot of the other problems."
With two months to go to the UTMB, Walmsley has plenty of training planned, but is determined that we won't be overcooked on race day.
He said: "I am just trying to show up when I have not done too much in training, balancing the freshness and the fitness and lots and lots of strength of surviving in the mountains here.
"It feels like it's possible this year and I am excited."
Walmsley added: "I think I'm going to do a local race as a training run, but it will be pretty low key. It's going to be mostly training from here to UTMB."
Running slower
Is Walmsley simply transferring his training methods from home to France or have there been bigger changes?
He said: "It's similar, but very different because the style of running here is a lot slower.
"Every climb around here is over 15% and you can get up to 50% climbs. There's some really, really steep scrambly stuff, but it's very common to be between 20 to 30%, which is going to slow you down a bit.
"In combination with the pack and poles, that whole style of just running through the mountains a bit more controlled. Never really running, running, making sure you have steady energy and focus. Basically, strength-based training."
Walmsley welcomes the increased number of elite athletes branching out into trail running, but he expects fewer will take on the longer races.
He said: "I see more and more entering the short ultra and marathon trail racing side of things. I think that has always been a fun dynamic distance.
"But as far as bumping up to the further distances of trail running, I think Adam Peterman from the US is one of the best examples of a newer guy on the scene."
Technology advancing
Technology and carbon-plated shoes has become a huge factor in road running, and HOKA-sponsored athlete Walmsley has no doubt it has a part to play on the trails too.
He said: "I think the same technologies will get translated into trail running.
"I think it's almost surprising that you're not seeing it develop at the same rate. It seems like trail running is a bit behind in that aspect.
"I would expect most major brands to have some sort of new foam/carbon plate shoe at UTMB this year. You will see a lot of thick, white soles!"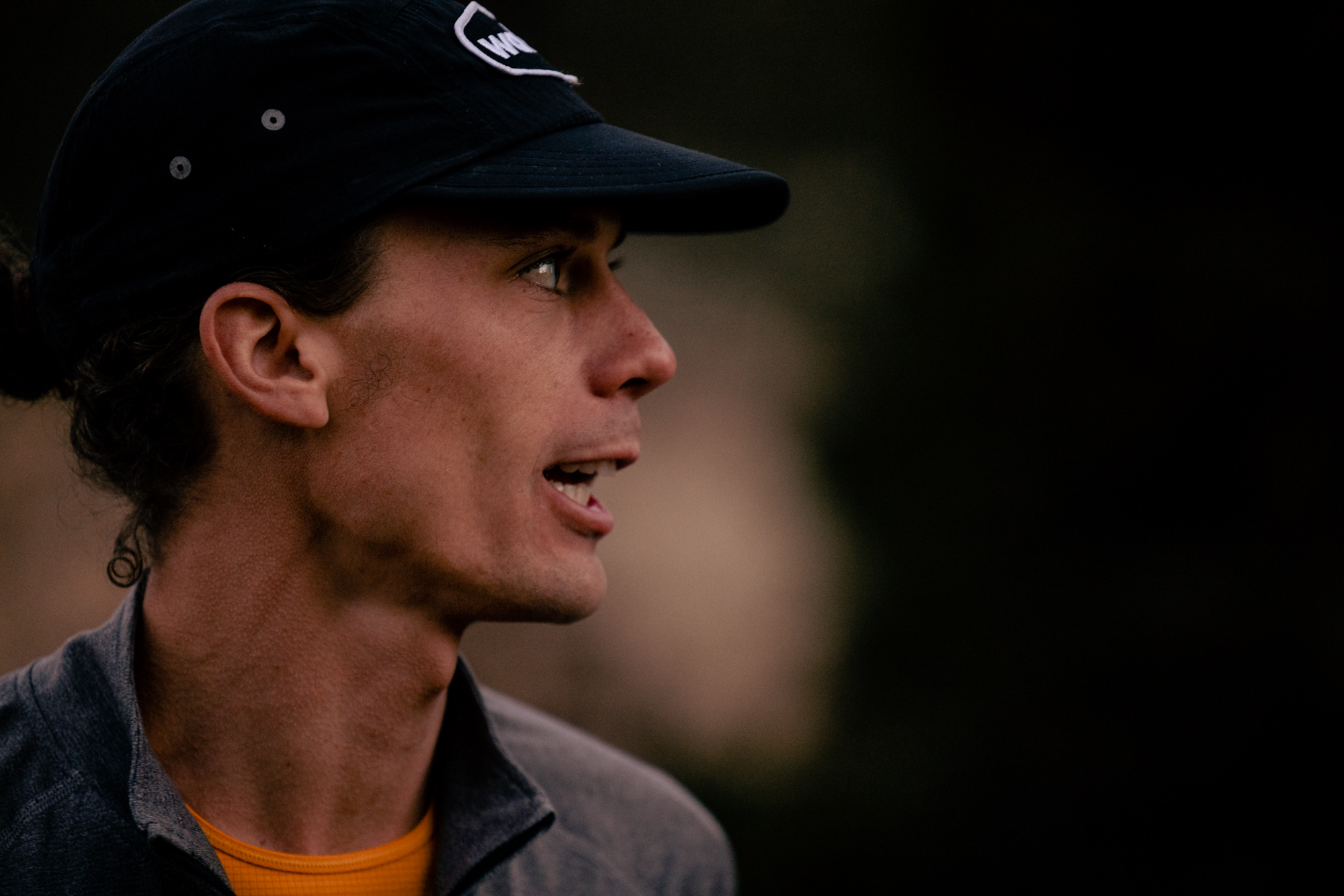 Walmsley added: "Almost as far back as two years ago, I started giving HOKA some feedback on the most current Tecton X. We are still working on tweaking that with new foams and different versions of the plate.
"For HOKA, we are already getting into that realm. We have a product.
"But we have less rules than World Athletics has, so you could potentially see thicker soles and lots of shoes that are just one-offs, super prototype stuff that you're just not going to get on the road running scene because they have a governing body and we have a lot less of that."
No more road marathons for now
Walmsley, who was a leading track athlete in his college days, enjoyed a brief foray into road running in 2019 and 2020. This included a 64:00 half marathon and a 2:15:05 clocking in the US Olympic marathon trials.
He also recorded a rapid 6:09:26 in a HOKA-sponsored 100km time trial in 2021. So, would he consider more road running in the future?
Walmsley said: "I really enjoyed the half marathon distance. I think that can be a really nice stimulus for an ultra runner.
"It's not giving speed too much focus. It seems like I was able to do just a couple of weeks block and get a lot out of myself for a half marathon.
"The marathon is pretty burly. It takes training all year, different systems, lots of speed for an ultra person.
"So I would say 'no' as the short answer for something like that.
"The half could be fun or an uphill race on the road.
"The marathon [in 2020] was playing a bigger picture into plans to try to go to South Africa for Komrades. Unfortunately, that didn't work out, but I got to roll it into a road marathon and a 100K.
"But for now, I'm not looking to get back into road ultras any time soon.
"The focus is definitely on some longer, burlier, trail mountain races and just trying to figure out this side of the sport like I feel like I have figured out other sides of the sport."
Just how well he has the UTMB figured out will be seen when the race starts on August 26.