There were outstanding performances from both the men's and women's winners in the RaidLight Arc of Attrition 100-mile race along the Cornish coast.
Mark Darbyshire broke the men's course record by more than 90 minutes, while Nicky Spinks narrowly missed out on the women's mark as both shone in what is billed as the South West's toughest footrace.
Darbyshire, who won the Tsunami 24, Lakeland 100 Mile, Ultra Trail Snowdonia and Beacons Ultra titles in 2021, completed the Arc of Attrition in 19:12:48. In claiming victory, the 43-year-old smashed the previous best of 20:43:46 set by Kim Collison in 2019.
Spinks, who is planning a packed year of racing following Covid-19 cancellations in 2021, finished more than two hours ahead of second-placed Jodie Gauld in 25:35:52.
Spinks 'zonked' but still triumphs
The 54-year-old had been inside the women's course record of 25:21:14 set by Anna Troup in 2020 at one point, but felt "zonked" after bouts of sickness in the latter stages, according to sponsor Inov-8.
Tristan Stephenson was the second man home in 20:01:43, which also beat Collison's mark, while Dave Phillips was third in 22:45:01.
Darbyshire's time was almost identical to the 19:10:27 he set in winning the Lakeland 100 last year.
Asked on the podium about the two races, he said: "The Arc is definitely tougher without a shadow of a doubt. It's dark for so long, and it's really hard to stay awake.
"It wasn't too much different in the terrain. There were a lot of ups and downs, the climbs are shorter here and it's all pretty technical."
Having smashed the record set by such a renowned runner as Collison, Darbyshire was asked how he would top that.
"I might come back and do the 50 next year!" he joked.
Elite support crew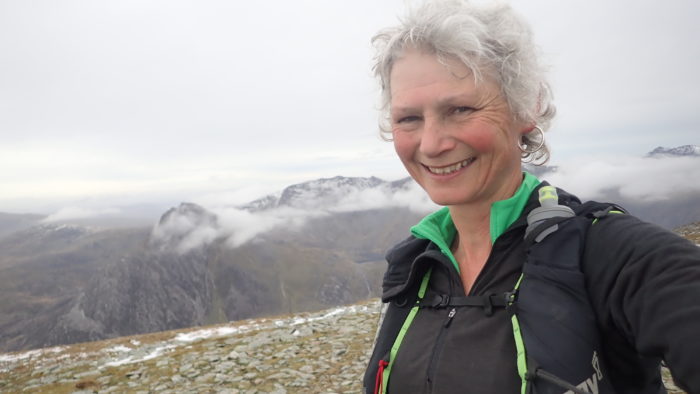 Spinks' effort placed her ninth overall. Gauld clocked 27:53:53, while Una Miles was the third woman home in 28:33:00.
Despite her sickness, Spinks extended her lead from 10 minutes at nine hours to 2 hours 18 minutes at the finish.
Runners could have crew at each checkpoint, with fellow ultra-running legend Damian Hall providing support for Spinks.
She said: "Having crew was really helpful. Damian was brilliant, especially towards the end after I threw up!
"I normally eat on the ups, but there weren't enough ups!"
The Arc of Attrition features steps for much of its route, which adds to the challenge and Spinks admitted: "I was sick of steps by the end."
The Arc course runs from Coverack to Porthtowan and sees runners cover the entire south west 'foot' of Cornwall. The race has a 36-hour cut-off, with checkpoints every 20 miles, and requires self-navigation.