The Spine Challenger North, which sees competitors race 160 miles up the Pennine Way from Hardraw to Kirk Yetholm in the Scottish Borders had two winners this year.
In a true demonstration of the "race spirit amongst the Spine family", Tim Bradley (GBR) and G Brian Hutchinson (IRE) took on the final miles together to cross the finish line arm in arm.
In third place overall, and the winner of the women's race, was Irene Kinnegim, who ran remarkably throughout the entire race to consolidate herself as the best in the field behind the leading pair.
"We relied on each other to survive"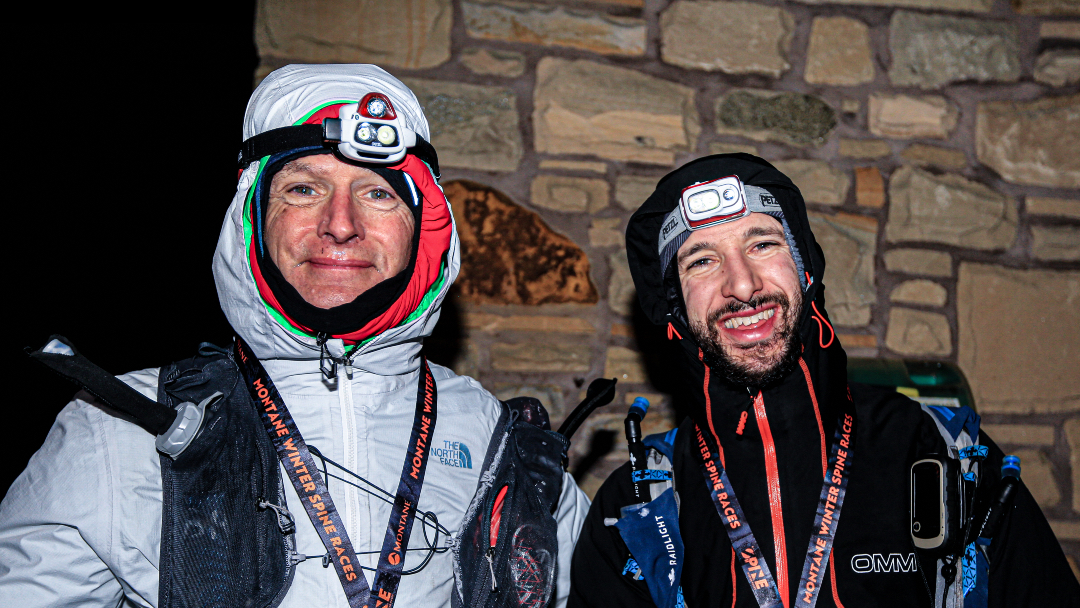 Bradley, who enjoyed a significant lead up until the checkpoint in Bellingham, had worked hard on the early stages of the northern section of the Spine Race to establish a two-and-a-half-hour lead over Hutchinson by the 110 mile marker.
However, a fall saw Bradley begin to question if he should retire from the race. At Horneystead Farm, he took a long break, and is said to have been within a split second of throwing in the towel had he seen a race official.
Fortunately, it was Hutchinson who came across the fallen Brit first, rallying the early leader back to his feet as the pair took on the final stage together.
At points the pair were waist-deep in snow, with strong winds and temperatures dropping to -17 degrees celsius overnight, but Bradley and Hutchinson soldiered onwards.
Of the conditions, Bradley shared that their strategy was to "take it in turns to break the trail" on the Cheviots, adding that it was a "two-person job".
Hutchinson reiterated these sentiments, stating that "we relied on each other to survive, this was teamwork, not a race".
Behind the leading pair, it was another Irishman John Murray who took third place, ten hours behind the leading duo, followed by Brits Mark Richardson in 4th and Mark Collinson in 5th,
Kinnegim takes women's win and third overall
Irene Kinnegim of the Netherlands took the women's win convincingly at the Spine Challenger North, and on her way to victory also managed to clinch third place overall, by only four seconds, ahead of John Murray of Ireland after more than three days of racing!
Behind the Dutch athlete, Fiona Lynch of Ireland prevailed in second, whilst Jo Wallace also finished in under 80 hours to take the last spot on the women's podium in third place.
Lynch, who finished 11th overall alongside her partner Dave Ward, got her hands on a Spine Race trophy after more than 160 miles of racing, and all in the company of her partner.
Rounding out the top five were Brits Jude Lane and Kristie Law, who both managed to finish under the 85 hour mark, after spending almost three and a half days battling the wintry conditions northbound towards Kirk Yetholm.
Montane Spine Challenger North Results, Sunday 15 January 2023, 160 miles
MEN:
Tim Bradley (GBR) – 61:13:59
G Brian Hutchinson (IRE) – 61:13:59
John Murray (IRE) – 72:16:56
Mark Richardson (GBR) – 72:44:59
Mark Collinson (GBR) – 72:50:15
WOMEN:
Irene Kinnegim (NED) – 72:16:52
Fiona Lynch (IRE) – 75:59:52
Jo Wallace (GBR) – 78:05:59
Jude Lane (GBR) – 80:15:53
Kirstie Law (GBR) – 84:56:59