The UTMB World Series has announced a schedule of 35 races for the 2023 edition.
After its first edition in 2022, the UTMB World Series has increased the number of races up from 25 to 35 with first-time events in Africa and South America along with expansion in Europe, Asia and North America.
By competing at UTMB World Series events, competitors will earn a certain number of 'Running Stones' which are then used to enter the lottery for the UTMB World Series Finals at the UTMB Mont-Blanc.
New races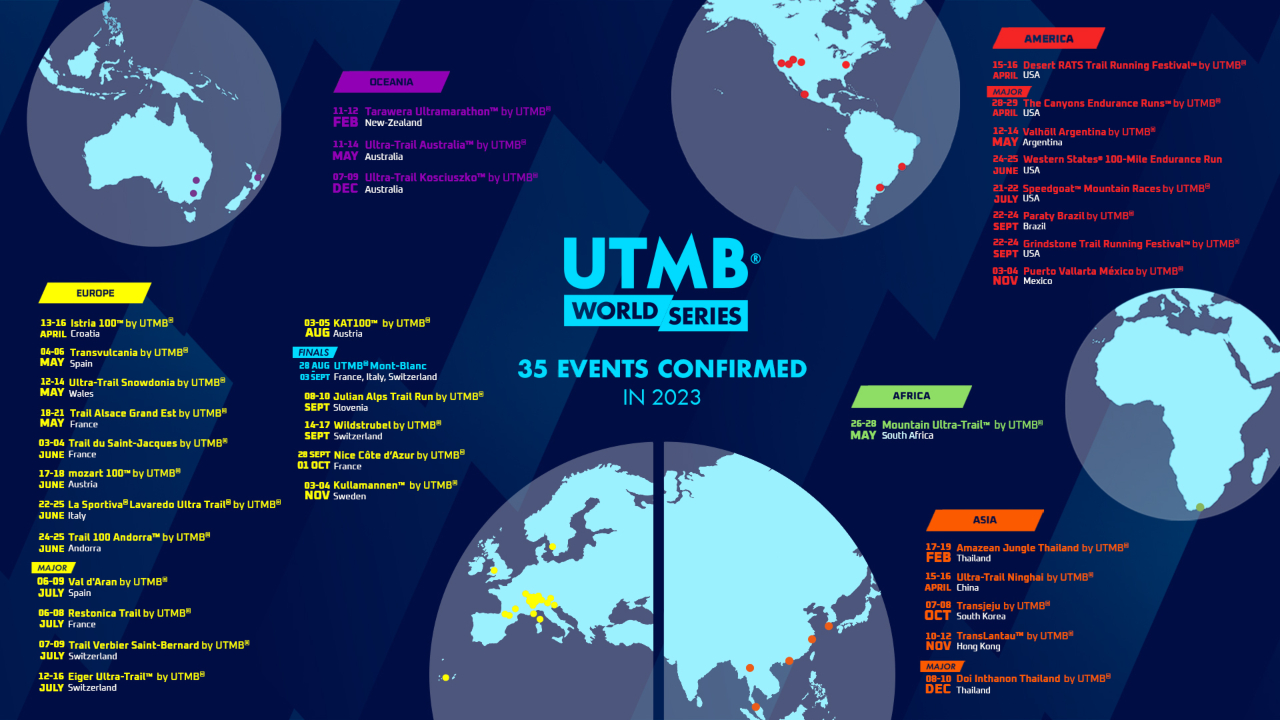 There are 10 new races on the 2023 calendar compared to the year previous: Tarawera Ultramarathon by UTMB (New Zealand), Amazean Jungle Thailand by UTMB (Thailand), Ultra-Trail Ninghai by UTMB (China), Trail Alsace Grand Est by UTMB, Paraty Brazil by UTMB (Brazil), Valhöll Argentina by UTMB (Argentina), the KAT100 by UTMB (Austria), Mountain Ultra-Trail by UTMB (South Africa), TransJeju by UTMB (South Korea), Desert RATS™ Trail Running Festival by UTMB (USA) and Grindstone Trail Running Festival by UTMB (USA).
It means the world series now takes place on five continents.
UTMB World Series Finals
The UTMB World Series Finals will take place at UTMB Mont-Blanc between August 28 – September 3 in 2023, with races over a number of distances including the big three: 50K OCC, 100K CCC and the legendary 100-mile Ultra-Trail du Mont-Blanc.
To qualify for the UTMB World Series Finals, runners must finish in the top three (both male and female) of their respective category at any UTMB World Series Event over the 50K, 100K or 100M distance.
Runners can also qualify by finishing in the top ten of the respective category at a UTMB World Series Major. The 2023 European major will be Val d'Aran by UTMB, the American major will be The Canyons Endurance Runs by UTMB and Doi Inthanon Thailand by UTMB will be the Asia-Pacific major.
Qualification can also be achieved via a lottery, with entry to the lottery requiring at least one running stone – achieved by completing a UTMB World Series Event or UTMB World Series Major. At a Major, double the usual running stones are on offer to race finishers.
UTMB World Series 2023 confirmed events:
Tarawera™ Ultramarathon by UTMB® (New Zealand), 11-12 February
Amazean Jungle Thailand by UTMB (Thailand), 17-19 February
Istria 100 by UTMB® (Croatia), 13-16 April
Ultra-Trail Ninghai by UTMB® (China), 15-16 April
Desert RATS™ Trail Running Festival™ by UTMB® (USA), 15-16 April
AMERICAN MAJOR: Canyons Endurance Runs by UTMB® (USA), 28-29 April
Transvulcania by UTMB® (Spain), 4-6 May
Ultra-Trail Australia™ by UTMB® (Australia), 11-14 May
Ultra-Trail Snowdonia by UTMB® (Wales), 12-14 May
Valhöll Argentina by UTMB® (Argentina), 12-14 May
Trail Alsace Grand Est by UTMB® (France), 18-21 May
Mountain Ultra Trail by UTMB® (South Africa), 26-28 May
Trail du Saint-Jacques by UTMB® (France), 3-4 June
mozart 100™ by UTMB® (Austria), 17-18 June
Lavaredo Ultra-Trail® by UTMB® (Italy), 22-25 June
Trail 100 Andorra by UTMB® (Andorra), 24-25 June
Western States 100-Mile Endurance Run (USA), 24-25 June
EUROPEAN MAJOR: Val d'Aran by UTMB® (Spain), 6-9 July
Restonica Trail by UTMB® (France), 6-8 July
Trail Verbier Saint-Bernard by UTMB® (Switzerland), 7-9 July
Eiger Ultra Trail by UTMB® (Switzerland), 12-16 July
Speedgoat Mountain Races by UTMB® (USA), 21-22 July
KAT100 by UTMB® (Austria), 3-5 August
UTMB® World Series Finals; UTMB® Mont-Blanc (France, Italy, Switzerland), 28 August – 3 September
Julian Alps Trail Run by UTMB® (Slovenia), 8-10 September
Wildstrubel by UTMB® (Switzerland), 15-17 September
Paraty Brazil by UTMB® (Brazil), 22-24 September
Grindstone Trail Running Festival™ by UTMB® (USA) 22-24 September
Nice Côte d'Azur by UTMB® (France), 28 September -1 October
TransJeju by UTMB® (South Korea), 7-8 October
Puerto Vallarta México by UTMB® (Mexico), 3-4 November
Kullamannen by UTMB®, (Sweden) 3-4 November
TransLantau™ by UTMB® (Hong Kong), November
ASIA-PACIFIC MAJOR: Doi Inthanon Thailand by UTMB® (Thailand), 8-10 December
Ultra-Trail Kosciuszko by UTMB® (Australia), December