Great Britain's Sabrina Verjee etched her name in the Lakeland 100 history books in becoming the first individual to win the race three times with a sensational run at the 2023 event.
Verjee, who took top honours at the race in 2017 and 2018, as well as winning the Lakeland 50 in 2016, was in imperious form as she opened an insurmountable lead in the early stages of the race, eventually taking the race victory in a time of 23:00:06 – a considerable distance ahead of the rest of the field.
Ukrainian runner Dariia Bodnar came home second, almost four hours further back while Jodie Gauld held off British compatriot Shelli Gordon to clinch the final podium spot in a touch under 29 hours.
Verjee utterly dominant
Already the second fastest women to complete the course in a time of 23:05:47 in 2018, Verjee fell just six seconds short of becoming the second individual to break the 23-hour barrier. Beth Pascall is the women's record holder in a time of 21:29:36.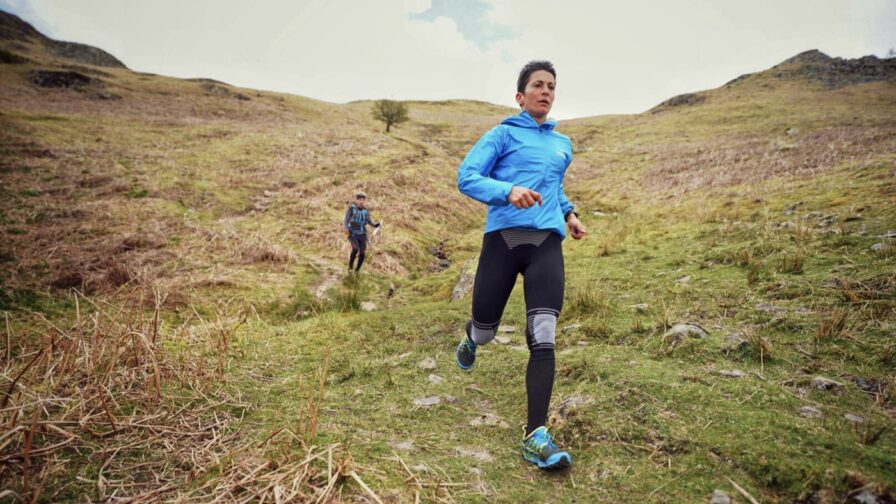 Verjee, who in addition to her Lakeland success has race victories at the Montane Winter Spine Race (2020), Montane Summer Spine Race (2019) and The Cumbria Way Ultra (2018) in recent years, asserted herself as the lead contender from the get go as she opened up a near seven minute lead from fellow Brit Jodie Gauld by the first checkpoint.
Her dominance would be unrelenting. She was the fastest women through all 18 splits, extending her lead at every checkpoint, leaving the field over three hours behind in her wake.
"That was wild, that last bit was insane, we had this massive shower, got totally soaked and it was just blowing a gale so it was really hard the last bit," Verjee told a live video on The Montane Lakeland 50 and 100 Facebook page.
"I've not been able to eat these last three hours, so I'm a bit "wooooo", I need some sugar. I might pass out, at least I'm on a chair."
Women's Lakeland 100 Results:
Sabrina Verjee (GBR) – 23:00:06
Dariia Bodnar (UKR) – 26:46:59
Jodie Gauld (GBR) – 28:43:39
Shelli Gordon (GBR) – 28:55:17
Kate Archer (GBR) – 29:38:12
Seema Ritson (GBR) – 29:39:16
Liz James (GBR) – 30:46:30
Charlotte Johnson (GBR) – 33:10:47
Kirsty Reade (GBR) – 33:10:47
Sarah Kirsty Williams (GBR) – 33:36:11