One of the most iconic races in Britain – and beyond – takes place at the end of this month. But what makes it so special and such a challenge? Few are better placed to answer those questions than Kim Cavill…
Picking myself up for the third and final time, my legs like jelly and with bloodied knees, I stumbled my way towards the sound of the finish field in Horton-in-Ribblesdale. This was the end of my first Yorkshire Three Peaks race, a 23.5 mile 'marathon with mountains' and one of the most renowned fell races in the country. Crossing that line was like nothing I had felt before; the pain and the elation genuinely made me cry, and when asked if I was okay by a medic, all I could say was, 'I just finished the Three Peaks!'
An iconic race
The word iconic is often used but this race really does deserve the accolade. In its inaugural year of 1954, there were only six starters and three finishers. Now, 800 or more runners toe the line, still with a hefty attrition rate but with many, including myself, returning year after year.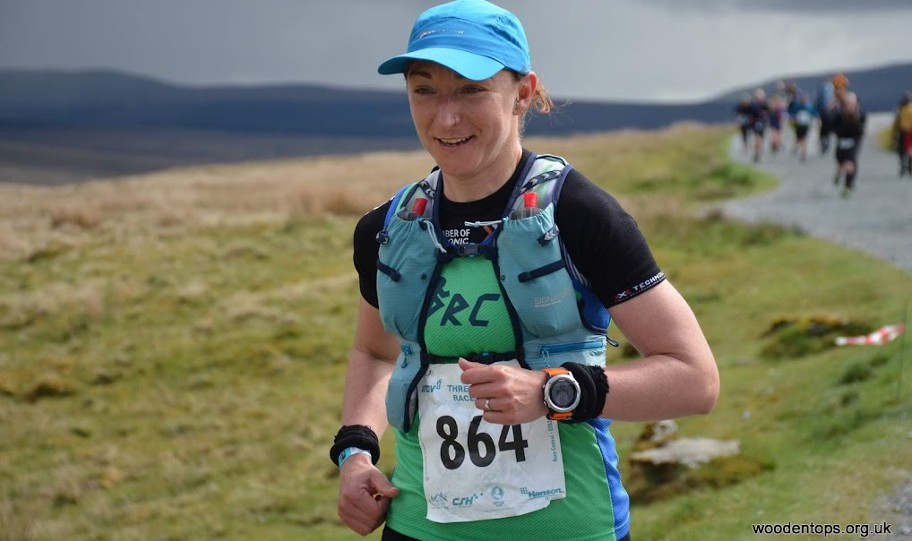 The route has changed over the years but since 1975, remains as it is today. Competitors have to navigate themselves over the three highest peaks in the Dales – Pen-Y-Ghent at 689m; Whernside at 723m and Ingleborough at 722m – starting and finishing in the unassuming village of Horton.
The terrain is tough, the climbs and descents long, steep and technical but with paths constantly being paved and improved, it is mostly a clear run on a well-trodden and obvious course. The only exception is the line up Whernside, which everyone has come to dread. Rather than the gentle gradient of the walker's path, on race day, we cut straight up the face of the hill, across a never-ending expanse of bog and then clutching onto tussocks for the vertical last few metres. With this section being on private land, many first timers will not what they are getting until they are on it!
Record times tough to beat
With the path improvements, this is potentially a fast runner's race and the times over the years have proven that, although the current men's record has stood since 1996 at 2:46:03, an outstanding time by Andy Peace. The women's record was set by Victoria Wilkinson in 2017, at 3:09:19 and will be very tough to beat, despite cash prizes on offer to anyone that can. For the bulk of the field, the biggest challenge is often the quite tight cut offs. Two hours 10 minutes for 18km might not seem too bad but when you have to get up and down Pen-Y-Ghent at the very start, it becomes a little harder!
To even enter the race, you need to meet qualifying criteria, which goes some way to explaining why it doesn't fill up quickly and why so many are reluctant to try. Runners must have completed two A, B, L, M fell races in the previous year (meaning long and hard in layman's terms), or two from a specific list of mountain marathons or trail races deemed to present sufficient challenge, which can all be found on the race website.
No race for beginners
Knowing that you have had to qualify and that this is not a race for beginners, also makes it feel quite special. While inclusion is a wonderful part of trail running, earning your place in this hallowed event is something to be very proud of and to strive towards. One of the other charms of the race is how grassroots it still is, with no medals or goodie bags, just the satisfaction of knowing that you gave your all among like-minded people. And of course, the obligatory chilli and bread at the end!
This will be my tenth Three Peaks race and as always, I am looking forward to being there in a few weeks with my club team-mates. What better way is there to spend a Saturday in April than running over some big hills?