As an Inov-8 fan, I was looking forward to trying these out. The brand has stood the test of time for good reason: they take notice of consumer needs and they 'innovate'! This latest in the Trailfly range keeps the new direction going for the company as they divert into the less niche field they are renowned for – super aggressive grip and racey shoes – to keep the trail runners among us happy.
Straight out of the box the feel firmer than I expected, not a bad thing at all, just not as cushioned as I had anticipated from the emphasis on comfort that I had read about. The total stackheight measures 22mm, definitely lower than some its closest competitors. The updated and improved tongue with extra padding is welcome, and wraps quite nicely over the top of the foot, giving a sense of security.
The upper has changed since the first edition too, with the overlays being moved back, allowing more room in the front of the shoe, something I appreciate and that will prove useful over longer distances. The material in the upper has also been improved and in tests, lasts 25% longer than previously. When you are shelling out for a new shoe, this is certainly something that is important. We all know that the Graphene enhanced rubber sole means that will go the distance, so to have an equally long lasting upper is great news. With a zero drop and roomy toe box (a 5 on the Inov8 width scale), they are clearly responding to the market right now too, giving us what we are asking for in terms of fit.
Inov-8 Trailfly G270 V2 feel
So how do they actually feel? I wore these for the first time on a soggy moorland run of about 90 minutes and was happy with them. They are very easy to wear, but my mind wasn't blown! I like a firm shoe but with the zero drop, they didn't feel as responsive as I would have hoped and while they felt very safe to run faster in, they weren't giving much back, even with the 6mm Boomerang footbed. This is very personal though and I am not a fan of zero drop running shoes in general. Other brands doing a similar thing definitely have a more plush feel and I personally wouldn't want to wear them much over a full day out, maybe 50-60 miles because of this but they are Damian Hall's shoe of choice and he seems to be doing okay over big distances!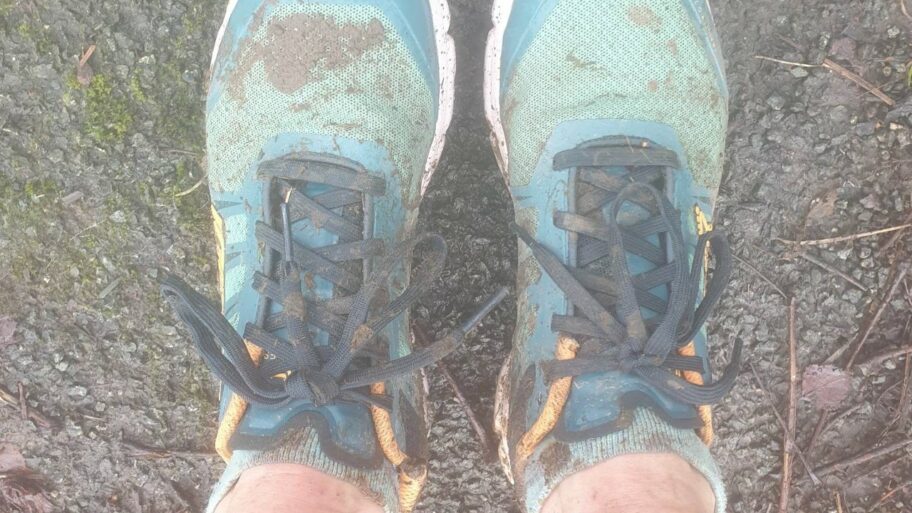 The width is also a plus in this respect; having that room in the forefoot is only ever a good thing in longer runs. While the moor wasn't super muddy, these coped well in light mud and wet grass, in fact I was surprised they had that satisfying bite on descents. On a longer local run of a couple of hours, the 4mm lugs held their own as I took them through deep, sticky mud too but I wouldn't trust the grip on slippery mud descents. These would still beat out other brands in that area though: Inov8 understand how many varieties of mud we have in the UK better than most!
Overall, I am happy to use these on those daily trail miles and on longer training runs. They feel as if they will last a good long while and that is one of the most important things in a good training shoe.