Scott Supertrac RC 2 trail running shoe review
Ultra runner and coach Kim Cavill reviews the Scott Supertrac RC 2 – the best race shoe she has ever owned!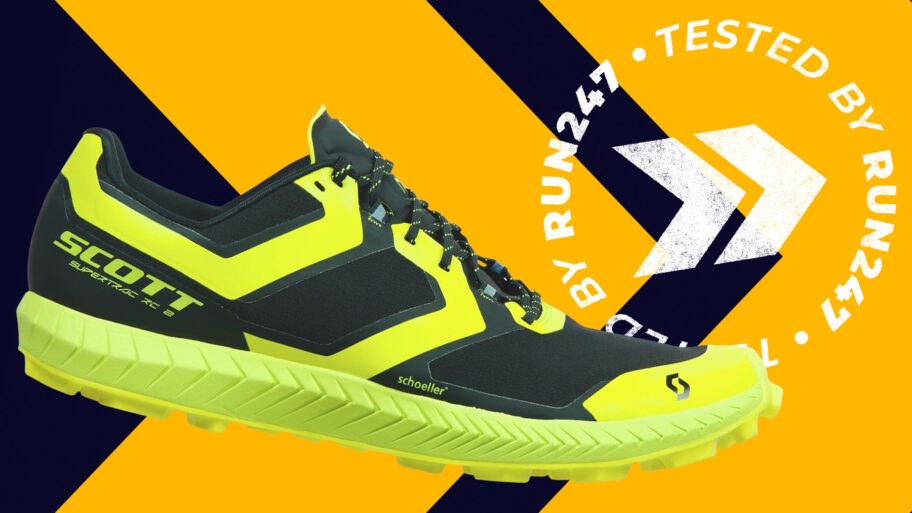 Pros
A stable and smooth ride, with great bounce.
Reliable grip on grass, rock and mud.
Encases the foot so there is no movement inside the shoe.
Cons
Skittish grip on wet rock.
Loses some bounce after 100 miles or so.
Scott Supertrac RC 2 Review
After taking these shoes on outings on my local muddy trails, the Lakeland 50 route and the Welsh mountains, I can safely say that they are my new favourite all over again. I had some of my best results in the first iteration of the shoe, despite the blisters, because I had so much confidence in my footstrike and they give just enough back. Straight out of the box, they feel quite stiff but after a mile or two, you can feel why they are such a solid shoe, one that allows you to spring forward and on the second wear, you will be able to slide straight into them.
With the trend lately leaning towards more maximal cushioning or very wide toe boxes, these couldn't be more different but keeping it simple really works here. You can't fold these shoes in half, which is a good thing; the slight stiffness through the sole really helps give you that return and helps you feel protected enough to crank things up a notch. They are a nippy shoe and you will feel fast in them. Your feet won't slip around inside them as they are designed to wrap around your foot and keep it in place.
On my local trail and moors, I often find that my laces come undone, running through overgrown field and in heather, but these haven't given me that issue. They are a hard material up to a point, and then the section you tie seems to grip really well so they stay put.
The padding around the heel and ankle is also a plus. Like the rest of the shoe, it has that Goldilocks appeal – it is 'just enough'. Not so soft that it has no support, but not so stiff that it rubs away at your socks. In the time I have been running in them (and I have given them quite a battering) they haven't thinned out and caused any friction.
In the previous version, the upper would have started to look a bit worn by now too, not so with version two. Even taking them over some very rocky paths in Wales, they haven't rubbed away, caught and torn or started to look shabby. I am confident that that sole will wear faster than the upper, which is how it should be!
Lastly, the sole and the radial traction are great. This is something that hasn't changed from version one because it didn't need to. I am not someone that is confident running down technical descents, no matter the grip. But with these, I do feel more sure of myself on grass and rock, where I know they are gripping in several directions so my wonky feet won't slip out from under me.
In all, this shoe should be on your shopping list if you are planning on racing in the hills this Summer and Autumn. If you think you need a wide toe box, give them a try too, as they might just give you the firmness and security you want without pinching. Please keep making these shoes Scott!
Scott Supertrac RC 2 Description
This is the SS2022 version of the shoe, a subtle yet necessary improvement on the original. The shoe is marketed as a skyrunning shoe, one to take on technical Alpine terrain, with a radial traction outsole to provide grip in that environment. The Aerofoam+ sole makes for a cushioned ride but still provides a solid and stable surface to allow your feet to feel the ground. With a new patented Schoeller coldblack upper to finish it off, this shoe has better heat management too as well as more long lasting upper.
Scott Supertrac RC 2 Specification
Previous Model
Supertrac RC
Stack Height (outsole & footbed)
22.5
Stack Height (midsole only)
17.5