It's the season when many people are doing ultras and mountain races in the UK, Europe and beyond. That means checking off your list of mandatory kit, packing it in your pack, unpacking it, checking it again, packing it again. Then, just when you're happy with everything you've got, you see a pair of gloves that are 4 grams lighter than the ones you have.
As the story goes, and I don't know if this is true, a certain young Spanish runner turned up on the UTMB start line carrying a seemingly tiny amount of kit early on in the race's history. This lack of kit alarmed the race organisers and they did a check on his mandatory kit at the first opportunity. 'Do you have long tights?', young runner pulls out a pair of his sister's tights. 'Do you have a survival blanket?', young runner pulls out a tiny square of survival blanket. He had all of the items of the mandatory kit, but they weren't particularly practical. From this point on apparently the UTMB got much stricter about specifying exactly what was acceptable for mandatory kit.
And with very good reason. Despite all the races where you trot round without touching anything in your pack, there will be one where you use every single thing in there and wish that you'd brought more. Mandatory kit lists are there for extremely important safety reasons. Scrimp and the best case scenario is that it'll ruin your day or get you DQd, the worst case scenario is somewhat more serious.
People do try to cut corners. Anton Krupicka received a 15 minute time penalty at the UTMB in 2014 when his strategy of carrying 2 small Petzl e-lites during the daytime (rather than at least one heavier head torch) backfired after he mislaid one at an aid station. This strategy might be fine if you're an elite with a crew, who can swap out head torches where needed, but for most runners it's a big risk for the sake of saving a few grams. I did Lavaredo last year and some people ditch their headtorch in their drop bag after running through the first night (it starts at 11pm) because they think they'll be finished before dark. This is against the rules. I hung onto my head torch but I also unfortunately picked up a head torch-less Italian dude on the final descent, who thought it was fine to run directly behind me, using me as a human head torch. Don't be that guy.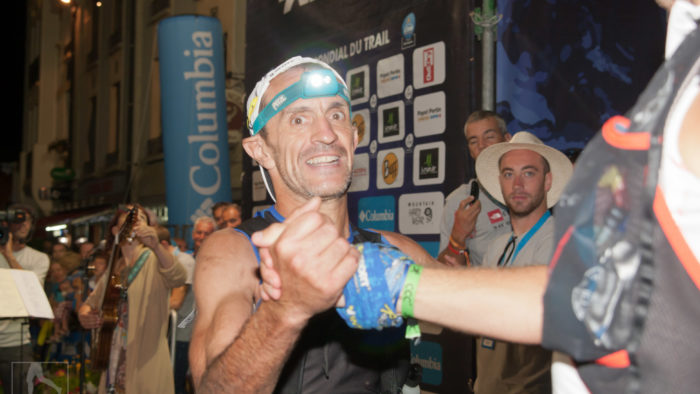 So while you can't scrimp on mandatory kit, you can make some choices which will keep the weight down. Perhaps you finally got that place in the UTMB that you've been after for years and you're currently looking at options for mandatory kit?  Let's take a look at the UTMB list (stipulated items in bold):
Mobile/cell phone with international roaming – this is the one where you can make a decent weight saving. An iPhone 7 Plus weighs 188g. You can get some simple, tiny mobile phones which are created for purposes I don't want to think about, probably involving prisons, at 43g. Assuming it has decent reception and you're not a selfie taker this will fulfil all the kit requirements without compromising safety, as long as you don't need it as a back-up navigational device.
Cup – you can save grams and space in your pack here by going for one of the light, collapsible soft cups. Some races, like Lakeland 100, give these out now.
Supply of water of 1 litre minimum
2 torches in good working order with spare batteries for each torch. Recommendation : 200 lumens or more for the main torch – your main head torch isn't something to be scrimped on, but assuming you're confident in the battery life of your main one, you can go for a Petzl e-LITE (26g) as your back-up. But they are designed as an emergency light only, so if you see any possibility of needing to use it, it's not worth it.
Survival blanket of 1.40m x 2m minimum
Whistle
Self adhesive elasticated bandage which can serve as a bandage or strapping (minimum 100 cm x 6 cm)
Food reserve
Jacket with hood which will withstand bad weather in the mountains and made with a waterproof* and breathable** membrane
*minimum recommended 10 000 Schmerber
**RET recommended inferior to 13
– the jacket must be fitted with an integrated hood or one which is attached to the jacket by the original system designed for that purpose by the manufacturer.
– the seams must be sealed.
– the jacket must not have sections of fabric which are not waterproof, but air vents fitted by the manufacturer (under-arm, in the back), since they do not damage in any obvious way the impermeability, are accepted.
– it is the runner's responsibility to judge, with these criteria , if their jacket fits the regulations stated and so bad weather in the mountains, but, during a check, the judgment is made by the person in charge of the check or the steward.
As you can see from the long list of requirements for your jacket, it's not something to scrimp on. It's probably the most important thing in your pack. It's worth saying, though, that even though fairly lightweight jackets will pass kit check, if the weather is really bad and you know you're going to be potentially moving quite slowly, you should consider taking a jacket offering more protection. 
Long-legged trousers or race leggings or a combination of legging and socks which cover the legs completely
Cap or bandana or Buff®
Additional warm second layer : a warm second layer top with long sleeves (cotton excluded) of a weight of a minimum of 180g (men's size medium (M) )
Or the combination of a warm long sleeved base layer (first or second layer, not cotton) of a minimum weight of 110g (men's size medium) and a durable water repellant (DWR protection) windproof jacket*
*the wind-proof jacket does not replace the mandatory waterproof jacket, and vice versa
Hat
Warm and water-proof gloves – the distinction between water resistant and waterproof is very important here! Ask anybody who's been caught out by this. I know somebody who got frostnip in June because of making this mistake.
Waterproof over trousers 
ID – passport/ID card
Once you've decided on your kit, how you pack it is also really important. You need certain things to be easily accessible – food, cup etc – and you need to keep certain items dry. You also want it to be compressed down, secure and not jiggling around. Here are a couple of videos showing different approaches to packing your pack.
James Elson, race director of Centurion Running fits all of the above into a 3 litre backpack:
Centurion also have an online and a bricks and mortar shop where you can get all of the items needed for mandatory kit.  They even have a page devoted to their pick of this season's mandatory gear and videos about it here.
Wild Ginger Films go for a bigger pack (10 litres) for multi-day races, or for those of you wanting to go for a bit more kit. After all, mandatory gear is just what you have to take. There are plenty of other things you could take to help your race go more smoothly.
It's worth saying that none of this kit will do you any good if you don't actually use it when you need it! Many a race has been ended by people who didn't want to waste time putting their jacket on, or didn't get their gloves or hat out until they were dangerously cold.