Nuasan are a growing company looking to create great performing products that are beneficial to you and minimise damage to the planet. Based in Ireland, Nuasan Active Skin & Bodycare launched in January 2020.
Their products contain arnica, bamboo, magnesium, macro-algae, aha, peppermint, macadamia, tea tree, oats, aloe vera, thymol, and vitamin E. All chosen for their beneficial qualities in bring you a performing body care range. We take a look at some of their favourite products.
Nuasan Active Body Wipes £15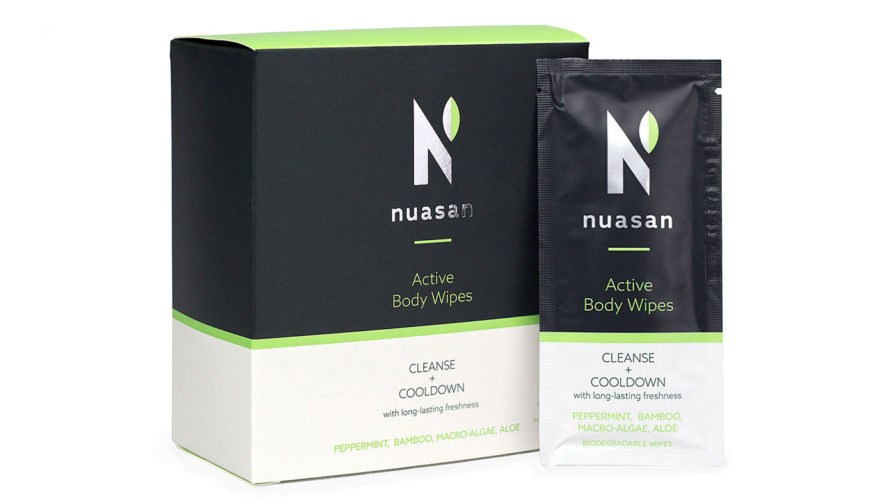 If the idea of these individually wrapped body wipes seems a little indulgent to you, that's understandable. But once you've tried them, you won't look back. Yes, baby wipes are cheaper and come in packs of more-than-several, but with these, you don't need more than one and they do the job SO much better than a baby wipe.
The packaging invites you to 'cleanse and cool down with long-lasting freshness' and our tester, who suffers from heat rash pretty much as soon as they've finished a 5k run, has verified that they really do cool your skin and leave no slimy feeling or any residue at all.
These wipes are vegan with no sulphates and, if you're still worried about the waste that might be involved with individual wrappers, don't be. Nuasan uses recyclables for its packaging, green electricity and donates 10% of profits to the climate crisis. Plus the wipes are fully compostable. Ideal for your ultra-running pack, going from a run to meeting a friend or just if you don't have time for a shower!
Nuasan Active Body Wash £18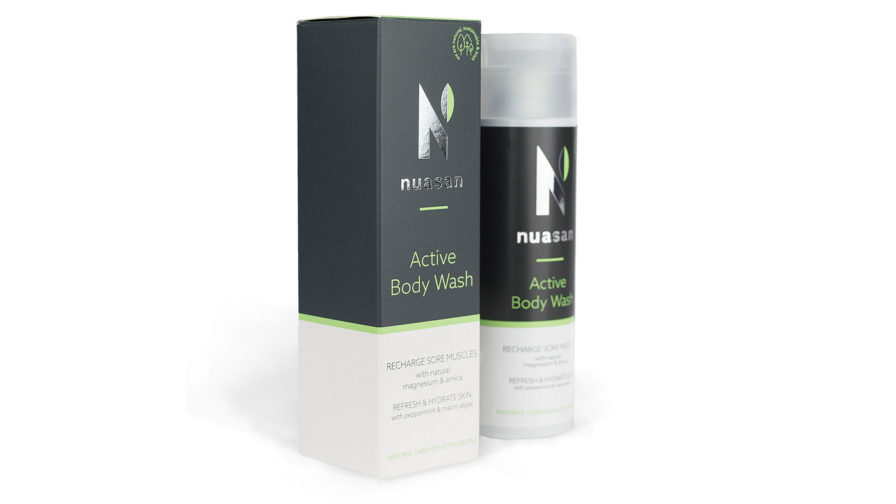 This body wash is a great investment, if only for the way it makes the bathroom smell incredible for hours after you've used it!
It's primarily billed as a shower gel, and it does do the job very well, but if you want to try to take advantage of the magnesium and arnica to soothe and repair muscles, the instruction is to "massage in well before washing off… save water, turn off the tap when using." Seems a bit of a faff. But it is great as a bath soak and you don't need loads to get plenty of bubbles going and infuse the air with the fantastic pepperminty fragrance.
After a long-run-day, our tester found that a bath with this was soothing and relaxing and muscle aches pretty much disappeared. This could generally just be from taking a bath, but we like to think Nuasan had a positive effect. It's about as eco-friendly as it gets, too, with packaging made from 100% recycled materials. Additionally, 10% profits going to climate action groups and 98.6% all natural ingredients.
Nuasan Active Foot Care £26
If you're someone who suffers from foot odour, fungus or other similar issues, this could be a good solution to help prevent these issues.
A great eco-friendly, natural alternative to a lot of tried-and-tested products on the market, this is proven to prevent nail fungus and athlete's foot plus it kills the bacteria that causes foot odour. We have been diligently spraying on after a run, and added it to shoes and socks for good measure and it's lovely and fresh smelling as well.
Take a look at the company's credentials and the ingredients list to see just how environmentally friendly it is; we think it's unlikely you'll find a better anti-fungal natural product like this.
Nuasan Active Kit £39
You can find out more about the Nuasan Active product range at their website here.