I've run in two pairs of 361° previously (the Strata 3 and the Spire 3) and really enjoyed them. They were road shoes, and I like trails. So, I was more than thrilled when asked to try out a pair of the Yushan – 361°'s newest venture into the trail running scene. My first impression: these are some bold looking shoes; I hope they live up to the look. Then I thought; crap, these shoes look faster than I can run; I hope I can do them justice. Well, at least they are hi-vis enough so my wife could find me in the clag after she drops me, right?
Fit
I slapped the Yushans on my feet as soon as they arrived and was pleased to see the fit was like my previous 361°, wide toe-box, formed midfoot, with a comfortably cradled heel cup. Comfortable right from the box, I walked around the house for a bit to get a feel for them. The toe box is spacious with a seamless upper. Seamless uppers are great; no stitching to cause any hot spots. The midfoot utilizes a soft, pressure-free tongue design which allows for a snug midfoot fit. The soft tongue allows you to really tighten the laces without getting the discomfort on the top of the foot that often comes from wrenching down the laces. This is great for the trails, as it keeps you steady in the shoe as you twist and turn over the varied terrain. The heel cup is soft with a medium depth, which allowed me to s "lock in" for a secure fit. Overall, it was just a comfortable fit straight away.
And look at them. They made me feel fast…. really fast. Well, they made me think I had a shot at being fast. So, feeling comfortable and confident, I couldn't wait to get out on the trails.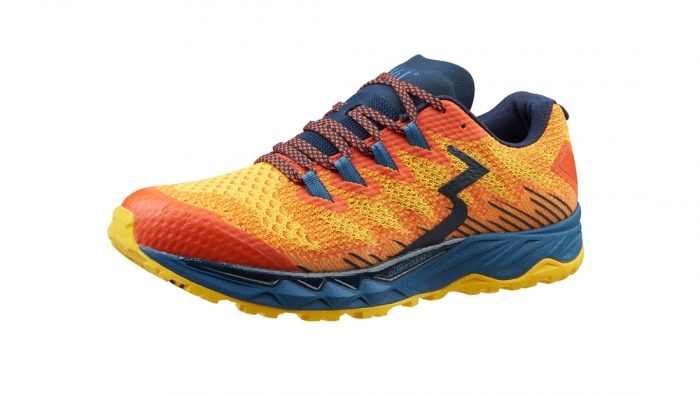 Performance
So out I went. First on some smooth tracks around the city and surrounding countryside to see how they felt. A bit stiffer and heavier than my previous 361°s, but the torsional control provided great stability on uneven ground. The tread is not overly aggressive, so they handled the relative smoother city trails fine while providing greater traction on muddier, grassier and unconsolidated terrain. As before, the midsole QU!CKFOAM technology developed by 361° was comfortable and responsive. It is a unique feel that I haven't found in other shoes; providing that comfort and cushioning without losing the energy on the push off.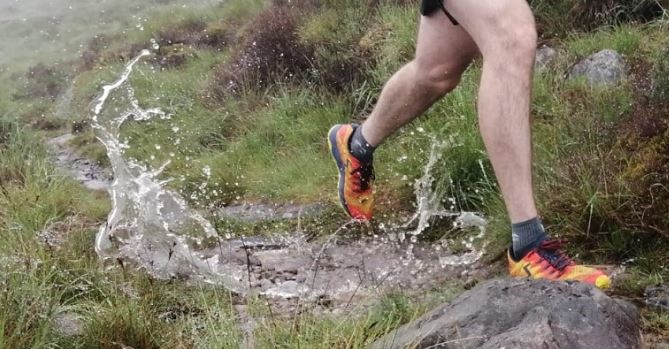 Now I was even more comfortable and confident in these shoes. Still not fast, but that's not the shoe's fault, right? After a few weeks of runs on moderate trails, I was ready to take these for an ultimate off-road test: a weekend in the Lakes and then a week in the Scotland. First up was the Lakes. My runs here were mostly on rocky track and grass which the Yushan handled brilliantly. A protective toe shield that wraps around the toes provided much needed "toe-stubbing" protection over the rocky terrain while the StoneShield rock plate protected the ball of my foot from those sharp annoying rocks we all have stepped on.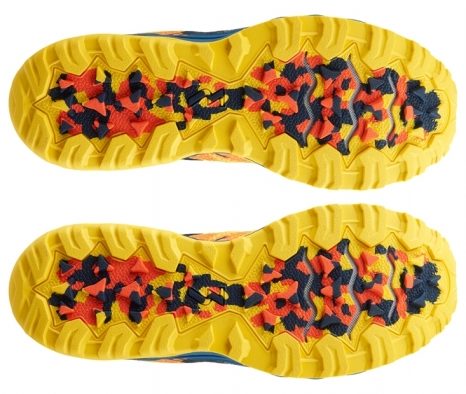 So, it was off to Scotland for the final test for the Yushan in the Cairngorms. Specifically, the Cairngorms 4000. An approximate 22-mile loop linking up the five 4,000ft summits within the park. With a mixture of track, trail and off-trail, and more than 8,000 feet of ascent and descent, this would prove a "make it" or "break it" test of these shoes. I won't bore you with the details, but after 7 hours we finished. It wasn't until I was back in the pub an hour later that I realized how much I liked these shoes. Yes, they performed well on the trail, but I realized I still had them on. I had managed to change out of my running clothes, but instead of sliding into some other post run shoes to have a beer in, I put my Yushans right back on. That's a tell-tale sign that I really like these trainers. And I'm writing this review one week later….and I'm wearing my Yushans!
Verdict
The Yushans are a fantastic off-road shoe. They performed well on a variety of off-road surfaces. They are a bit on the heavier side, but this makes them a great trainer for longer days out where comfort, protection, and function will get you through whatever the trails throw at you…including the storms. They'll be having you shout, "I am the storm!"
Specs
One-piece, reinforced durable knit upper that provides a supportive contoured fit.
Interior BIGTOE-Shield designed under high friction point in the vamp.
Beveled heel provides a smoother transition and enhances efficiency during gait.
Ultra-gripping and stability outsole lugs handle rocky technical terrain with ease.
Flexible StoneShield rock plate protection under the forefoot.
Pressure Free Tongue designed to provide comfort and avoid irritation during flexion.
Full length QU!KFOAM midsole top-layer provides shock attenuation and a smooth ride.
QU!K flex forefoot design provides for a more natural and balanced toe-off enhancing ground contact and better acceleration.
Molded QU!KFOAM insole for plush in-foot comfort.
Size: US7-13,14
Weight: 348g
Drop: 8mm
Price: £119.99
Find out more about the 361 Yushan HERE.